Day 126 - SEO Body Text - how to get your keywords in here to help your SEO
In some of my recent SEO posts I have talked about getting the keywords that you have targeted for your website page in 120 - SEO Matching Keywords & Phrases To Web Pages into high value areas such as meta titles and descriptions, page headings and image files. Another important area to use your keywords is the main body of your webpage. Some people will argue for a minimalist webpage body wanting all the attention to be on the image rather than any wordy descriptions about the image. Whilst this is might be visually appealing to many it is rather idealistic and will not help you rank well in search engines. Having some good copy in the main body of your website page to describe your image or product is not only well received by your customers who want to know much more about it, not only its physical properties but the story of how you created it, what inspired it etc, it is also well received by search engines who are then able to understand a little more about your website page and what it is about in order to rank it appropriately.
Try to keep your page to a minimum if you can. If you waffle on too much you risk overwhelming the viewer with too much information and you risk watering down your keywords and giving the search engines too much information to work through. Keep your description brief, what inspired things brief, give key properties about your product and state all essential and unique selling point information about the product. Where possible hyperlink to other pages that explain key terms for multiple products in one place rather than being tempted to repeat detailed explanations on every product page.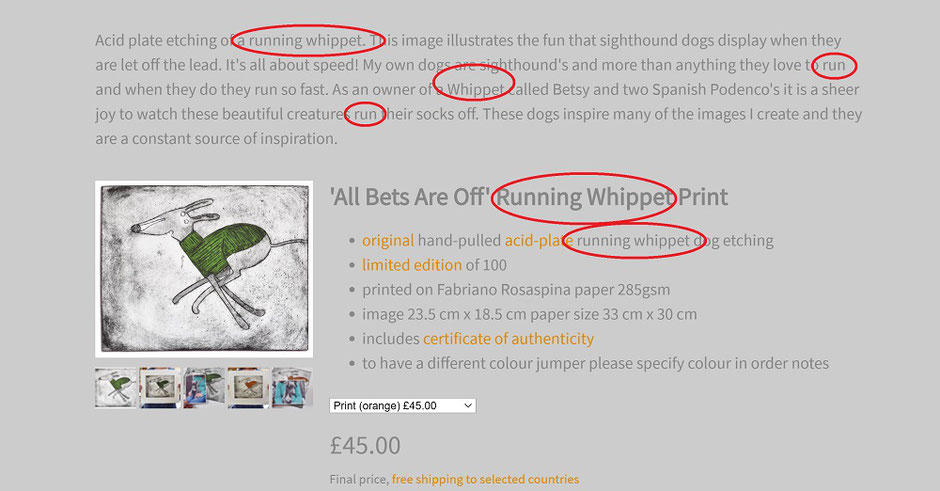 Following on from previous examples as I write the body text for Lucy Gell's All Bet's Are Off product page I start off by explaining what the product is. This is the first opportunity to drop in my two key words that I am targeting at this page ie 'running whippet'. In the second sentence I consider using 'run' rather than 'running', sometimes search engines will count similar words as the same word, on other occasions it will help me to catch additional searches. I am able to slip 'whippet' in again on the 3rd line, 'run' again on the fourth and so on. I have slipped my two keywords into the product title line and then during my bullet points (these are essential on product pages as they help viewers to quickly scan listings like this) I slip them in again in the first bullet point. 
Hopefully you can see that all of this is very readable to a human but when a search engine reads this text it will see that certain keywords crop up a lot more than others and that will help it to decide what this page is about and will help it to rank the page higher for my keywords. On its own it doesn't carry as much weight as a page heading or meta title and description, for example, however, added to those it will boost your rankings.
In my next post I will talk about how the time to load your webpage can affect your overall page ranking in search engines.
If you have found this free advice useful, please return the favour by following me on Instagram or Facebook liking my posts and mentioning me to your friends! Switch on notifications (see Day 40 - How To Get In First) and join my mailing list so you don't miss any posts! Thanks.