Day 121 - SEO Broken Links - how broken links can affect SEO and why you must fix them
In my SEO posts I have been talking about keywords & phrases and showing you how to develop and match these but before I show you how to implement them into your website pages I want to discuss another SEO aspect - broken links! Google and other search engines look at many things during their decisions of where to rank your pages. You can find lists of over 200 factors that are taken into consideration, although nobody can tell you definitively what every factor is and precisely how important that factor is other than the search engine company itself. Google is by far the biggest right now and the one you need to keep happy and Google is very helpful at suggesting factors that it might look at but it is intentionally vague so that people are not able to cheat the system and it regularly alters its algorithm so that nobody can crack the formula and dominate the listings. 
Having said that a lot of common sense is involved and common sense is particularly relevant when it comes to broken links. We have all done this, we have attended a show perhaps, linked to the show website, recommended a product, hyperlinked to that product on one of our pages and over time we have added lots more pages to our website and paid very little attention to those earlier pages. In the meantime those event organisers, gallery owners or product manufacturers may have gone out of business or they might simply have taken an event off their site or even changed their website structure and therefore the URL of the product so when somebody clicks the link on your website now they simple get a message '404 - Page Not Found'.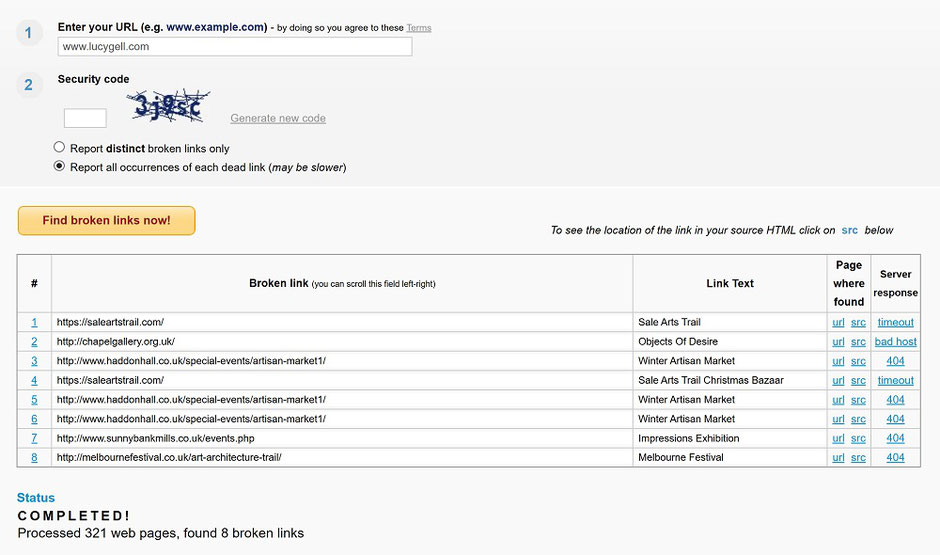 You might not think this is too important, particularly if it is a page you don't use very often or have few visitors to, however, it sends a strong message to Google. It tells Google that your website has old outdated links on it and it tells Google that you might not be maintaining your website very well in order to let that happen. As a result it will therefore rank you in its search engine lower than it would normally do favouring other websites that are better maintained with no broken links.
The good news here is that this is very quick and easy to fix. You can find numerous websites on the internet that will check your entire website for you in minutes and report any broken links that it finds so that you can fix them. I currently use www.brokenlinkchecker.com. This is easy to use, simply enter the URL of your website homepage and it will check everything for you. Tell the website to report 'each occurrence' of a dead link and then you should use the report to work through your website either removing or correcting these links so that Google and other search engines will start ranking you higher again. Diary this task and check it again every few months!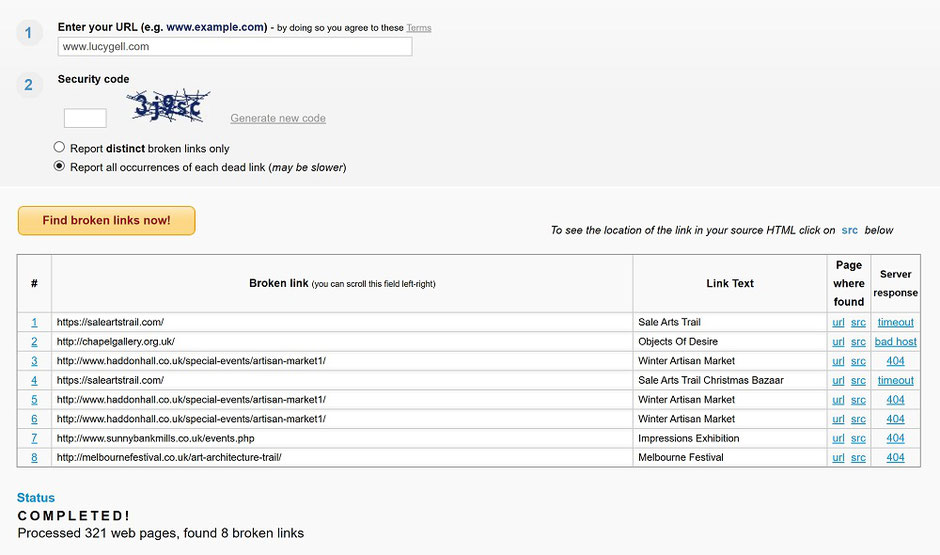 In my next post I will start to talk about how you place keywords and phrases into key areas of your website to improve their search engine rankings starting with 123 - SEO Meta Title and Description.
When did you last check your website for broken links?
If you have found this free advice useful, please return the favour by following me on Instagram or Facebook liking my posts and mentioning me to your friends! Switch on notifications (see Day 40 - How To Get In First) and join my mailing list so you don't miss any posts! Thanks.