Day 128 - Instagram Video and IGTV - why you should be using video and how to post it in Instagram
Have you noticed the increase in video on social media recently? Big changes are happening. They were happening anyway but since lockdown things have moved on at a tremendous pace. Obviously everybody follows different accounts but from many of the accounts I follow every 3rd, 4th or 5th post is video. Many link through to IGTV. I am constantly seeing notifications of Instagram Live and Facebook Live events, Zoom webinars and so on.
So what's the big deal? Why is there so much of it? Why has it become so popular? Well there are many reasons really but basically video format is a format we have engaged with since the TV was invented but technology has taken some time to get to social media, broadband has taken some time to get to the point where it is fast enough to both upload video and consume video, computers have taken a while to produce tools and be fast enough for the mass market to prepare video and finally the dramatic improvement in smartphone technology over the last few years put tools in everybody's hands that can both produce and consume video very easily.
Not only has the technology become available, social media platforms are favouring video. You only have to look at your insights to see that video gets seen by more people than your posts. This isn't surprising as each of the social platforms are competing for airtime and what better way to keep people on their platform than by promoting your engaging video. Think about your own browsing habits too? As you flick through your news feed you might spend a second or two browsing a striking image, like it and move on, sometimes you will read content with the image, often you might just skim it and move on but what often stops you from scrolling right past - moving content! You stop and watch the first few seconds and if it is a well constructed and engages you after a short preview in your feed do you often click the 'keep watching' link to dive off into IGTV to watch more?
There are lots of things to consider when creating a video in terms of content as well as format which I will go into in later posts. Today I just want to assume that you have content you are happy with and want to post to your Instagram feed and / or IGTV. 
The first thing to understand is video length. You can post videos between 3 seconds and 1 minute to your Instagram feed. You can post videos of up 15 second intervals to your Instagram stories to a maximum of 1 minute (although if you upload a 1 minute video to Instagram stories it will automatically break it down into 4 15 second stories that will run seamlessly 1 after the other).
So how do you post a video up to 1 minute to your Instagram feed? This is perhaps the easiest to deal with first. Simply log into your Instagram mobile app and click the '+' at the bottom of the screen. On the next screen choose either 'Video' to record a new video or click 'Gallery' at the bottom left and choose a video from your phone gallery. Once you have your video posting is then the same as ordinary photo posting in terms off adding your caption, hashtags, location etc which hopefully everyone is already familiar with.
How to you post a video up to 1 minute to your stories? Since this post is about posting video I am going to assume that you know how to post stories but I will post about this later for people who don't already know. Assuming you do just click the '+' by the 'Your Story' image at the top left of the screen then select your video. A video up to 15 seconds will then import as a single clip but a video up to 1 minute will be automatically broken down into up to 4 consecutive clips. You can then add stickers, mentions, hashtags, geotags and any other Instagram story feature to each separate video clip before you post your story in the usual way.
How do you post a video up to 1 hour to IGTV? Well if you Google this one you will find lots of misleading and conflicting information as I did that suggests this has changed a lot recently before I really started to look at it. You will see instructions to post a 'long video' directly from your Instagram feed, instructions to use the IGTV mobile app and instructions to do it from your PC so here is what I found works right now but please let me know if this changes again anytime soon and I will update these instructions.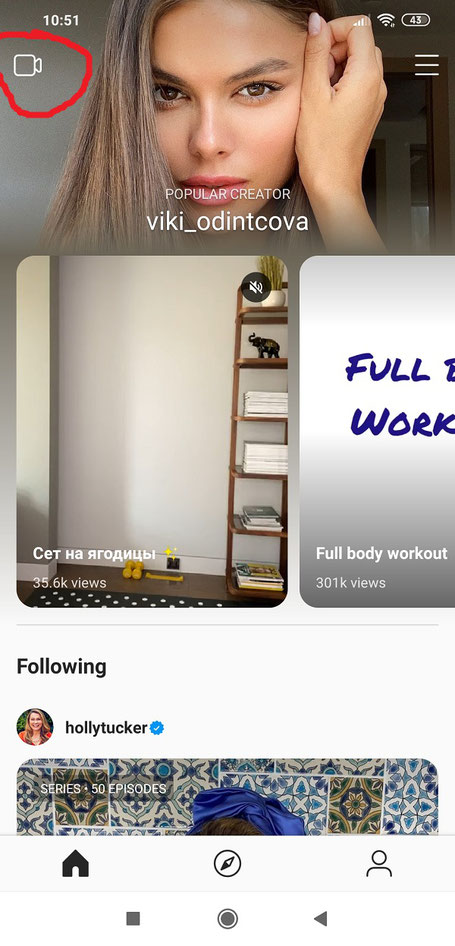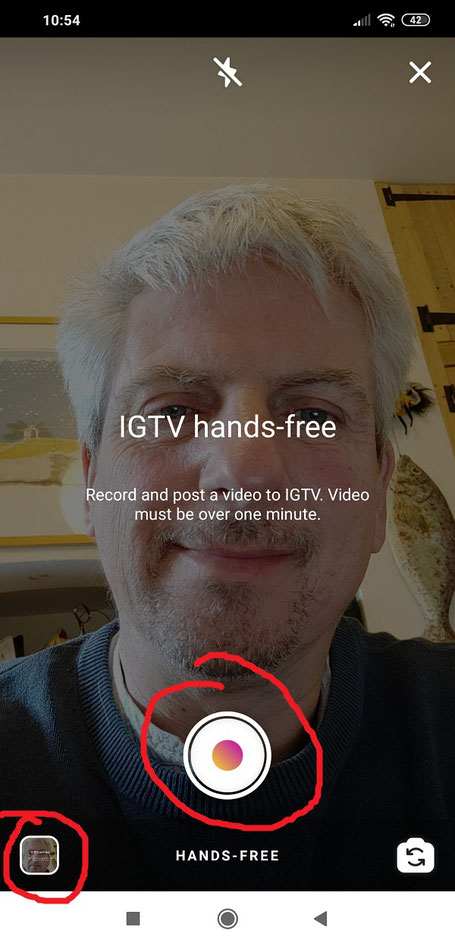 As far as I can tell right now you can upload a video up to 15 minutes long to IGTV through your mobile phone but anything longer up to 1 hour has to be done on your computer. The video does, however, need to be longer than 1 minute. To use your phone proceed as follows. First of all install the IGTV mobile app. You then have a choice of posting directly from the IGTV app or from Instagram whichever is more convenient. To post from the IGTV app click the video recorder symbol at the top left then if you are going to record a video press the large circular record button in the middle of the screen otherwise click the gallery button at the bottom left to choose a prerecorded video. Once you have chosen or recorded a video proceed as detailed below for the Instagram app route further down.
To select a prerecorded video directly from Instagram click the search tool at the bottom of the screen then press the IGTV symbol at the top left of the screen. Next click '+' at the top right of the screen.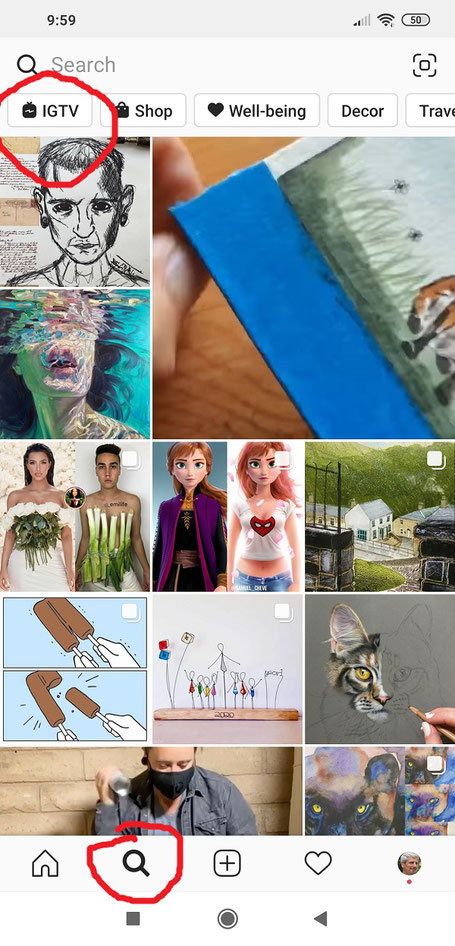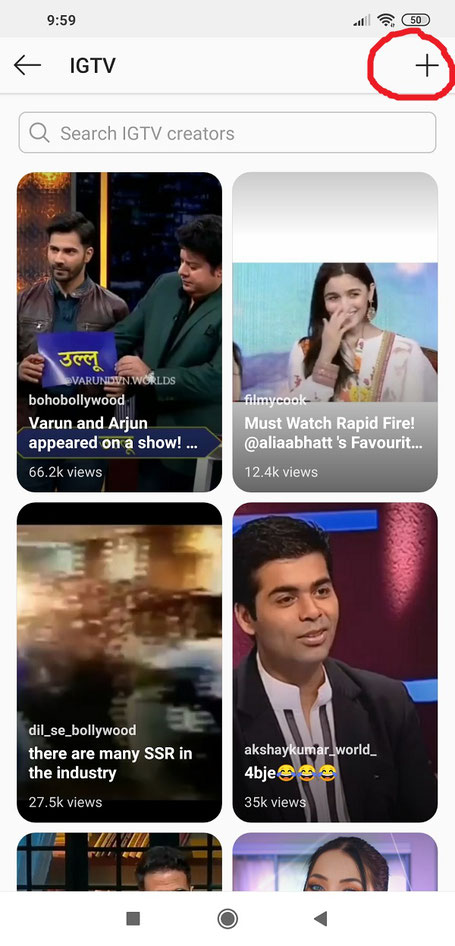 Next choose your video from your photo gallery making sure that it is 15 minutes or less but longer than 1 minute. This will take you to a screen where you can play your video to ensure that you are happy with it then press 'next' to continue.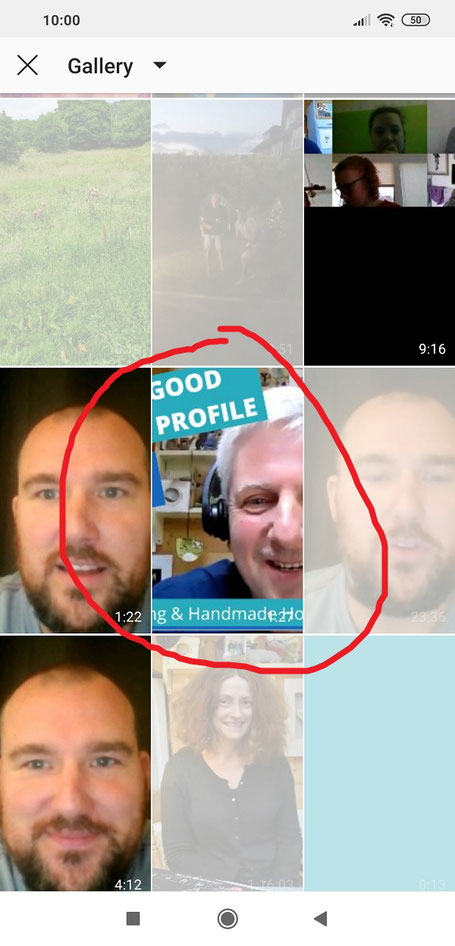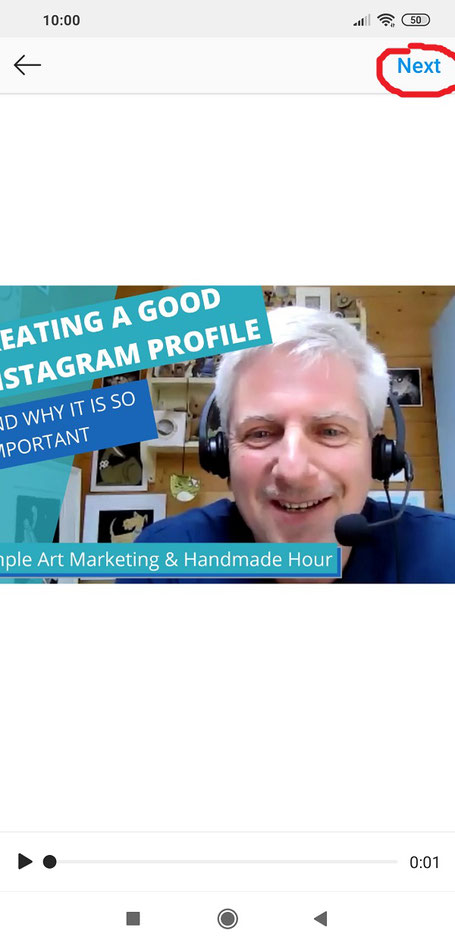 On the next screen select the cover (thumbnail) for your video. Because IGTV is portrait format you can see that I am trying to repurpose a cover I created for a landscape Youtube video which clearly will not work in IGTV. You can see that IGTV, however, shows some random clips from the video that you can use as your cover or you can create a cover externally and upload it from your gallery. Click 'next' once you are happy with your cover.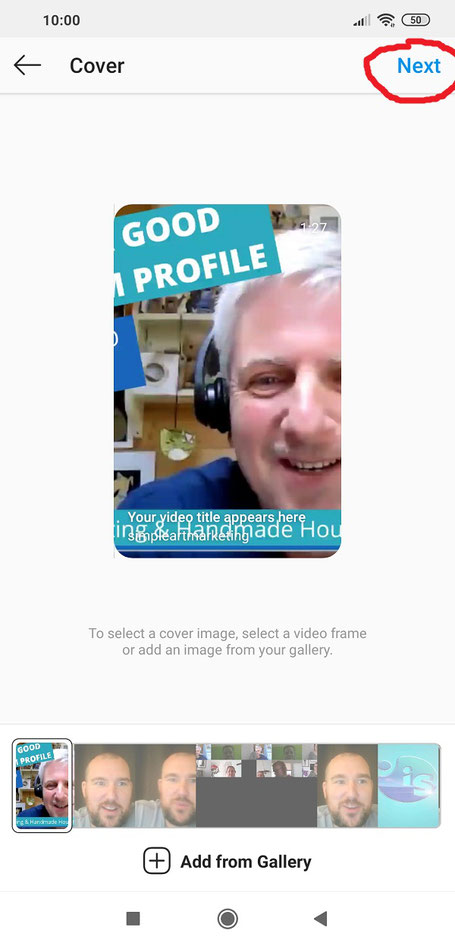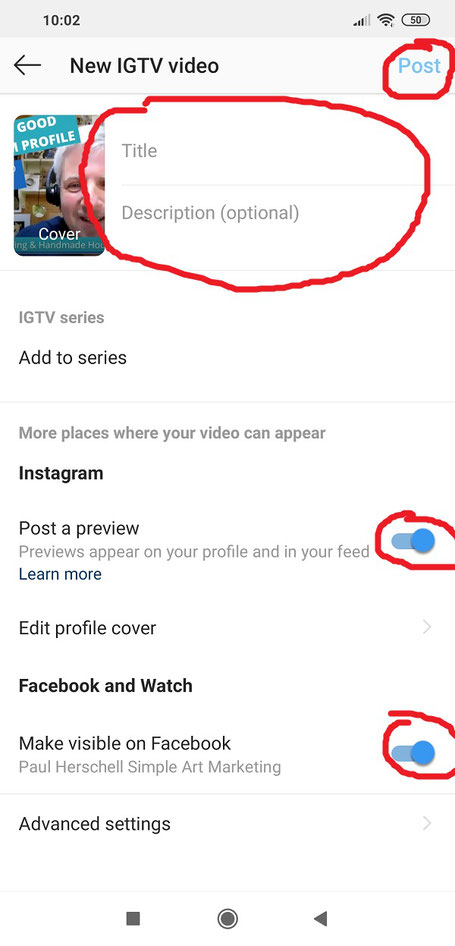 As you can see from the final image you can set a title for the video and a description. Choose your title carefully. Keep it short as it will print on the cover of the video but include keywords that quickly identify what the video is about that people might use to look for it.
Next add a description. In the description you can expand on what the video is about a little more but you can also write this as a post even including hashtags. By then clicking the 'post a preview' button a short preview of the video will be posted to your normal Instagram feed using the text that you have included in the 'description' field. Once people view the preview of your video they will be offered a 'keep watching' prompt to be automatically switched to IGTV to continue watching the rest of your video. Finally press 'post' at the top right to post your video.
There are times, however, when 15 minutes just will not be enough and you might have a video up to 1 hour long to upload. To do this you will have to do this on your computer. It is, however, very straightforward. Just click on the your profile then click the 'IGTV' icon.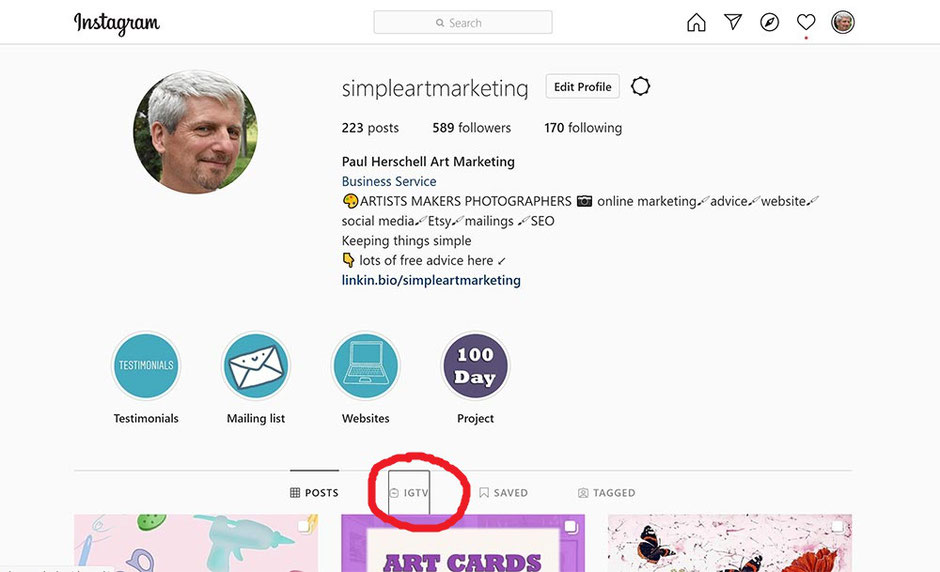 On the next screen that appears click the blue 'Upload' button to upload your video. Once you have chosen the video similar screens will appear to the mobile version above to let you preview your video, choose your cover, set your title and description and indicate where you want it to be posted.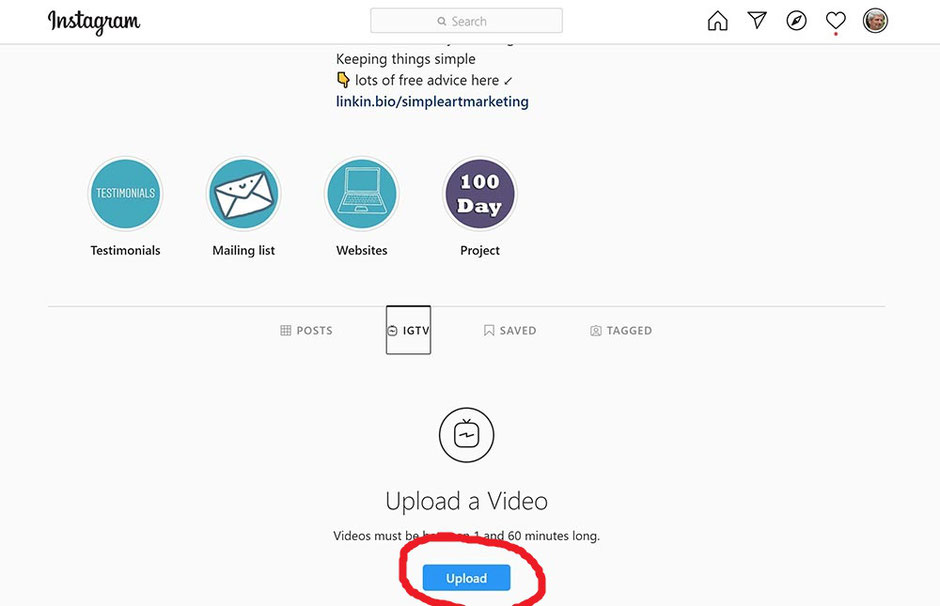 Video is changing social media. I am as guilty as anyone from hiding from the camera and not posting video but I can see the potential. I have created a Youtube channel, done one webinar to date and am in the planning process for more along with other training materials. Take a look at what you do. Will it add to the value of your products if your customers can see how you create them? Will it help to build that relationship and trust with them before they purchase from you? Did you run workshops before lockdown? Will you be starting again any time soon or is this something you could also take online? There are many uses for video in your business and over the coming months I hope to cover a little more to help you with this. 
If you have found this free advice useful, please return the favour by following me on Instagram or Facebook liking my posts and mentioning me to your friends! Switch on notifications (see Day 40 - How To Get In First) and join my mailing list so you don't miss any posts! Thanks.