Day 120 - Matching Keywords & Phrases To Web Pages - how to link up the keywords and phrases you have researched to your website pages
Carrying on with my SEO set of posts this is where it starts to get slightly more difficult before it gets easier and it is important to follow each step through carefully. In 109 - Check Keyword Popularity we identified a number of keywords and phrases that we wanted to optimise Lucy Gell's art website for. We listed lots of keywords and phrases but our focus is on the more popular ones but not ones that are too popular where we might drown in the competition.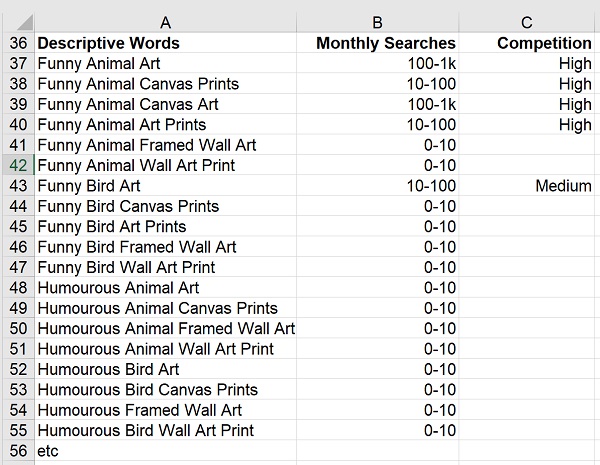 Then in 115 - SEO Create A List Of Pages To Optimise we extracted a list of website pages (including general, product range and individual product pages) into a spreadsheet. As well as a list of pages we created some columns to hold other information about those pages. This information helps to identify which pages we are not concerned about SEO for, which products are top sellers and therefore warrant dealing with first and which products have indeed made it to our website and Etsy shop as no matter how hard you try to stay on top of things you will find omissions in a process like this!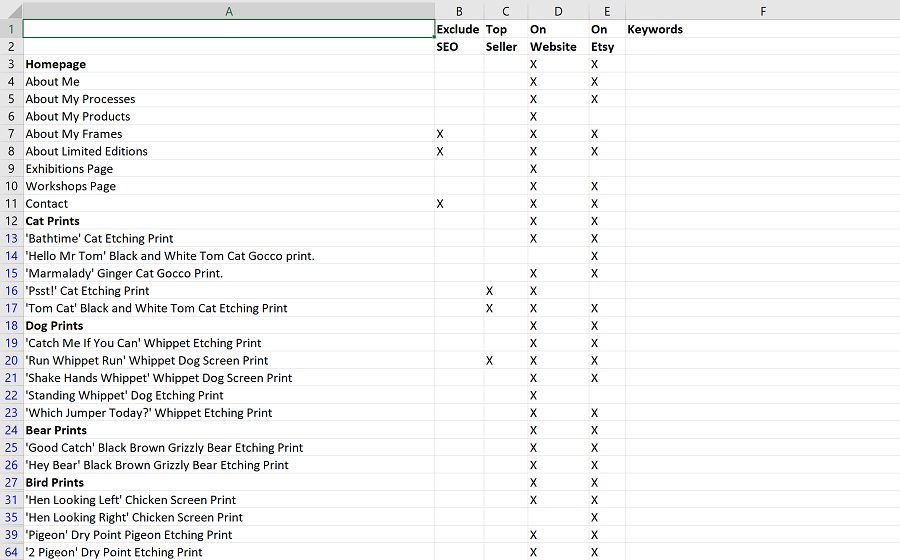 Today I want to talk about linking the two together so that we identify what phrases and keywords to target at each individual page on the website. So here I might instantly target the website homepage with the popular phrase 'funny animal art'. I might target the 'about products' page with another popular phrase 'funny animal prints' and so on. It is important that I mark the first spreadsheet to show that I have targeted that phrase by listing the webpage that I am aiming it at and in the second spreadsheet listing the keywords or phrase that I am targeting in that page. My aim is to spread as many of the high traffic keywords and phrases I have researched across as many relevant website pages as possible. When matching IT IS ESSENTIAL for this to work that the keywords and phrases you match ARE RELEVANT to the page content for the page you assign them to. It will not work if you simply try to catch as many searches as possible without your page content being relevant.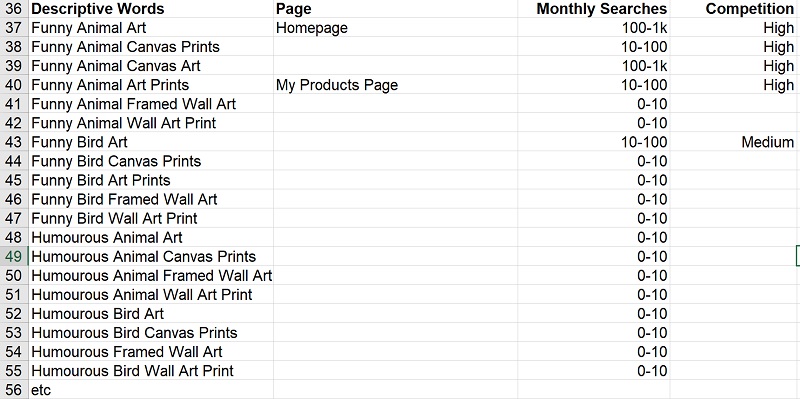 Then in my list of website pages I can cross reference the keywords that I am targeting at those pages. The minimum number of keywords to target is one and anything over 4 probably gets a bit crowded so I often use between 2 and 4 words per page. For key pages such as the homepage and range pages (in bold) you can see how I have used descriptive keywords such as 'funny'. This is because Lucy's work would simply get lost in such a competitive area as 'animal art' without that quantifier. It is used again in ranges such as 'dog art' and 'bear art' etc but then once you get down to specific breeds there is less competition so it is possible to focus more on the dog breed or subject matter. The words funny, humourous, fun etc can still be dropped into other areas of SEO for these pages but in bigger descriptive fields I will talk about in a later post rather than having to use one of your valuable 1-4 keywords you are focusing on here.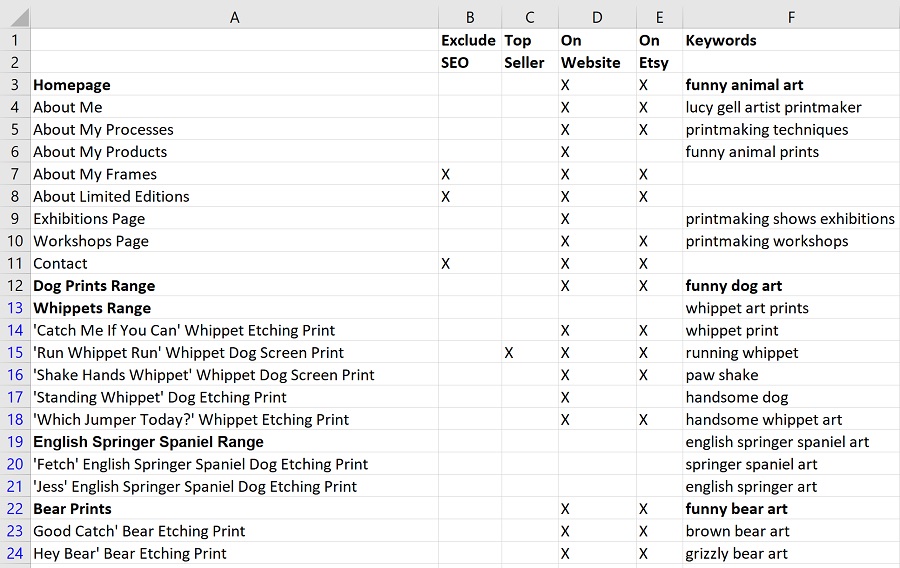 You can also see here the advantages of having similar work in product ranges. In Lucy's Whippet range, for example, she can target 'whippet art print' at the range level, 'whippet print' on another page and 'whippet art' on another to ensure she catches all 3 types of search with at least one of her pages.
Lucy has around 200 website pages so this is a huge task that can be done over several months and indeed once keywords and phrases are assigned to pages you need to perform the relevant SEO tasks to implement that and then need to test the results. If she doesn't get the results she wants (ie an entry on page 1 of Google results!) the SEO tasks can be fine tuned or she could go back to the drawing board for that page and target a less competitive set of keywords. Done properly it can be very time consuming taking an hour or more per web page and it is something to revisit and retest regularly over time but it is time well invested to attract new visitors and customers.
I haven't completed Lucy's entire site yet by any means at this stage but I have completed some key pages and some key product ranges. It is important not to let this process slow you down. As you develop new products get them onto your website quickly and get your website up and running and working for you quickly but don't then forget to follow that up with this important task which will simply involve some fine tuning of what you have done to bring many more visitors than you would have got otherwise.
In my next post about SEO I will talk about the importance of fixing broken links to improve SEO before then taking you through the process about how you then build these targeted keywords into your specific pages.
Do you have a list of keywords mapped onto your list of web pages yet?
If you have found this free advice useful, please return the favour by following me on Instagram or Facebook liking my posts and mentioning me to your friends! Switch on notifications (see Day 40 - How To Get In First) and join my mailing list so you don't miss any posts! Thanks.