I don't take much photography myself. I rely on photography from clients and Lucy Gell (Lucy uses a Nikon D3400 which is brilliant but most modern smartphones produce really good photographs too). Some clients take the photographs themselves and others have them taken professionally. There is always a real difference with the ones taken professionally - the light is just right, the image is crisp, there are no reflections, they are atmospheric. That is great if you can do it but it does come with a cost. There are still ways to get good images yourself. With art work many customers have their work scanned or photographed professionally in order to have giclée prints produced. When this is done they send me the high resolutions images which I can use on their websites. I am able to load images into Mockup Editor and put them into frames and lifestyle settings electronically so that I can create several different shots for each product which really helps create nice shots but on a budget like the one below showing work from Clare Allan.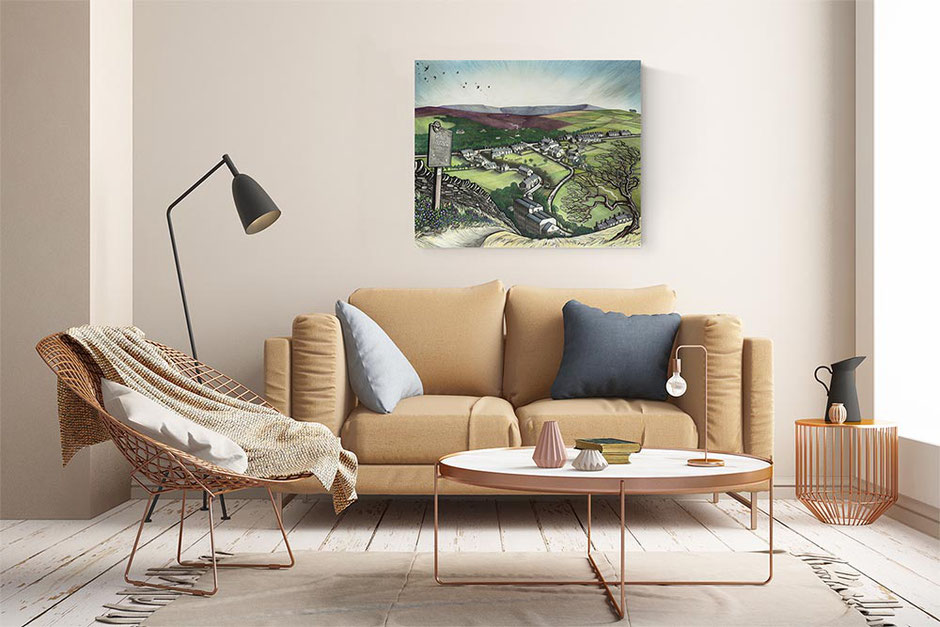 I also use Photoshop here. This really helps not only with basics such as shots that need brightening but also to improve colour, to remove blemishes, straighten images and so on. There are other cheaper and free desktop tools and apps you can use too.
A regular problem I have with photography is images not being a good enough quality or not having enough space around the object in the photo. Always save the high definition version of each photo you have before you do any editing on it. That way you can always go back to the original and edit it in another way if necessary. Original images will often be anything between 3000 and 6000 pixels. This is far too big for your website will slow it down and do you no favours with Google. Depending how much of the width of the website you intend to cover with the image you should adjust the quality accordingly. You might also find you end up with multiple versions of an image for use in different places.
When taking a photo always leave a large space around the edges of the object you are photographing. By doing that you give yourself lots of options when editing later if you want to crop that photo in portrait, landscape or square format depending on where you want to use it on your website.
Light boxes seem to becoming more widely available and affordable. I haven't used one myself yet but from the reviews if you work is 3D and not too large one might be a very worthwhile investment if you don't already have one.
What do you use for your photography?
If you have found this free advice useful, please return the favour by following me on Instagram or Facebook liking my posts and mentioning me to your friends! Switch on notifications (see Day 40 - How To Get In First) and join my mailing list so you don't miss any posts! Thanks.