So what tools do I use in my craft? Well as I have said everything I make is electronic so at the risk of boring most of my audience - I use a Dell XPS Windows 10 Laptop every day. This is the 2nd one of these I have owned and whilst they are a little more expensive than many other laptops I cannot fault them. So reliable and powerful in such a small portable device. I would highly recommend one if you fall in the PC camp and want something small, portable yet powerful but if like many artists and graphic designers you fall in the Apple camp they are often pitched against the Macbook Air which has the same light weight convenience packing a big punch. It is always hard to replace kit every 3-5 years once it starts to get old and slow then you wish you had done it 12 months earlier because of the improved productivity and new features. I always buy a better spec than I really need at the time as that extra investment will always prolong its life and pay off in the long run.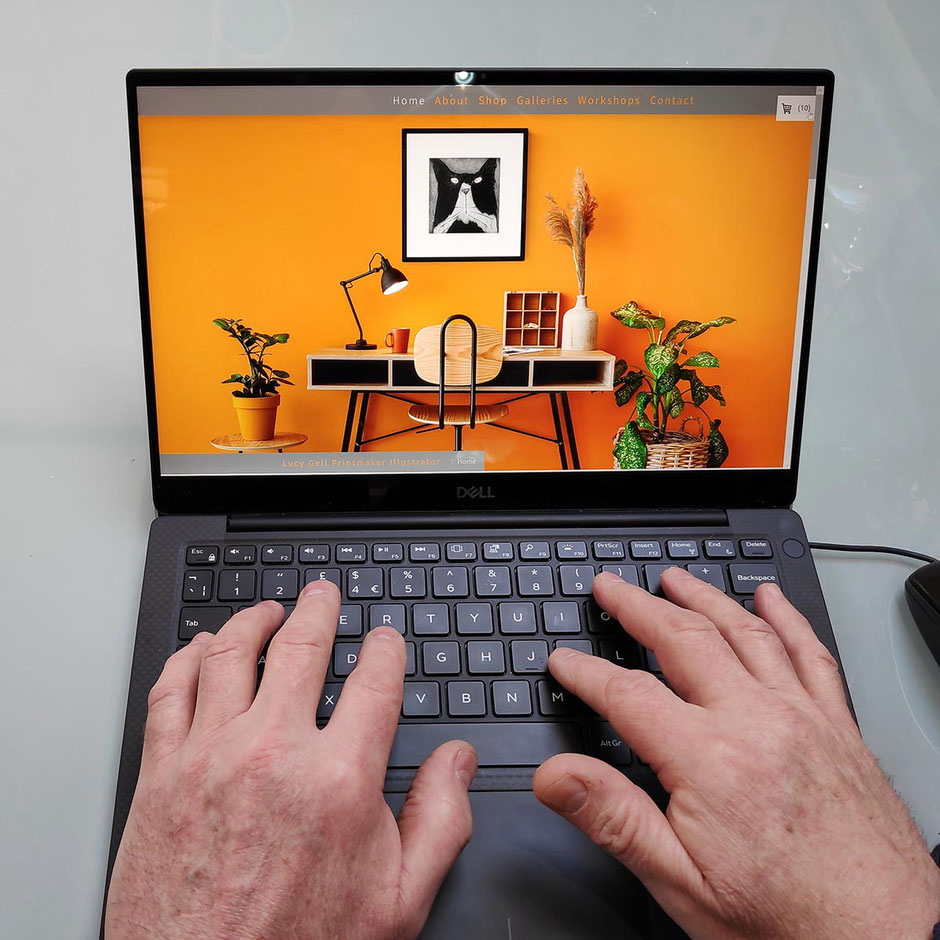 We all need productivity software - a word processor, spreadsheet, email etc. There are 2 big contenders in the PC camp - Microsoft Office which is very much an industry standard paid for service and Open Office which is free software which tries to emulate a lot of the Microsoft software. During my recent laptop upgrade I took the time to trial Open Office for a few months having used Microsoft Office for many years. My verdict was that whilst being free which will be a big advantage to many on a tight budget and it being able to open most Microsoft Office format documents it had a habit of crashing on me - lots! I am a heavy user but it proved far to unreliable for me although if you are a lighter user on a tight budget if you save work regularly you might be prepared to put up with some inconvenience! I resorted back to Microsoft Office after a couple of months trial and am so glad to be back there now using Word, Excel and Outlook mainly. Home subscriptions are available for around £1.50 a week which is worth it for the convenience of all the online storage. If you are working from home the home subscription also allows installation on up to 6 devices! I also trialled Mozilla Thunderbird email software alongside Open Office. Unlike Open Office this was much more reliable and is really recommended if you go the free route, however, I will be switching back to Outlook now as part of Microsoft Office.
For website design I use Jimdo. A lot of other designers use Wordpress and I have seen customers using Wix, Squarespace and Shopify. I am sure they all work great but I like Jimdo because it is so easy for me to design but then very easy for my customers to take over the reigns and use themselves if they want to do that. The product is aimed at end users who want to design their own websites but as a professional I find it is packed with everything I need to use but like everything I do it 'keep's things simple'! I use Mailchimp for mailing lists, free for up to 2000 contacts then a monthly subscription afterwards. I create lifestyle shots using Mockup Editor, Google Search Console to maintain websites in Google Search, Google Analytics to analyse website traffic, Google Keyword Planner to research keywords. I use Photoshop to manipulate images.
For exchanging large volumes of images and video with customers I used to use Dropbox but now do more with Onedrive as it comes with a large amount of storage with Microsoft Office 365 and I encourage Wetransfer for easy file exchange too.
I recently purchased a new phone a Pocophone F1 mobile phone - yes I had never heard of it either until I did some detailed research and have had Samsung Galaxy phones for a number of years. This, however, comes with great reviews and really does perform like the new Samsung and Iphones as far as all the apps I use, camera and phone functionality but at a fraction of the cost because a few features I don't use and wouldn't miss are taken out! Upgrading meant my app usage really took off and there is so much to use. Obviously the standard apps for social media Facebook, Twitter, Instagram. I use Castbox to listen to podcasts when researching, I use the Jimdo app to manage my website, Sell On Etsy app for Etsy shop management, Repost For Instagram to grab images and repost content, Analytics to look at Google Analytics on the go, Movavi Clips for editing simple video and creating slideshows, Dell Mobile connect to access my phone from my computer (much quicker typing and hands free calls), the Mailchimp app to access mailing stats on the go and trigger resends. I use Whatsapp for internet calls, video photos but hope to do more with Zoom shortly.
I am sure there is more but you are probably all asleep by now? Is anybody still awake?
If you have found this free advice useful, please return the favour by following me on Instagram or Facebook liking my posts and mentioning me to your friends! Switch on notifications (see Day 40 - How To Get In First) and join my mailing list so you don't miss any posts! Thanks.