Day 108 - SEO Don't Reinvent The Wheel - study your competitors for SEO keywords & phrases when doing your search engine optimisation
Some people are better at SEO than others but do you really want to reinvent the wheel here? So many things on the internet are transparent and there are indeed free tools available that help you to learn from what your competitors are doing. What I don't advocate is copying people, I suggest you look at what others are doing and just DO IT BETTER!
When I design websites for customers there is a process. I don't just quickly put a website together and hope they like it, I ask lots of questions in a set of forms I get them to complete before we get started. One of the things I ask them about is their competitors. I asked them to tell me 5 competitors that they know of that they think are doing well then I ask them various questions about their competitors websites, what they like about them, what they don't like about them. This helps me not only to understand better what they are looking for in their website it also helps me to look at what their competitors are doing so that I can try to do it better on their website.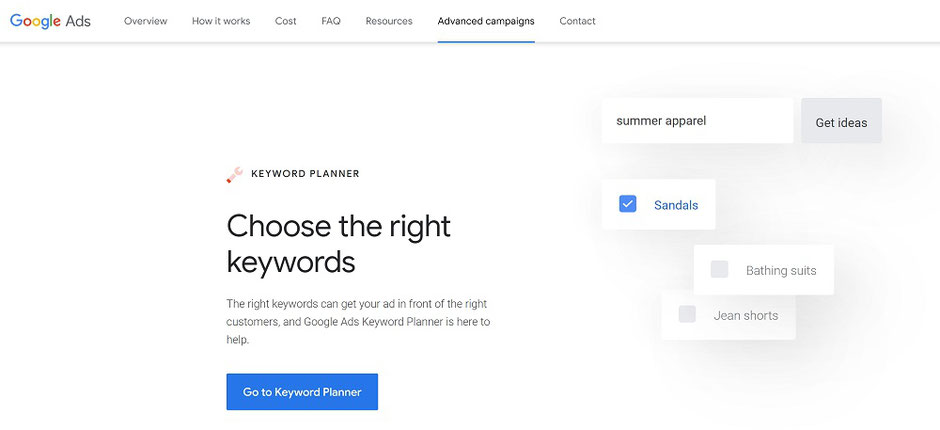 Even if you already have a website it is essential that you do some competitor analysis. You probably have an idea of people you exhibit with that are doing well and should be looking at how they perform online. Are they on the first page of keywords and phrases you might have identified in 107 - Brainstorm SEO Keywords & Phrases? Then look for some people that you do not already know, not necessarily people that do the same circuit as you but look for international competition that constantly plague page 1 on Google results for many of your searches. Perhaps identify 5 you know of on your circuit then 5 on the international stage to start with.
Now we need to look at another essential free tool for SEO - Google Keyword Planner. Google Keyword Planner is designed to help you choose keywords and phrases in paid advertising on Google but it is still really useful as a tool in improving your SEO for organic (non paid advertising) searches. Using the tool you can either enter a keyword or phrase and it will make suggestions for similar keywords and phrases people have used in Google search or you can enter a website or webpage and it will analyse that website or webpage for the main keywords and phrases it thinks that they are optimised for. It also gives you details about the number of monthly searches for those words and phrases which I will cover more in a later post.

Start by identifying the first competitor in your list. Go into Google Keyword Planner then select 'discover new keywords'.

Click 'start with a website' and then paste a website or website page that you want to analyse and tell the system whether you want to look at the entire website or just the page. In this instance Alan Hunt came fairly high on Google under the search term 'animal artist'. It wasn't his homepage that came up it was a seperate landing page Alan had created to catch people searching for this term which suggests he might know a little about SEO and therefore is worth looking further at here! The right hand side the system might default to one specific country but you can click that and clear the filter to look at searches worldwide if you are happy to ship worldwide.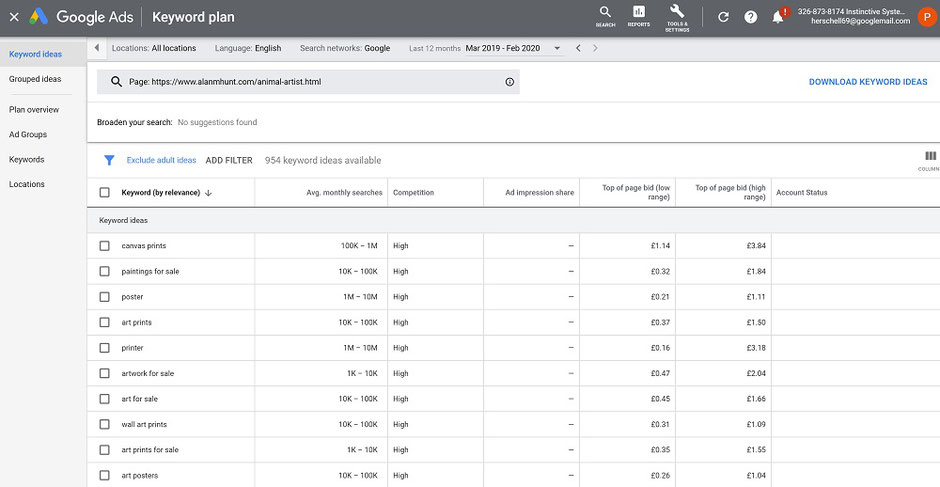 As you can see the analysis brings up a number of keywords that could be used by Lucy Gell to catch people searching for her animal art. It shows words and phrases found in the page and typical monthly number of searches for that phrase. For example there are between 100,000 and 1 million searches for 'canvas prints' in Google every month, between 10,000 and 100,000 searches for 'paintings for sale'. The problem at this stage is that if someone simply searches for 'canvas prints' you probably have very little chance of showing up simply because there is so much competition for that term. You don't want to target it on its own for that very reason and thinking about your own behaviour if you searched for that you would then refine your search to supply more detail to narrow down the results to find what you are looking for. In this instance you therefore might decide to pull out terms like 'animal art canvas prints', 'animal art prints', 'animal wall art prints'. Write them down in your spreadsheet, the more the merrier for now as you are likely to discard several later if there is too much competition so that we can find a balance point where it is possible to get to page 1, 2 or 3 on Google search results.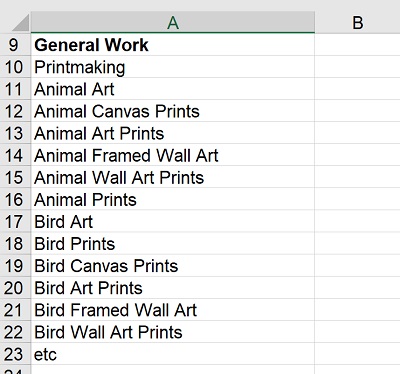 You can start to gauge some to ignore at this stage. If you see that a particular search is only done 10-100 times at this level, by the time you put 'animal art' in front of it and if your put 'fun animal art' in front of it it will be very specific to Lucy's product but a phrase not worth bothering with for the 0-10 monthly searches it is then likely to produce. You need to be targetting higher numbers but we will look at that more in a later post, just ignore the very low numbers here for now.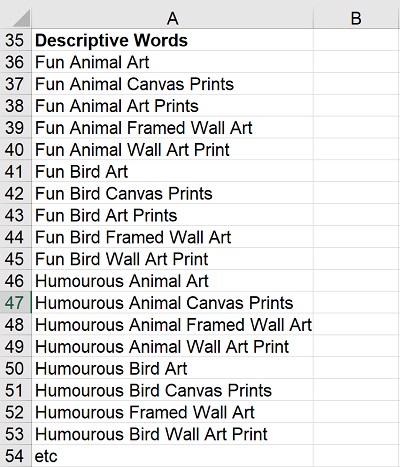 If you repeat this process through each of your competitors and expand results across the list you brainstormed in 107-Brainstorm SEO Keywords & Phrases you should now arrive at a very long list of potential keywords and phrases. Do not underestimate the amount of time to spend on this. It is worth a couple of days of your time exploring in order to do really well. In the process you will probably identify lots of other things from your competitors websites that you can also use in your own.
In my next post on SEO we will look at this list further and work out how to identify which keywords and phrases to use and which ones to ignore in this list as we move towards working out how to target those keywords and phrases by making changes to your website.
Do you have an SEO keyword and phrase list yet? How many items do you have on it?
If you have found this free advice useful, please return the favour by following me on Instagram or Facebook liking my posts and mentioning me to your friends! Switch on notifications (see Day 40 - How To Get In First) and join my mailing list so you don't miss any posts! Thanks.