Day 97 of #100daysmarketingcreatives - How To Create A Tasteful Lifestyle Image On A Budget. Professional lifestyle images without the expensive photoshoot (Part 2)
In my last post in this project Day 96 - How To Create A Tasteful Lifestyle Image On A Budget I talked about locating a suitable lifestyle image in Shutterstock or similar stock image website. Today I want to talk about how to insert your own artwork or photography into a suitable frame and then into that image so that it looks like it really belongs there rather than having simply been pasted in as I have with my partner Lucy Gell to create the image below.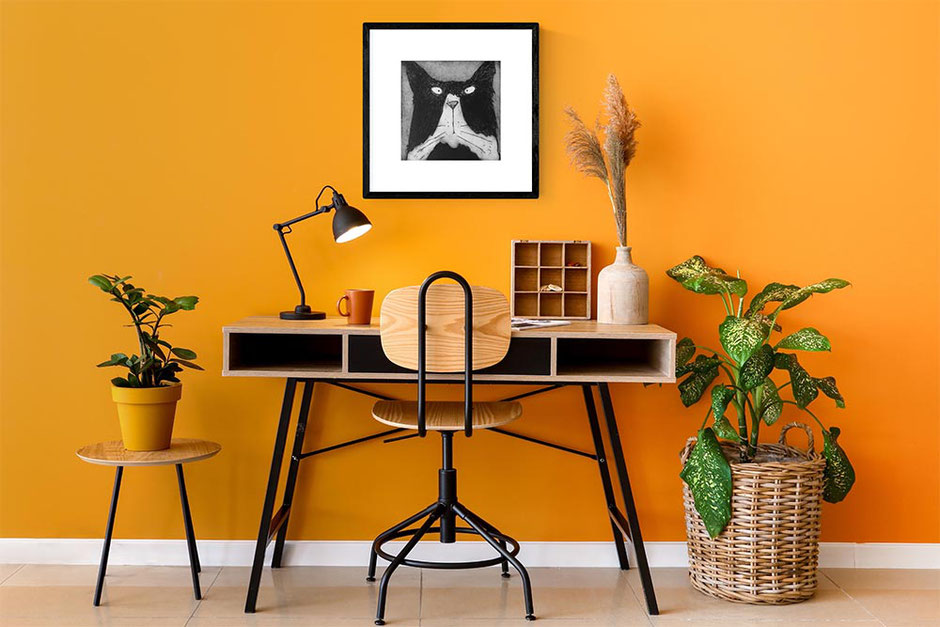 So if you remember we selected a number of stock images such as the one below (this one contains a clock which we can either cover with the picture or you can edit out items you don't want with other software such as Photoshop. If you do not feel equipped to do that, however, please be careful that you have enough space in the images you choose to insert your work and maybe download a trial version of the image with a watermark before deciding to purchase it.
Next we used some great software we have discovered called Mockup Editor. We have been using this software for a few months to create mockups using the built in scenes but recently found those a little limiting. The only furniture we can add are desks and chairs and there are limited backgrounds although many different reference objects can be added. What we love about the software is how easy it is to enter a size for your art or photography, drop it into the image and then add a frame from a selection of available frame sizes, all being added to the scene to scale and creating a believable shadow effect so that the work really looks part of the image. What we tried to do to go to the next step with the software, however, was to use the 'upload background' feature to add our own background from a stock photo instead of a built in background and we were really pleased with our results.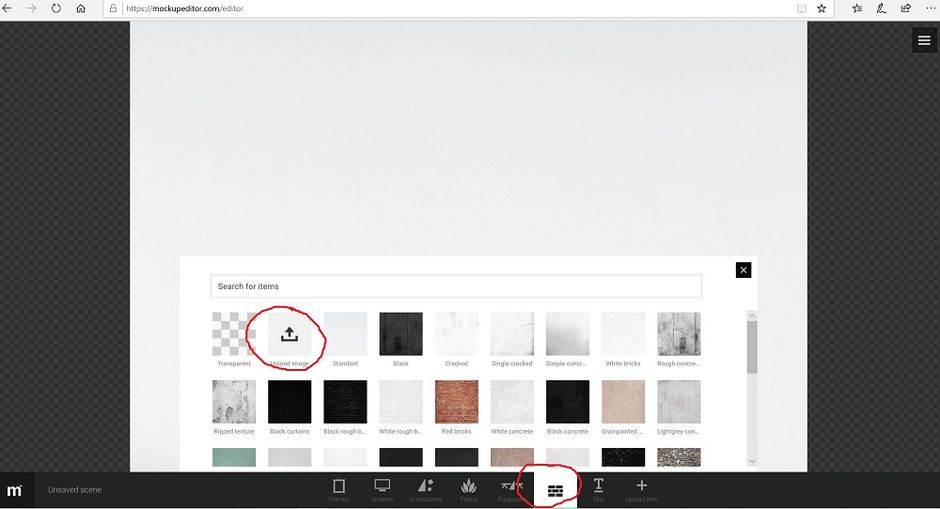 Initially we used the photo straight from Shutterstock until we realised that in the photo the light was coming from the right and in Mockup Editor the light is coming from the left so our shadows would be wrong. We quickly went back to the Shutterstock editor and flipped our image to correct this before bringing it into Mockup Editor.
Next we clicked the frame icon at the bottom left then chose the frameless option for now (this is not necessary with built in backgrounds but it helps get the maths right first with your own items).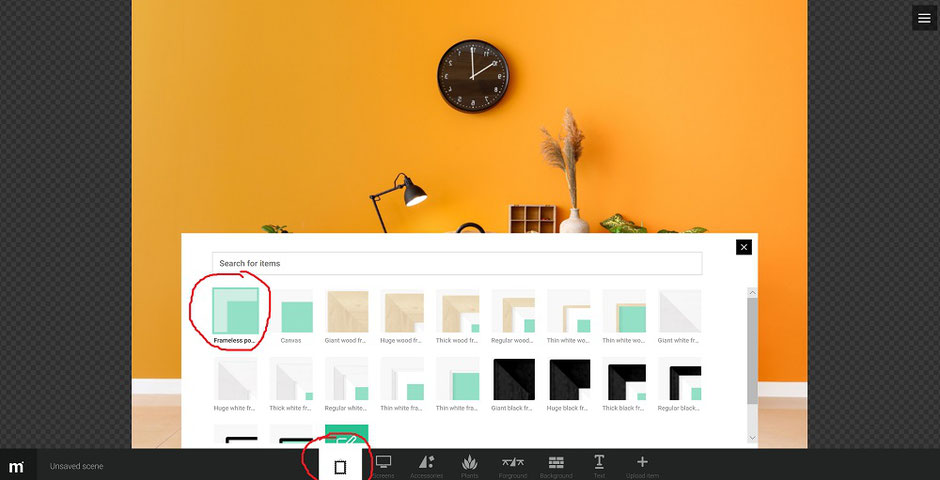 We were asked for the dimensions of our image and an object was created which we then clicked on to upload the artwork. In this example we have used Lucy's 'Tom Cat' image which in reality measures 24cm x 24cm. Immediately it looked slightly too big because the Shutterstock background is not to the same scale as Mockup Editor therefore we needed to work out what scaling needs to be applied to our image which is where the maths gets slightly tricky so write it down so you can remember how to scale work to add to this particular shot again if you are going to reuse it.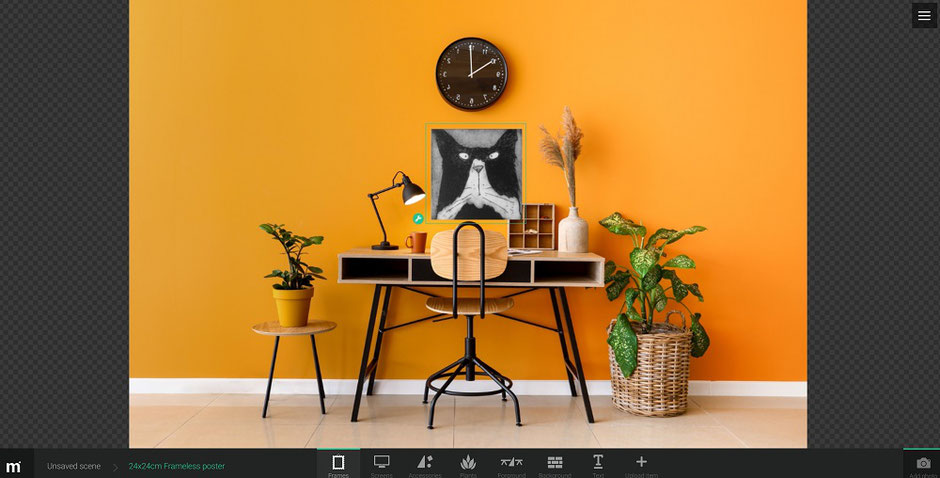 Sometimes there will need to be a little guesswork as you will not know the size of objects in the image. Fortunately for us we have one of the Ikea chairs shown here so we could measure exactly how big it was. We could even put Lucy's print against the back of our chair to see how far it went across it. When we did that we found that it almost covered the back of the chair. We therefore had to click the green spanner tool in Mockup Editor to change the image dimensions and slowly reduced them a bit at a time until we got to 19cmx19cm instead of 24cm x 24cm so that the image now looked in proportion to the chair.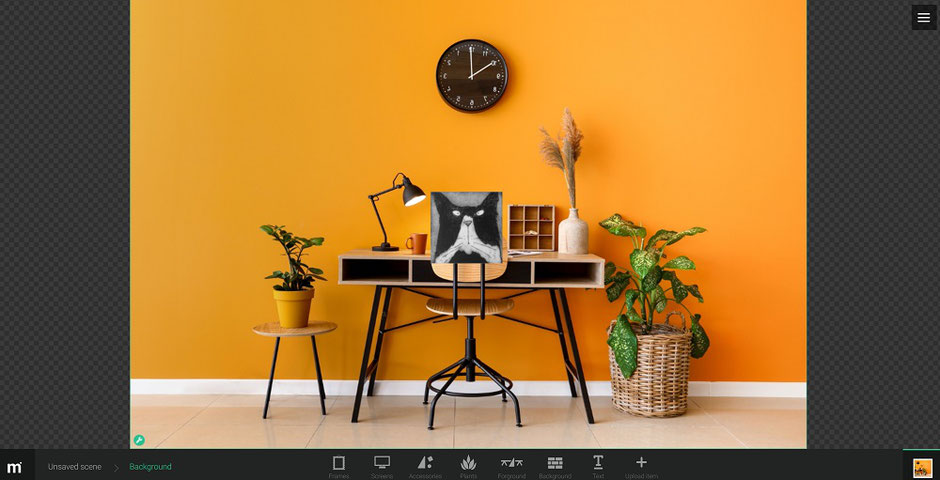 As the original image was 24cm and the new one is 19cm in order to correctly scale the frame and mount we therefore have to multiple the actual figures by 19/24 ie 0.791. We then clicked the green tool and selected to change the 'frame size'. Lucy's mount would typically be around 8cm on this image so 8 was multiplied by 0.791 and rounded to 6cm. A new frame size was calculated around 1.31cm. We chose a plain black thin frame with a plain white passepartout so as not to distract from the image but experiment with the options here. We also added maximum shadow to help the image fit in with the stock photo better.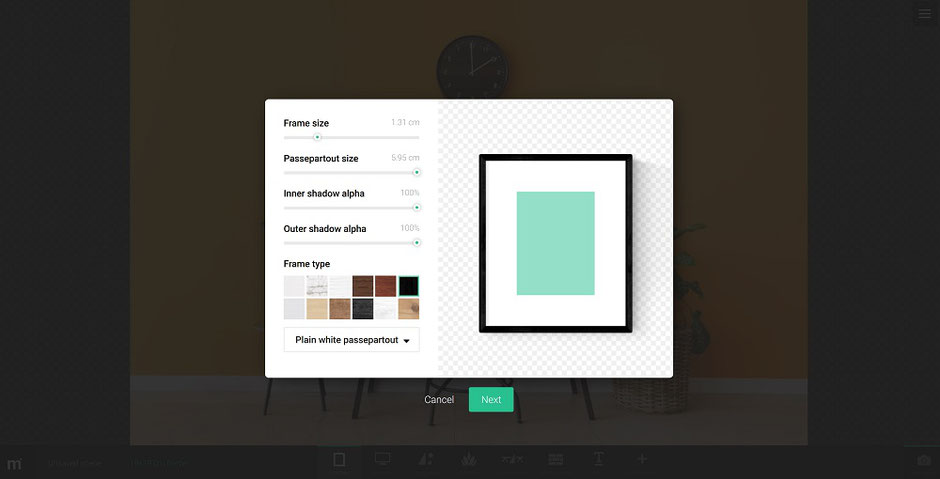 We were pleased with the results on this first image and have many more planned. Mockup Editor lets you save your images to use again and also lets you add multiple artwork or photography and other reference objects to your image. To download your images, however, you will need to pay. At time of writing you can pay $5 for a single download although if you get all your images ready you can pay as little as $7 for a month of unlimited downloads or even $5 per month for an annual plan. A great investment to take your online presence to the next level! Download the maximum resolution then you can always resize it locally depending on where you are going to use it.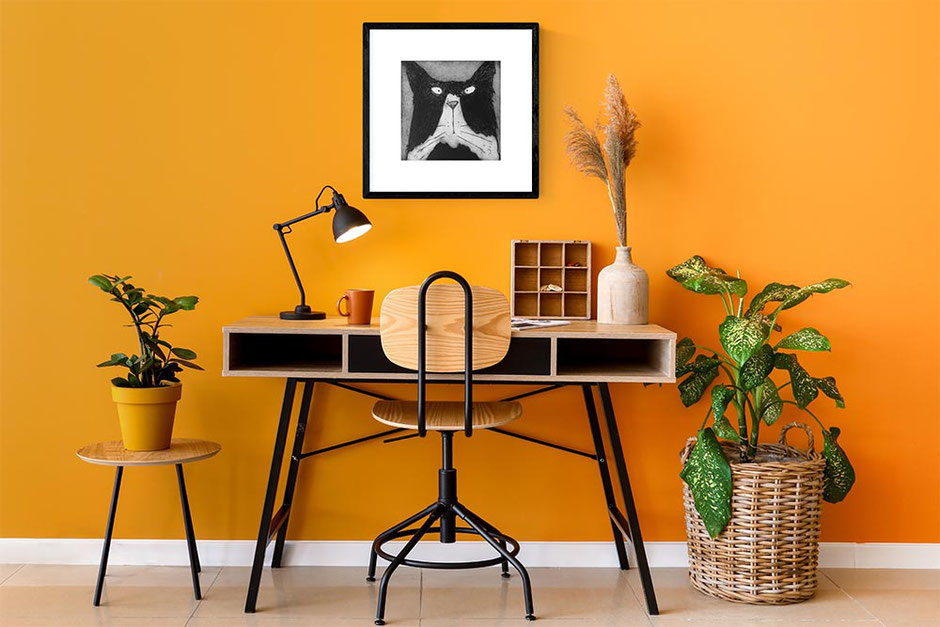 In a future post I plan to take things even further by tweaking images more as well as looking at dropping other objects such as ceramics into a mockup as well as art and photography.
Are you using Mockup Editor or similar software to drop your art or photography into your images? How is it going? What do you think of this technique?
If you have found this free advice useful, please return the favour by following me on Instagram or Facebook liking my posts and mentioning me to your friends! Switch on notifications (see Day 40 - How To Get In First) so you don't miss any posts! Thanks.