In my last but one post Day 94 - Who Are You? Got A Name? I talking about introducing yourself at every opportunity online so that people get to know your name and face. Hopefully you are already doing this or are changing things to put your name and face out there more. Then in my last post I mentioned that I am creating a new Etsy shop for a customer and a few of you mentioned it might be useful to write a bit more about Etsy so I thought I would combine both these posts and talk about getting yourself found BY NAME and why it is so important on Etsy.
If you are not sure whether you should be on Etsy check out my post Day 56 - Where To Sell Art and Craft Online. What I am about to discuss, however, is also relevant in Folksy, NuMonday or any other platform you choose although the implementation may be slightly different.
Assuming you have gone onto Etsy people often concentrate on optimising their products so that they can get found with key words that might describe those products, for example, 'fine art landscape', 'fine art work', 'Derbyshire Street Scenes' etc but lets step back a bit, can people find YOU if they know your NAME. This is especially important if people have seen you, perhaps in person at a show, elsewhere online etc and now want to look you up.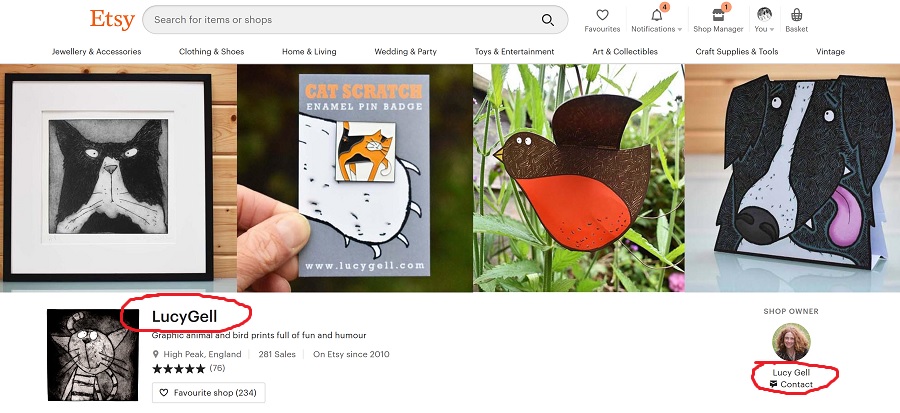 Lets start with your username? Was your name available when you signed up? Do you use your business name instead? Are you using something more obscure? If still choosing one be sure to check out Day1 - Choose A Name where I weigh up the pros and cons of a personal verses business name. If your username is your personal name in Etsy you are at a big advantage if people are looking for you but there are workarounds.
If I search for my partner 'Lucy Gell' who's shop is called LucyGell, for example, it doesn't bring up her shop right away but the first line returned says 'Did you mean the shop LucyGell?'. Hopefully most people looking for her will read that line and click to go to her shop. The new Etsy shop I am building is for Clare Allan. The shop name is ClareAllanArt in order to be consistent with her website domain www.clareallanart.com as well as various social media accounts but what happens if I do a similar search for 'Clare Allan'? Well at time of writing while the shop is almost empty it comes back 'Clare Allan had no results' then lists many products with either the word 'Clare' or 'Allan' in them, none of them hers! Not ideal!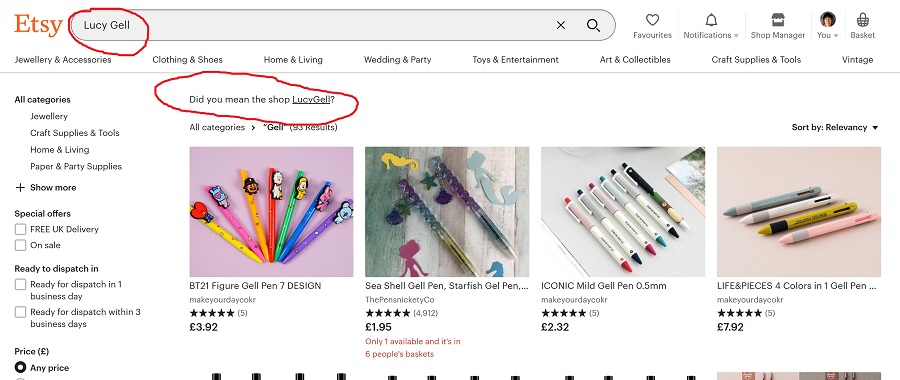 If I search for 'Clare Allan Art' it is a different story I get the same message as Lucy 'Did you mean the shop ClareAllanArt?'. Some people might do that but others might give up thinking Clare isn't on Etsy. Some might even refine their search and as they enter 'Clare Allan' in the search bar they might click the line that appears below it that says 'show shop names containing Clare Allan' which will find her shop.
Whilst some people will know to do that many won't so how can you bomb proof this search to make sure that everybody can find you by name, even if your name is not contained in the username like these 2 examples? Well it is quite straight forward really although many people miss this. You need to treat your name like any other keywords that you expect people to use to try to find your products. Each of your products can have a title which is up to 140 characters long (I will talk more about this title in a later post as many people underutilise its capabilities). Putting your name in the product title on a selection of recognisable products will mean that those products will likely appear when people search for you by name. Including the name nearer the beginning of the title will give it more weight in searches than at the end!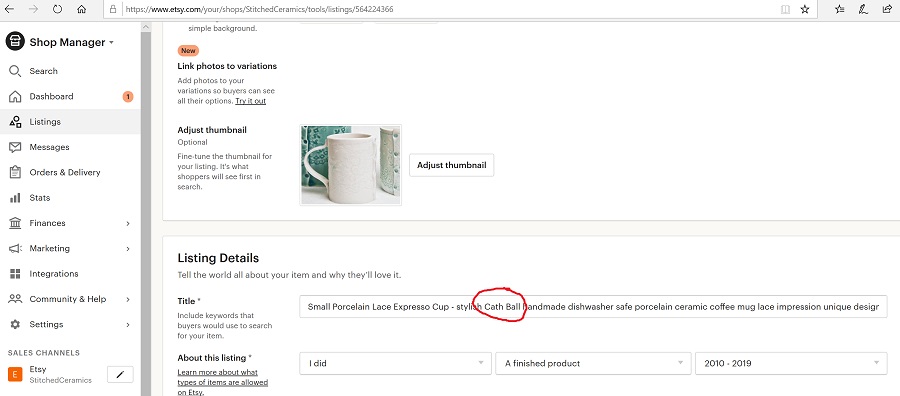 In the same product listings you could then also use one of your 13 available search tags to enter your name (although if your name is not very common on Etsy this may not be unnecessary). You will see how I have used this to good effect to find Cath Ball of Stitched Ceramics. Cath's business name, website, social media etc usernames use 'Stitched Ceramics' not 'Cath Ball' so I have applied her name to the titles of some products and added search tags with her name to those products. If you now search for 'Cath Ball' in Etsy it returns 10 products and 3 of those products are instantly recognisable to her customers as hers. I have used a similar approach to find 'Catherine Edwards' of who owns the shop CELeathergoodsShop.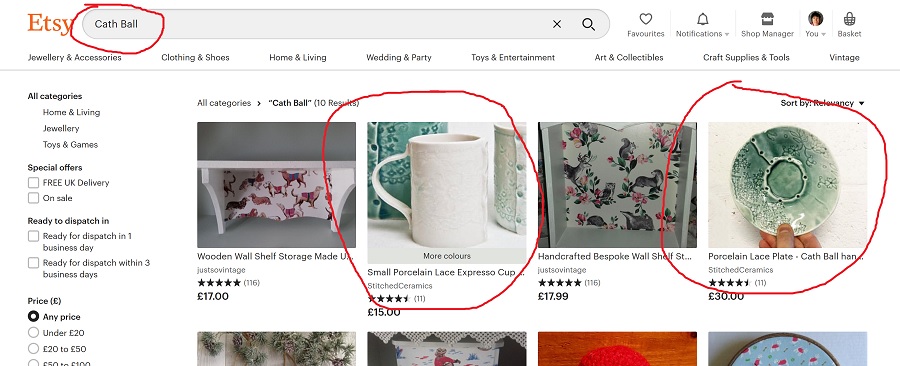 You need to test this for your own name and see how many items are returned. If it is a lot because you have a common name, for example, then you might want to add your name to more of your products in this way so that you have a good spread of your products in the results, but obviously the downside to that is that you will have to lose some other keywords for those products so do it carefully. The good news is that unlike Google searches that might take a few days to refresh before you can test results, in Etsy you can test your changes immediately!
Can you be found in Etsy using both your name and business name if it is different? Have you employed any other techniques to achieve this?
If you have found this free advice useful, please return the favour by following me on Instagram or Facebook liking my posts and mentioning me to your friends! Switch on notifications (see Day 40 - How To Get In First) so you don't miss any posts! Thanks.