By now, in the 2nd week of December, you might have already approached your Christmas last order dates, particularly for worldwide orders, European and if your product takes a week or two to make then here in the UK too so is that it do you just work on existing orders and not promise delivery on new orders until after Christmas?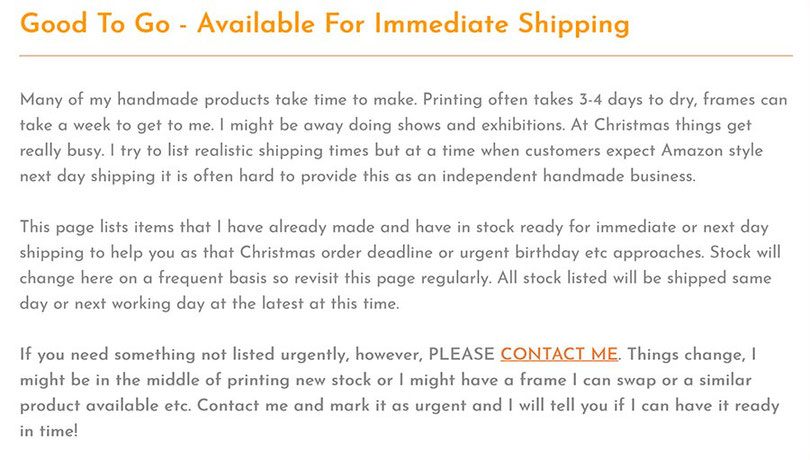 Well not quite, you still have other opportunities to get more out of Christmas with 'good to go products'. We all have them, these are the products that you created some time ago, perhaps during a batch production process, maybe left over from a show or exhibition, perhaps even returned from a gallery and forgotten in the depths of your studio. Even slow moving items that you are prepared to discount. These products don't have a making lead time, they are literally 'good to go' you just need to draw these products to people's attention now rather than focusing on best selling lines although if you have best selling lines in your 'good to go' section too that is even better! At time of writing Lucy Gell has 1 or more products across 41 print product lines in stock to ship same or next day. She uses the page below to quickly tell people which products these are. As she sells the last 1 or 2 in stock online they will automatically remove themselves from the list.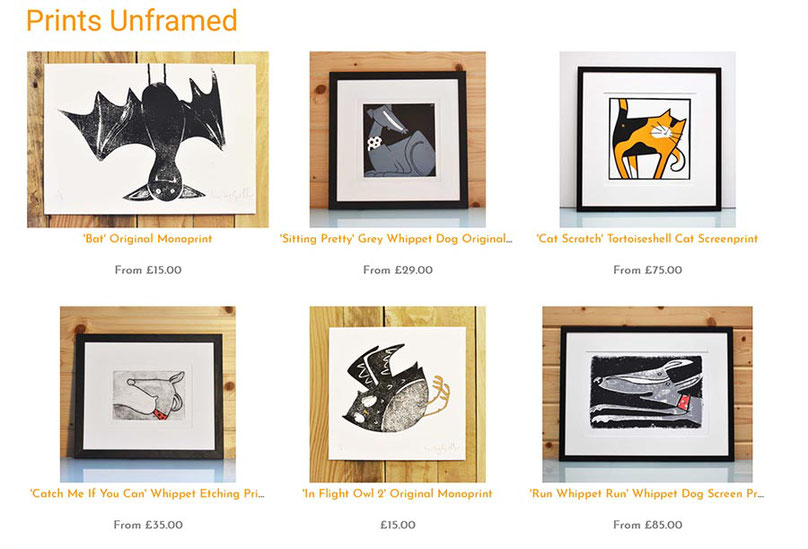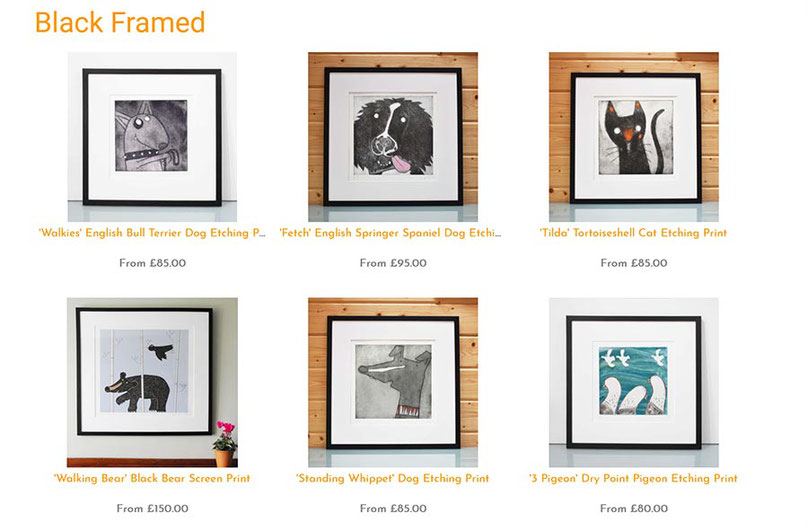 So how do you promote them? Well in my option the best place to start is with a website page just for 'Good To Go' products. Create a web page with a title such as 'Good To Go' or 'Items Available For Immediate Shipping'. Hang this off your shop menu. It should not be difficult to create this page as most website software these days will allow you to drop a product catalogue or similar object onto the page. This then automatically displays a thumbnail of all products that have a particular tag on their own product page (in the example below Lucy used a tag '2daysprint' for unframed prints, '2daysblack' for black framed prints). Without a tag it would list all the products you have.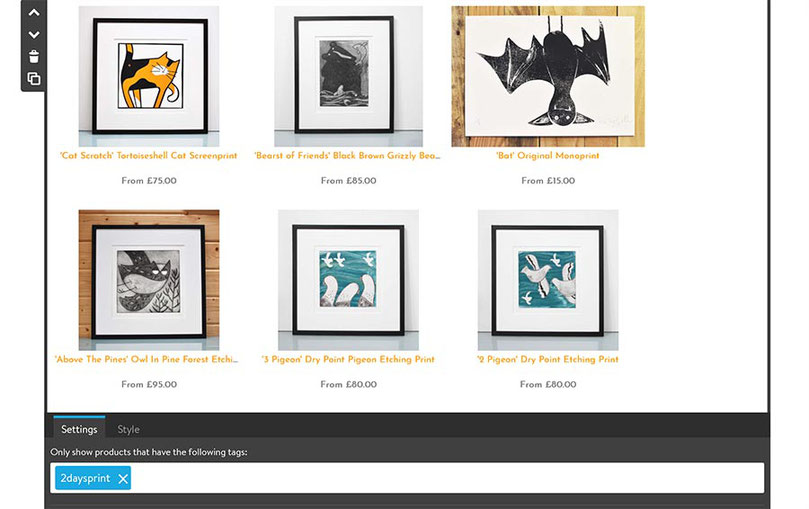 Now visit the product page for each product that is 'good to go' then amend the product details. Set the precise number of that product you have available and set the lead time for the product to '1-2 days' or even 'Same or next day shipping'. Then add a tag to the product such as 'goodtogo' or has Lucy has done use multiple tags to separate unframed prints, black framed prints and white framed prints.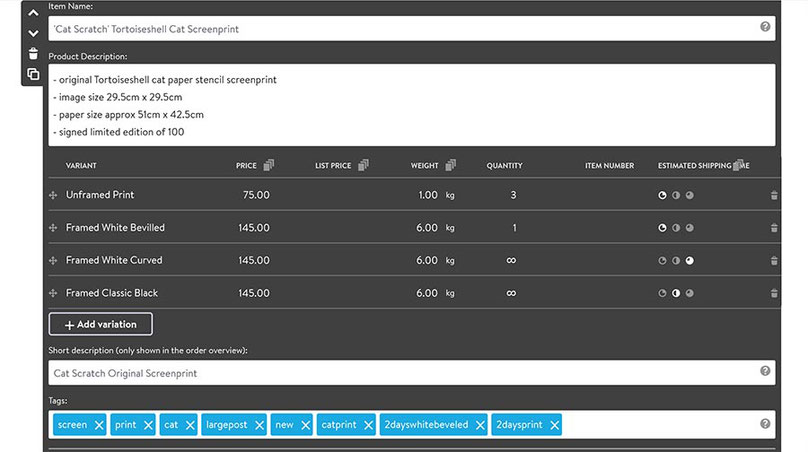 Repeat the above for each of the products that are ready for immediate shipment then go back to your 'Good To Go' web page and check that they are now all listed. Finally add some text to this page to assure people that all the products listed on this page are available for immediate or next day shipping with expected shipping times. Don't forget to also point them to your 'gift wrapping' service to remind them that you can send this directly for them if they wish.
Once you have this web page available you can point to it with a promotional button on your homepage, another on your shop page, from a web blog, from your newsletter and from social media posts. Why not even schedule a social media post each day, perhaps even 2 per day from this point forward listing each item in that good to go page? Market this page not just now at Christmas but throughout the year too!
IMPORTANT - once the last product is sold in a line remember to edit the product page again, take the goodtogo tag off it and set the shipping time back to your standard shipping time which includes the time to make the product for any subsequent new orders. That will take it off your goodtogo page but will mean that you can still take new orders to complete in the new year for that product.
How do you promote your good to go stock?
If you have found this free advice useful, please return the favour by following me on Instagram or Facebook liking my posts and mentioning me to your friends! Switch on notifications (see Day 40 - How To Get In First) so you don't miss any posts! Thanks.