In day 67 - photographing products for Christmas I started talking about Christmas photographs as part of your Christmas marketing preparations. Now its time to start using these photos effectively. Hopefully you will be using them on social media posts and stories, blogs and newsletters soon but the place to start is your website because you can then direct everybody from all the other places to that one central place. It's still only October as I write this so perhaps its not close enough to Christmas to cover your whole website in snow and tinsel but its not too early to create a page of 'Christmas Ideas' on your website that you can not only use this this year but in subsequent years too and can link to it from many other places.
So what do you put on this Christmas Ideas page? Well put yourself in your customers position. You have just arrived on your website and you are looking to buy some Christmas gifts for family and friends. Maybe some larger special pieces for loved ones, some affordable things for friends that you know have an interest in that area and maybe some stocking fillers for the kids. If you have things that lend themselves to Christmas such as Christmas Cards, Robins, Christmas tastes, Christmas smells etc this is the place to plug them.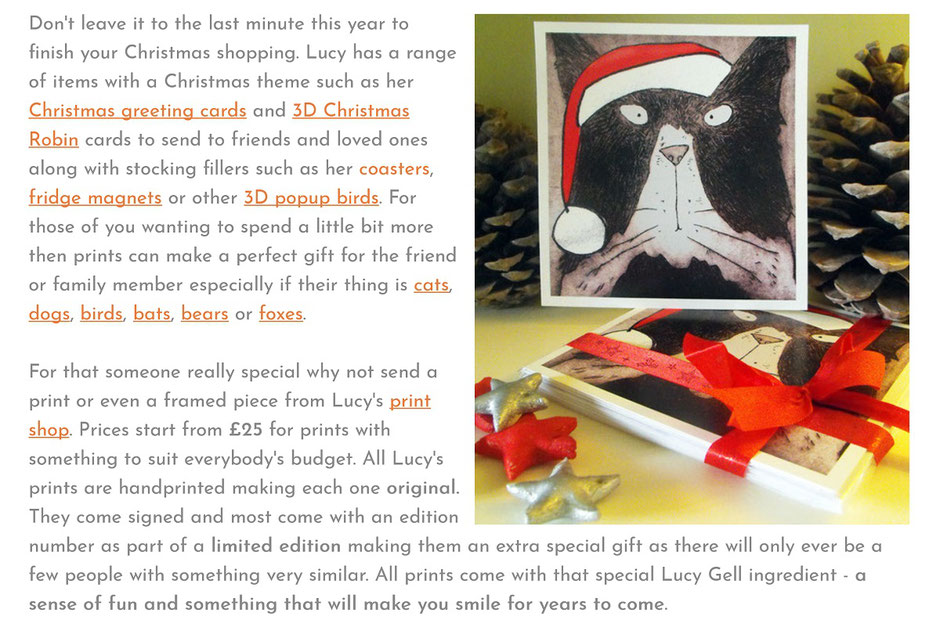 This is also the place to plug other items in your shop. Draw people to product ranges that might interest them then signpost them to more about that range. Use this page to highlight and take people to other pages in your website you think they should see. Use the page to highlight gift 'sets' that can be bought together and might make a good Christmas present.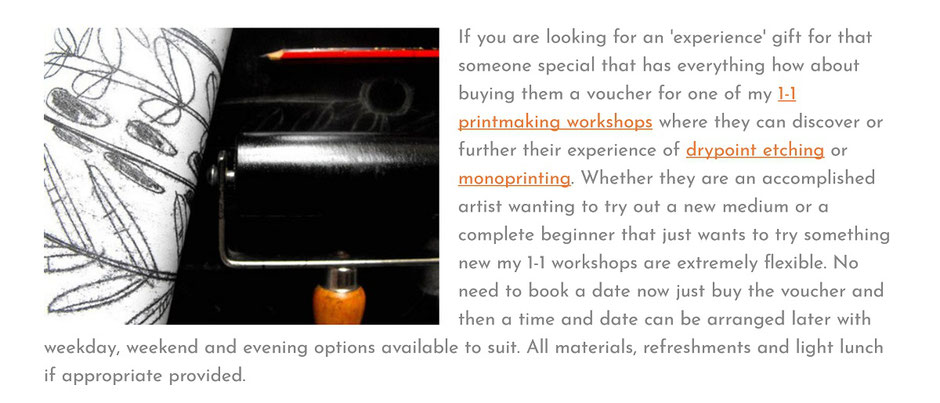 Your Christmas page is also a great opportunity to promote workshops and particularly 1:1 workshops. People love these 'experience' days so they make a great Christmas present if you run workshops for your art or craft and by advertising a workshop voucher that people can use anytime over the next 12 months, for example, you should get lots of Christmas interest.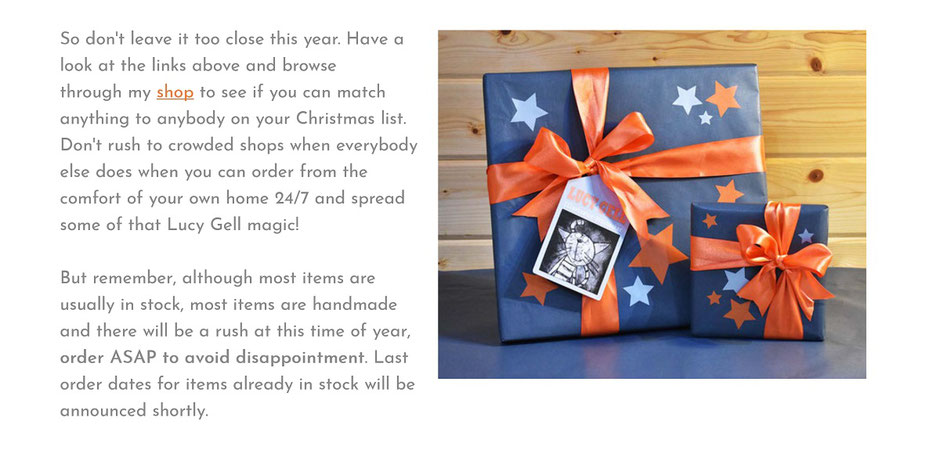 Your Christmas ideas webpage is what many refer to as a 'landing page', a strong page in your website that people will come straight into rather than come directly to a product page or your homepage. As such you can do some strong SEO (search engine optimisation) to draw people to it using lots of Christmas phrases that will appeal to your customers (more to come on SEO soon!).
Place your Christmas Ideas page under your 'shop page' on the main menu. Add homepage subtle link to it now in October, a bigger and bolder graphic link perhaps as we move into November? Link to it on your homepage, in newsletters, social media, blogs etc as we get nearer to Christmas then after Christmas simply 'hide' the page again in your menu etc so that you can switch it on again next year and maybe improve it further without having to reinvent the wheel entirely.
Do you have a Christmas ideas page on your website? What's the URL so we can all have a look? Does it work for you?
If you have found this free advice useful, please return the favour by following me on Instagram or Facebook liking my posts and mentioning me to your friends! Switch on notifications (see Day 40 - How To Get In First) so you don't miss any posts! Thanks.