So your giveaway has closed, you have had lots of new followers and interest in your work, you have drawn your winner and you have posted out the giveaway prize. So is that it? Is your work done? Most people think so and most people miss the last bits that are easy to tie up and can give you a real extra boost to what you have achieved. Extra things you should be doing now include
write to your winner as the prize lands with them and ask them for a publicity shot
write to each person that entered your giveaway with an offer some will find hard to refuse to gain direct sales from the giveaway and email signups
publicise the winner photo and / or quote in social media post, story, website blog and your newsletter
evaluate your giveaway, measure what it achieved, what worked well, what didn't, how can you improve
Write To The Winner
As soon as you expect the giveaway prize to arrive with the winner, if they have not contacted you already you should contact the winner promptly. Use a direct message in the medium that you ran the giveway in and send some text that prompts a response from them such as
"Dear Jane, I am writing to congratulate you again on winning my giveaway prize and to check that it has arrived safely with you. It was posted ??/??/???? so should have arrived with you today, or if not hopefully tomorrow. I hope you like it and would love to hear from you when you have received it? Paul"
This should hopefully prompt a response from your winner. Hopefully they will be delighted with their prize and will want to tell you that. As soon as they do you should get back to them with something like the following
"Dear Jane, thank you soooo much for your kind comments. I am so pleased that you like your prize. Can I ask a HUGE FAVOUR of you? As you know I am a small independant business and it would really help me to promote my work if you will a) give me permission to use your kind comments in some of my publicity b) send me a photo of either you with your prize or your prize in situ in your home with permission to use that too? I understand that many people don't want to show themselves publicly in photos so if that is the case that's fine a picture just holding the prize with your head cropped or the prize on a wall, shelf etc would be equally as good to post alongside your comments? Thanks again for taking part and enjoy your prize!"
Check your mailing list. If the winner is not already on your mailing list maybe another line to encourage them to sign up too but keep it brief, the goal here is to obtain promotional material, mailing list sign up is a bonus. You should find that most people respond really positively to this request and deliver on the ask. Many will even go a step further and post about their win in their own feed and own stories which is a real bonus for you!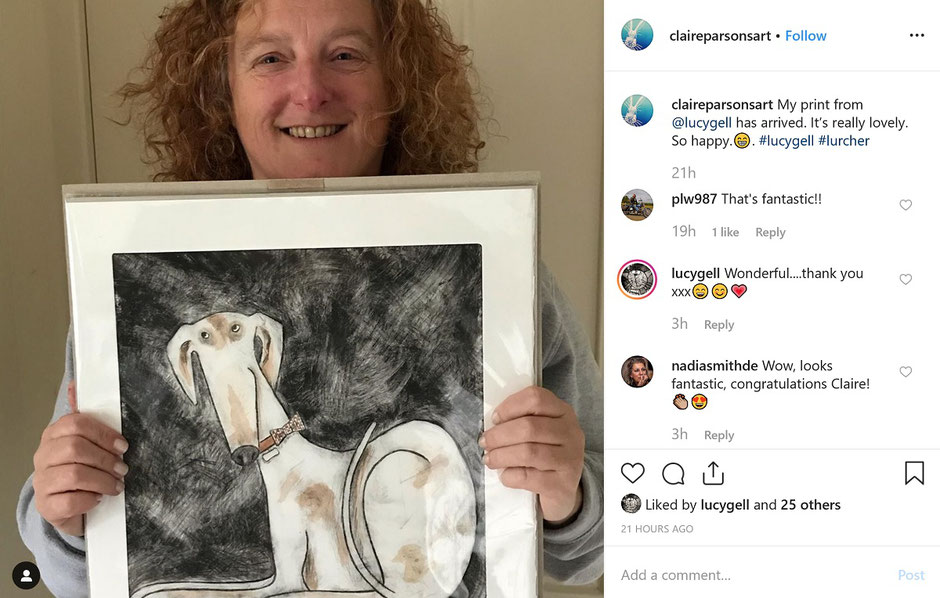 Write To The Losers
So here we are, you have lots of people who clearly liked what you offered in your giveaway and would like to own it for themselves. Do you really leave it there? Most people do but with just a little more effort there is an immediate sales opportunity waiting for you here as well as a long term sales opportunity. The immediate one is if you comiserate with the losers for not winning and offer to cushion the blow with a short term discount to buy what you have just given away, or even a storewide discount to thank them for taking part. Keep the timeframe short, for example 7 days and the discount must be worthwhile, 25% perhaps. Hopefully some people will bite and you get sales that more than cover the cost of the giveway.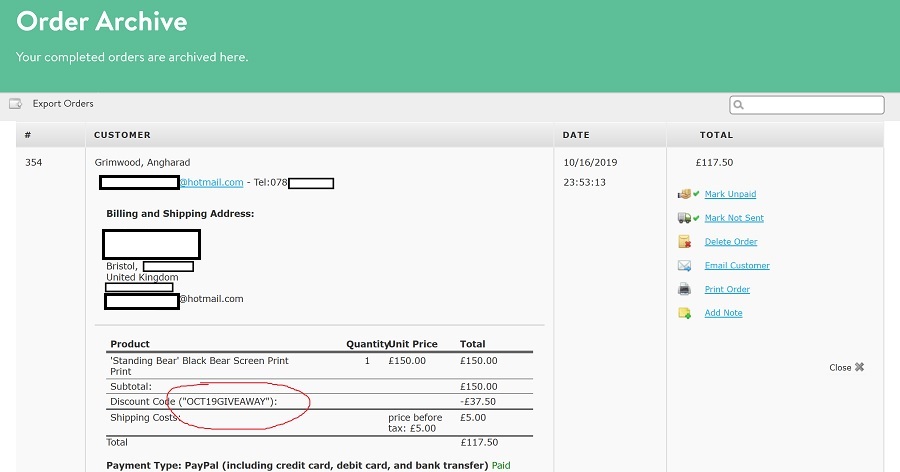 The second ask in your message is for people to join your mailing list. You did this on your Announce The Winner post remember, but social media being social media not everybody will see this. Make sure that every person that enters does see this by including it with your discount offer in a prompt direct message to them just after the winner announcement. Try something like the following
"Dear Jane. Thanks for entering my social media giveaway. I am sorry to tell you that you have not won on this occasion but as a BIG THANKYOU to you for entering, I want to tell you about an EXCLUSIVE discount for everyone that entered the giveaway. For 7 days only you can get 25% off if you want to purchase the giveaway prize (or anything else in my online store) by entering the code OCTGIVEAWAY at the checkout. You can also sign up to my mailing list on my website to hear about any future giveaways and special promotions I am running in the future. Thankyou again so much for entering and showing interest in my work and I hope to hear from you again soon. Paul"
A WORD OF WARNING when direct messaging though - social media platforms will look for the same text being sent repeated times and block it as spam. To avoid this by all means copy and paste text to use as a basis for this, however, personalise each message by personalising the name and moving a handful of words around so that each message looks slightly different to get through any spam detection.
Use The Winner Publicity
Hopefully you get a nice photo and testimonial from the winner. Be sure to use these in a social media post and a story as soon as possible after you receive them so that the giveaway is still fresh in people's minds. Every post is an opportunity to gain new publicity and new followers and this is an easy post to write and somebody else has provided the copy! Use it as another opportunity to thank people for entering the giveaway which has now closed but plug the fact again that if people sign up to your newsletter that they will be notified of any future giveaways and promotions.
If you blog on your website this is also a good easy blog opportunity so make the most of it and use it. You should also include it in your newsletter. Don't send a newsletter out too soon though, you sent one to announce the giveaway so just schedule a mention in your next newsletter whenever that is timed for.
Evaluate Your Giveaway
Don't just move on. Take time to sit down and evaluate your giveaway. How did it go? What can you measure and record that is directly attributed to the giveaway? Percentage follower increase? Newsletter sign ups? Direct sales? Write these figures down so that you know what to expect next time. What worked well? What didn't? Was the prize suitable? Did it have enough interest? Would it be better to have a choice of prizes to attract more interest? Is it best to go it alone or collaborate with others? How did your giveaway rules work? Would you change anything about them? Did you have enough time to do everything that you wanted to do or would it be better to schedule everything next time so that material for all components including copy, images even direct messages are prepared and ready to go?
Once you have a formula working here giveaways start to become quite predictable in what they can achieve which is why so many people use them effectively. Most results are proportionate to your existing following so as your following grows the results of the giveaway should increase with each one you run if you do it in a similar way and with typical growth of 5-15% of audience size plus additional sales and mailing list signups they are well worth doing regularly. Consider running a couple every year on your own perhaps and a couple with other collaborators and see where it takes you? (I will be writing about collaborations in the future after a short break from giveaways!).
What were the conclusions from your last giveaway?
If you have found this free advice useful, please return the favour by following me on Instagram or Facebook liking my posts and mentioning me to your friends! Switch on notifications (see Day 40 - How To Get In First) so you don't miss any posts! Thanks.