Ok 11 weeks to go until Christmas and you are struggling for ideas of things to post about in social media in order to bring more traffic to your website and generate Christmas sales? Are you serious? How many products do you have? But you have shown them before? So what! Is that not what you do when you do show after show - lots of the same products but just a handful of new ones each time? Ah - but that is a different audience each time I hear you say. Well it might be but if you are aggressively growing your online audience then so is that!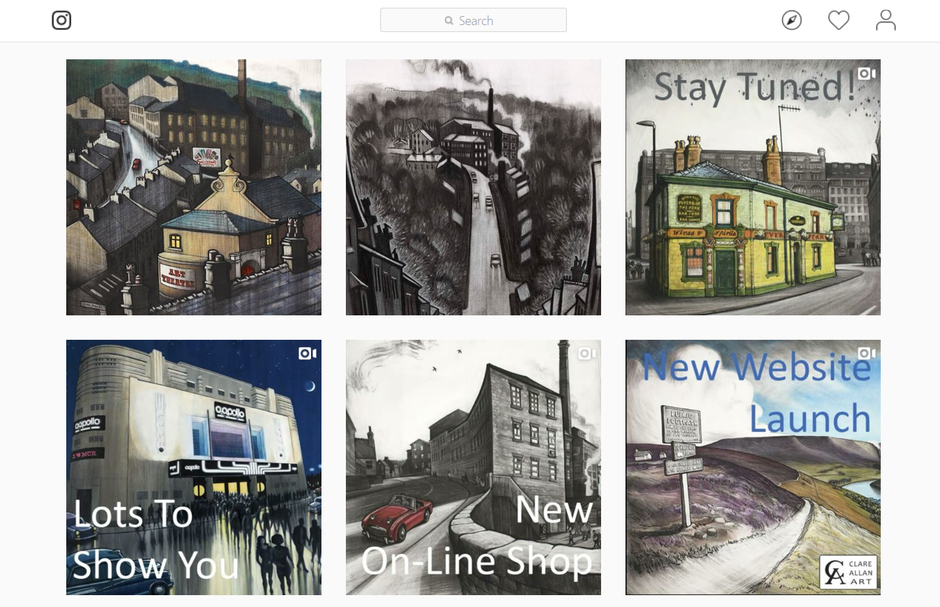 It doesn't matter that some people will have seen the same product within the last 12 months, most of your audience is hopefully new if you are growing it well so they won't and besides, less than 10% of your Facebook audience see each post (unless you are paying for advertising) and even in Instagram most people are not seeing every post so you are allowed to repeat yourself in social media!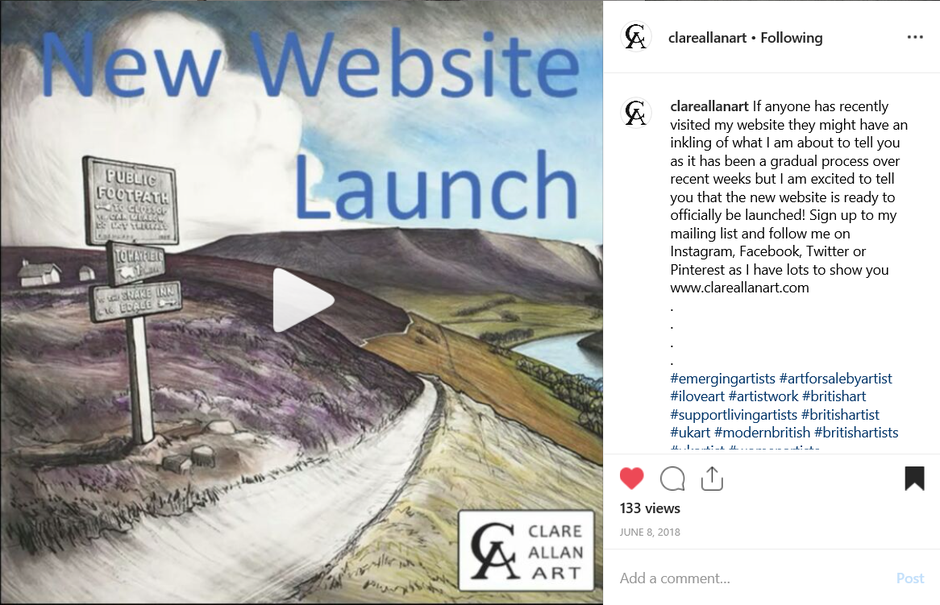 Look through your catalogue of products. List them in a spreadsheet so that the list is complete and has some kind of order then diary each one on a calendar from now until Christmas. It doesn't matter if its one every day, one every two days or one every three days just be consistent with the number of products you have. If you only have 25 you are at a great disadvantage anyway (see day 60 - products rule of 50) so this might leave lots of gaps (even then though if you have the same product in different colours spread the colours apart and that will still work) but if you have 100 or more you have one for every day now and some! Don't wait for Christmas, if you have plenty of products start in the summer, perhaps to announce the launch of a new website as Clare Allan above did last year running the exhibition right through from June until Christmas!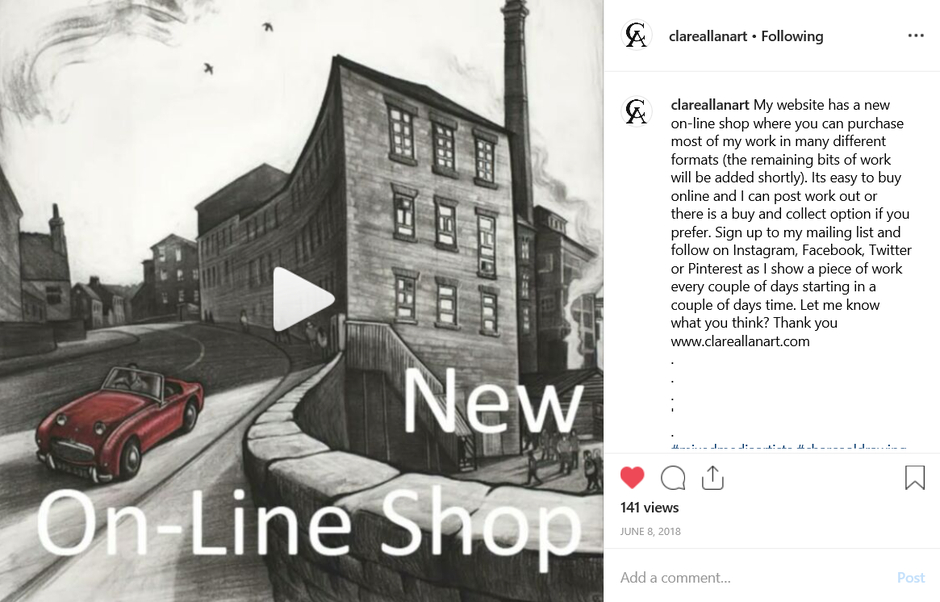 If you have posted before, use a different photo if you can. Maybe the last one was framed so this time show it mounted, lifestyle or closeup, colour or size variant perhaps. Consider sequencing posts so that sets of related products come together. Research hashtags so that you have a good range of hashtags to use and spread them across your posts making sure that the hashtags are not too big or too small for the size of your following (more about that in a later post).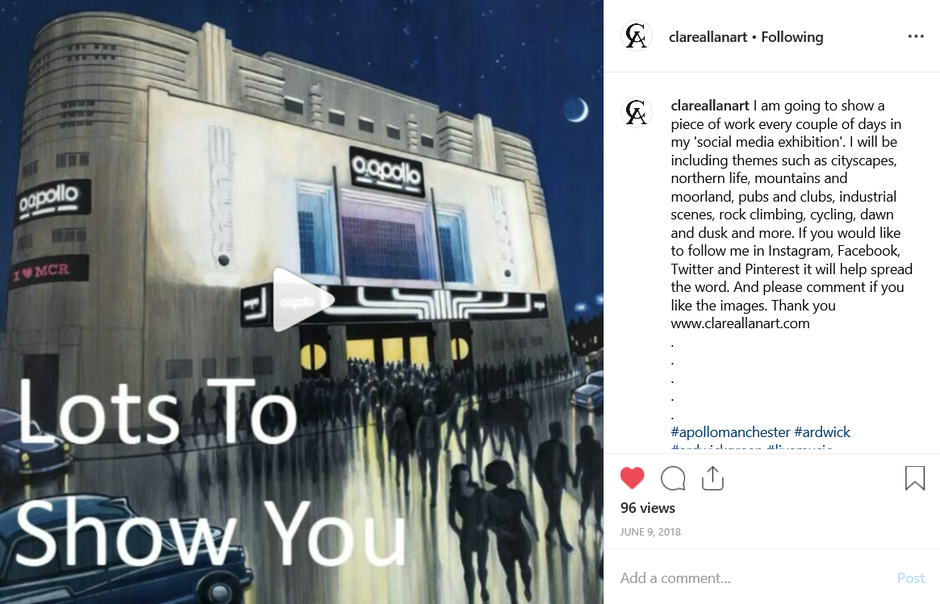 If you produce art or photography maybe describe this as an online exhibition and make a point of how you are making your work available to all in the comfort of people's homes and sharing it internationally even! Use offline exhibition terminology and simply take it online. How about an online preview evening but people have to provide their own wine in their own homes while they make themselves comfortable for a sneak preview of posts, video etc? No hashtags just special invite to those already following you or on your mailing list for the invite? Start your online exhibition off with a bit of advertising like you might do for a traditional exhibition, a series of posts including words and images announcing the exhibition over a period of 3 or 4 days, where and when it will take place and inviting people to follow you and watch as it unfolds. Video is really powerful in Facebook at the moment so use it if you can. Announce the event 3 or 4 times then start it.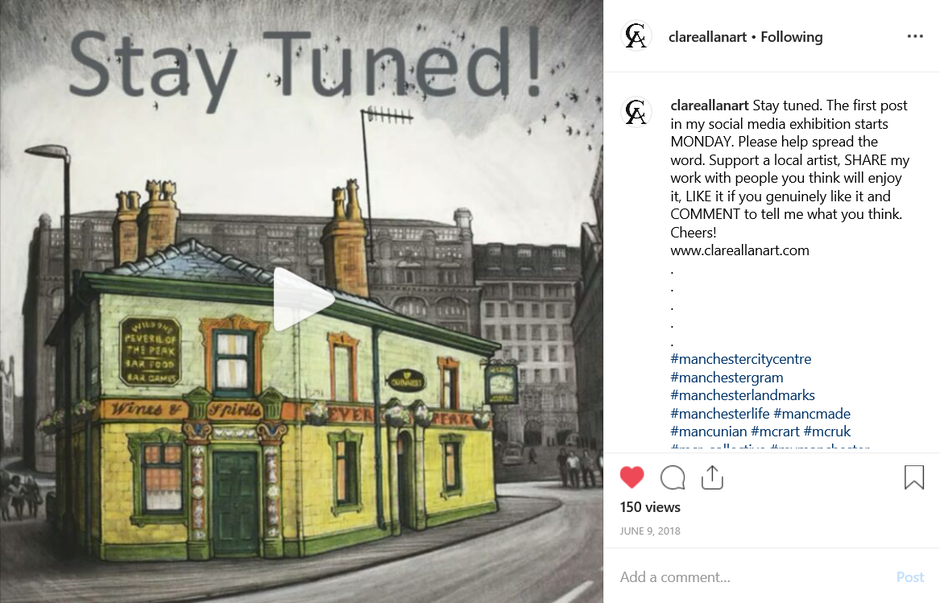 Don't reinvent the wheel, take copy from your website product description and post that in social media. When designing copy design it to work in both places to save you effort. Keep it brief but make it interesting too. Similarly don't research a whole set of hashtags for every post. Save groups of hashtags that you can reuse and maybe just add one or two new ones now and again. Automate it if possible (a post coming on that soon!).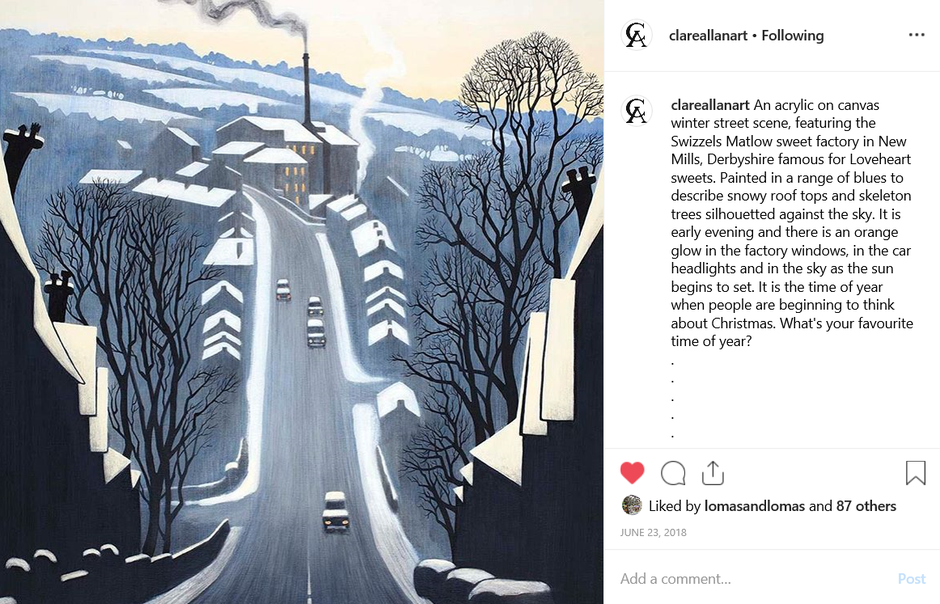 Post in your online exhibition but then sneak other posts in between these planned posts between now and Christmas. Add some work in progress, show news, behind the scenes stuff etc just to break things up but keep that online exhibition going consistently throughout.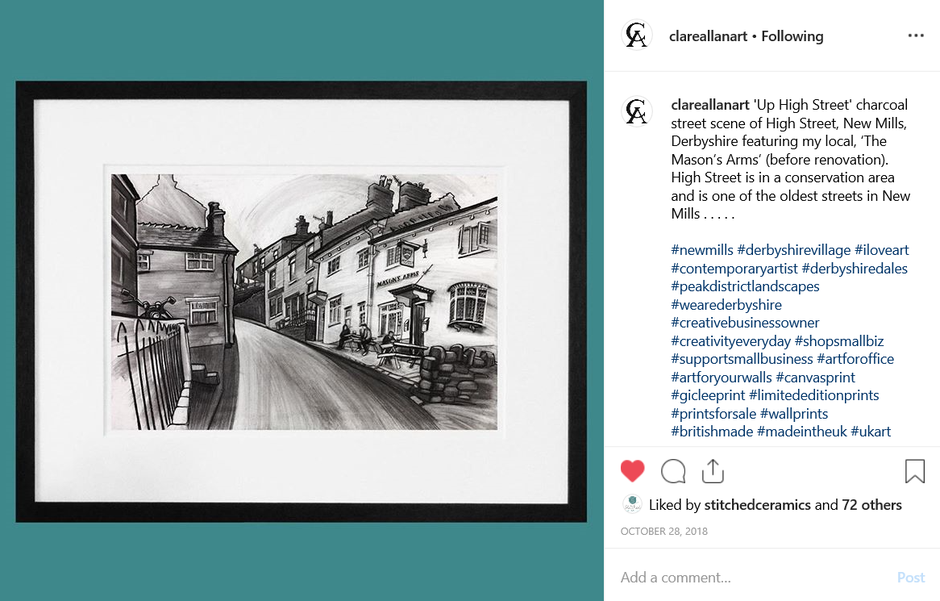 Keep in front of your audience and they will keep coming to your website between now and Christmas and they will be buying far more product.
If you have found this free advice useful, please return the favour by following me on Instagram or Facebook liking my posts and mentioning me to your friends! Switch on notifications (see Day 40 - How To Get In First) so you don't miss any posts! Thanks.
Have you ever done an online exhibition? What did you do and how did it go?