One Product Per Page
A common mistake for many when designing their website shop is to list lots of products on the same web page. DO NOT DO THIS - every product should have it's own webpage. This may seem like a lot of extra work at first, it will seem easy just to add another product listing onto an existing page but do this and you will not be helping people to find your products. In day 60 - products rule of 50 I talked about how every product is an extra entry point into your shop. That is only the case if you give it it's own webpage. When you do that then that webpage is all about that product only, the copy, keywords and all the other search engine optimisation you do are around that product are therefore very relevant to that product.
If you mix up different products on the same web page you reduce the number of entry points to your website but you also water down the keywords, phrases and other things that will bring people to those products. Only add a second product to the page if it is simply a variation on the first so that it shares most of the properties with the first product but even then consider if it is worth the extra work to list it on its own seperate web page. Many web design systems such as the one I mentioned in day 9 - create your first website even allow you to 'replicate' previous pages which really speeds up the process when you can duplicate a previous product page with the press of a button before then going on to tailor it to the new product that you are adding.
Title
Every product page should have a title. Make sure that you use a 'heading 1' title at the top of your page and clearly describe the product there. Using a 'heading 1' title really helps with SEO (search engine optimisation) so be sure to add descriptive keywords that people might use to search for the item. Strike a compromise between using a handful of the top keywords that might be used but not making the description too lengthy.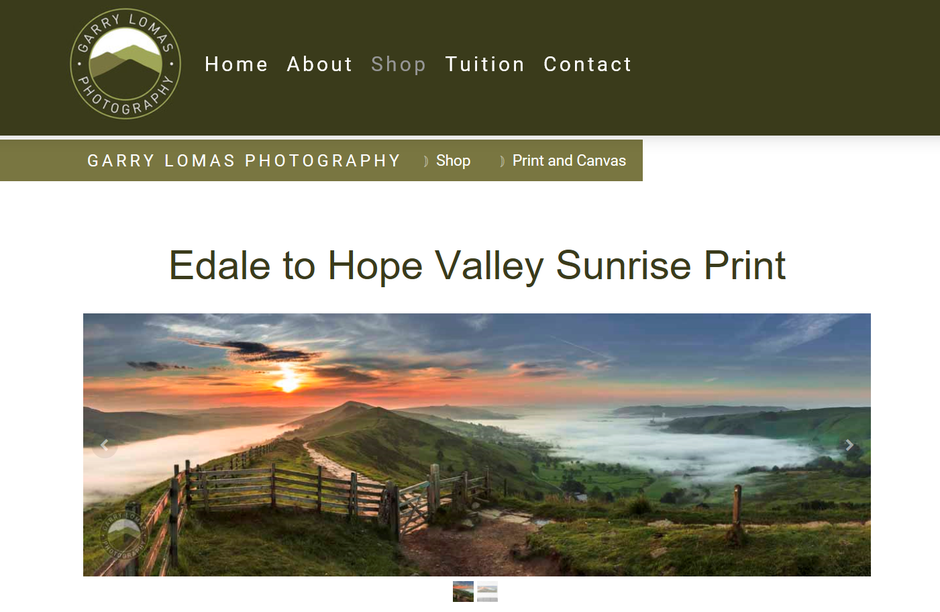 A Large Picture Or Slideshow
A picture paints a thousand words as they say so quickly after the title, before any lengthy descriptive wording you should have a large image of the product. Many shopping basket style systems have thumbnail images that you have to click on to see larger pictures which are fine but by showing a large image immediately at the top of the page just below your title you immediately grab visitor's attention. If your website software lets you display a slideshow here consider using that. You might, for example, start with a close up image of your art, photograph or craft piece and then pull back to a lifestyle shot that shows it in a frame or a room situation, for example, where you can quickly get an idea of size etc.
Descriptive Text
After the large image consider 2-4 lines of descriptive text. Don't rush this, carefully craft it. Don't state the obvious, you need to add value to the image not just state what is in plain sight already. Carefully place a few keywords in there that people might use to search for a product like this but be creative in your language. If a location is involved in some art work or a photograph mention that location and maybe hyperlink it to somewhere that people can find more information if they want to, don't feel you need to add all the information here as not everybody will want all that extra information.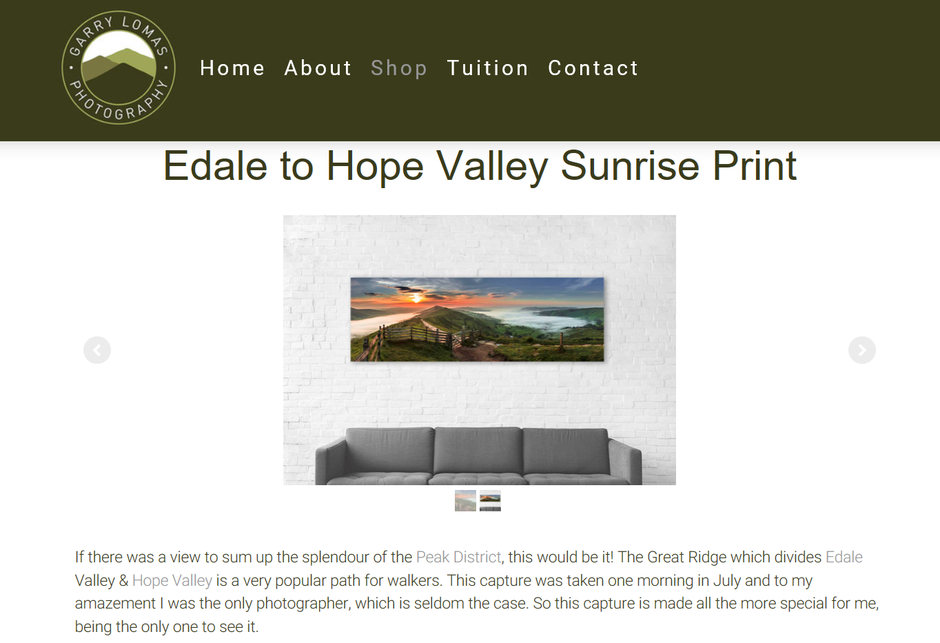 Keep things simple and clean. Touch on any interesting points about the location but link to other pages for more reading, describe the piece, the inspiration and so on that people might be interested in. Introduce humour if that is part of your brand. When writing this be aware that you can reuse it. Not only will it be a description on your website listing, you might also use it as the text for a social media post, an Etsy shop update post and so on. You are more likely to do more social media posts and shop updates if they are easy and having reusable text like this will help so it is worth the time here to make it multi functional. I see so many shops without text which really miss out on so many opportunities but keep it to 2-4 lines, nobody wants to see pages of text here!
Your Item Listing
Next you can list your item. Your website software will usually offer you facilities to show a small image and some thumbnails to select other images. Make sure that your image is big enough to see and that you don't just show 1 image. Show the product which for art or photography might be the whole image but then also provide another image of the product framed and tightly cropped. Then maybe an image of it framed on a wall in a lifestyle shot where you can gauge size against other items in the image. Add some closeup images so that you can see fine detail of the image, material, quality of the product. Add shots taken at an angle to show depth, thickness and so on. Even show the back of the product! Think about how a customer would handle your product in person to examine it before buying it. You need to show as many of these views as they would like to see in person if you are going to convince them remotely that your product is up to their expectations.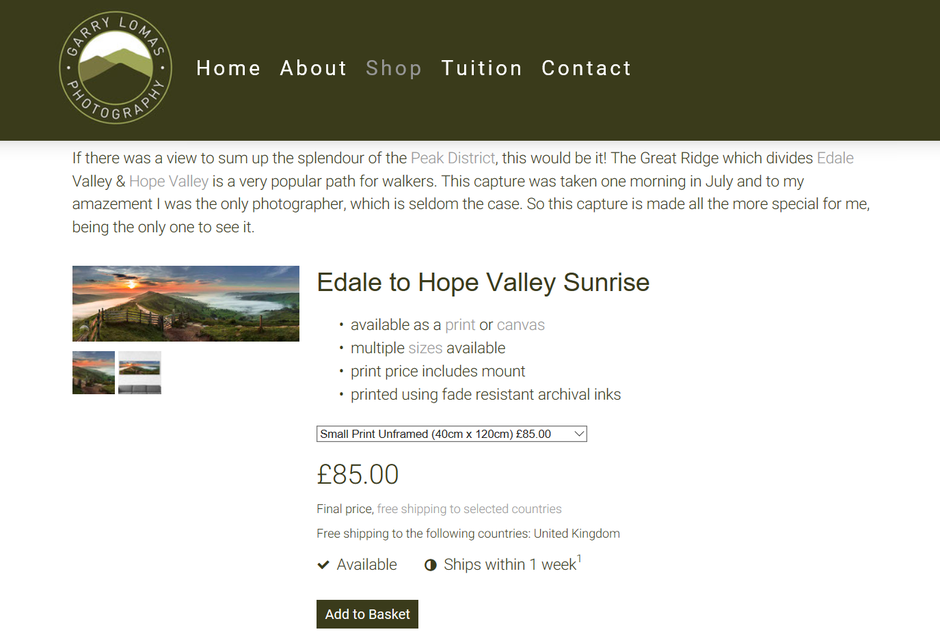 Bullet Points
Beside the product you have an opportunity for listing bullet points about the product. Bullet points draw attention to key selling points. People often see a picture first then scan bullet points very quickly before deciding to read anything else on the page. Make your bullet points count. Put key information here such as product sizes, colours, quality materials involved and so on. Keep it clean, if you want to describe something in greater detail simply add a hyperlink in the bullet points to a separate web page where you then go into much more detail about sizes available, how your canvas are made, where you source your fine quality leather and so on.
Price
Your product should clearly display a price and detail what is included for that price. If there are optional extras such as a mount, a frame or special deals such as a special price for a quantity purchase etc be sure to list these as extra product options.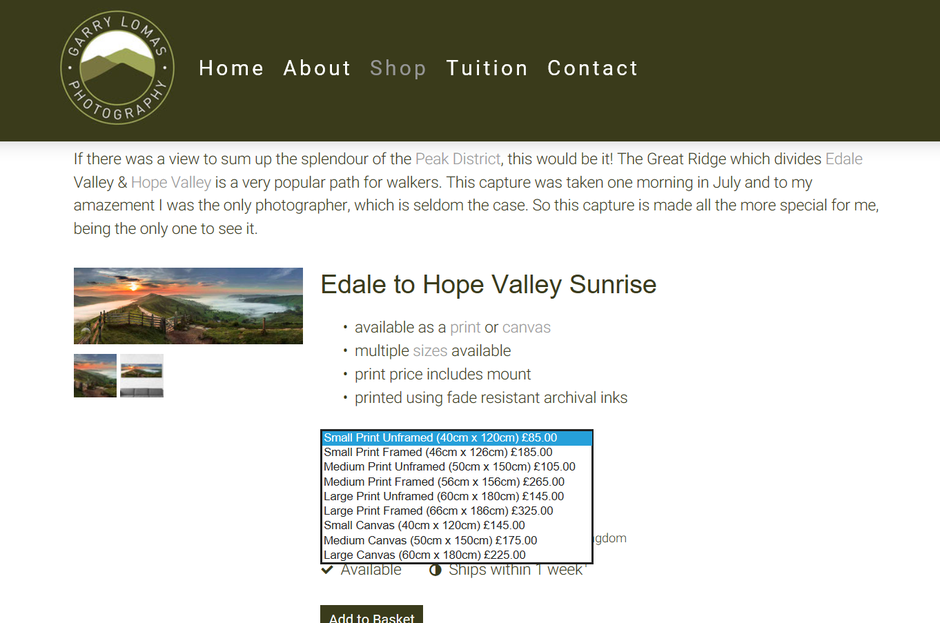 How To Purchase
Most website systems these days have a built in shopping cart. This will usually have simple 'add to cart' and 'checkout' buttons that everyone understands. Make sure yours are simple and easy to understand, that you use simple clear text and that the buttons are bright, clear enough and well positioned. Some websites do not have online ordering features. They show products for sale and ask you to contact the artist or maker directly to purchase. Whilst you can still get sales from this, it does not instill confidence and causes inconvenience to customers who will often go and purchase elsewhere because they have a limited time to make their purchase. Make sure that you add shopping cart features to your website that use standard widely recognised payment systems such as PayPal, WorldPay, SagePay and so on that will instill much more confidence in your customers to purchase from you. The small commission due is well worth it in extra sales!
Other Navigation
In the ideal world people will come to your product page, add the item to their shopping basket, visit the checkout and order your product. Whilst that may happen in some situations, it does not happen in them all and it is important that you provide lots of opportunity for visitors to your product page to visit other areas of your shop and site. Yes they can do this from the menu to an extent but be sure to offer other link buttons near the bottom of the product page once people have scrolled down to there for them to get back to your main shop page as well as the landing page for the group of products that this particular product belongs to so that they can easily browse similar products if this is not the right one.
If your product belongs to a 'set' be sure to add links to other items in the 'set' in your bullet points. If your art or photograph is also available on a card, for example, be sure to offer links to those other products too.
It is really important to work hard on the first product in each group of products that you create so that you get a nice clean appealing layout with all the necessary bullet points, links and so on. If you also take time to work on the SEO that I will cover soon for that page then when you replicate the page later as a starting point for additional products in that category you will save yourself a lot of work and will ensure a consistent look and feel throughout your shop.
If you have found this free advice useful, please return the favour by following me on Instagram or Facebook liking my posts and mentioning me to your friends! Switch on notifications (see Day 40 - How To Get In First) so you don't miss any posts! Thanks.
Have I missed any key essentials here?