In Day 50 - Have A Show Prize Draw I talked about holding a prize draw then over a sequence of posts since which you can find in 'shows and exhibitions' at the bottom of this post I have been talking about how to run this prize draw making each and every step work hard for you including a first response to all entrants, drawing a winner, contacting the winner, emailing the losers with commiserations and a very special offer to cushion the blow. Today I want to talk about the final step in this draw sequence which many people miss but can create even more exposure for you - get publicity material from the winner and use it!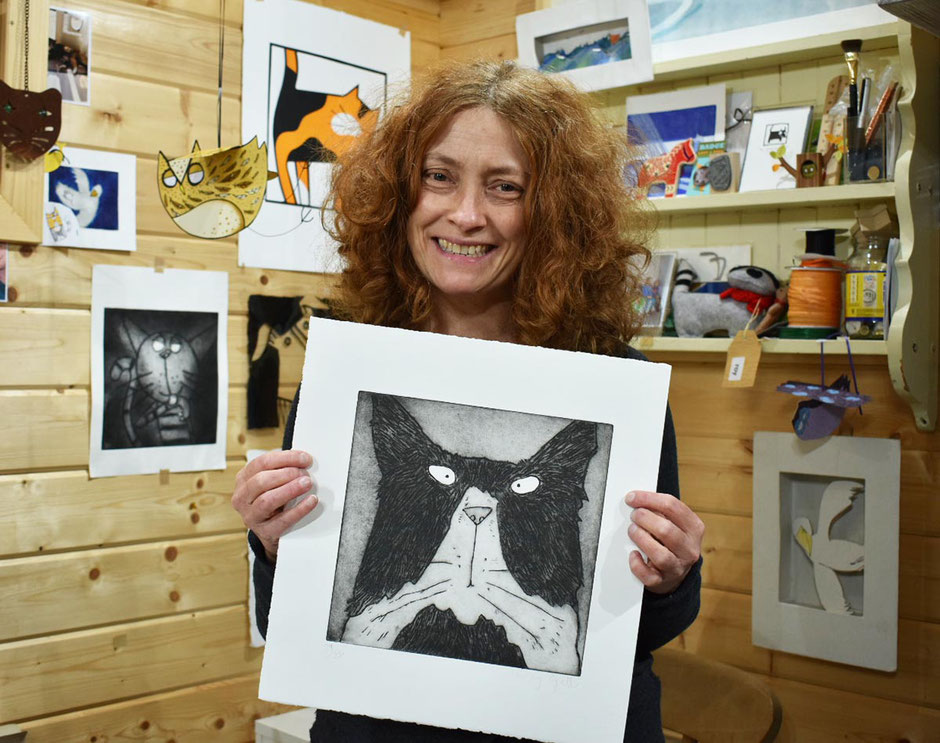 So you contacted the winner, they chose their prize (offering a choice will often spur on extra entries but keep things simple!). You posted their prize. You now need to follow that up perhaps the day after you expect it to arrive or as a response if the winner contacts you first! Contact the winner by phone if you have a phone number if not use email. Enquire to check that the prize has arrived safely and that they are pleased with it. Hopefully they will be and will be very excited about receiving it, after all they wanted it which is probably why they entered and chose it but also they got it for free! They will be really pleased! So now time for the big ask - tell them how it would really help you if they could send you either a photo of them holding their prize or if they are a little camera shy why not get them to take a photo of it on a wall or in situ in their home, maybe with a comment about how excited they were to receive it in the absence of a big smiley face on the photo. Tell them you would love to use what they send you on your social media and newsletter. Most people will be only too happy to oblige you!
Hi Jane
I just wanted to contact you again to check that you received your draw prize? I hope that it has arrived safely and you are pleased with it. If it has and you are then I wondered if you could do me a huge favour? It would be a great help with the promotion of my small art business if you could send me a photo, perhaps of you holding your prize, or if you are a little camera shy then perhaps of the prize in your home along with maybe a quote from you about how you felt when you won or when you received the prize? I would then use this in a post on my social media, blog and newsletter to help encourage other people to sign up to my newsletter.
I hope that doesn't sound too cheeky? Let me know what you think and thanks again for participating in my draw and signing up to my mailing list.
Kind regards
Your Name
www.yourwebsite.com
@yourinstagramname
etc
Watch out for the reply and chase it again after a few days if it doesn't materialise. People are only human after all - they do forget. Once you have it post it on social media, congratulating the prize winner but use this also as an opportunity to recruit further people onto your mailing list. Direct them to your mailing list sign up form and tell them that if they are not already on your mailing list they too could win a prize too by signing up. If you have a special offer like the one mentioned in Day 18 - Get People To Subscribe then mention this too as an extra incentive for people to sign up.
If you have a blog on your website (more about these later in the project), add a blog entry and photo of the prize winner along with similar details to the social media post above. Then make sure that you add a similar entry in your next newsletter (prepare it now in advance even if there is other material to add later and it isn't going out for a week or two - a lot of the material is similar and you could do some copying and pasting, the key is to keep this working for you not to forget it by the time you do your newsletter! Don't forget to add a note in the mailing list prize winners page on your website and set the date for your next prize draw!
Follow all the steps in this sequence you will not only increase the number of sign ups to your mailing list ahead of the draw, you will get extra sales on the back of the draw and then extra signups again on the back of the draw. Once on the mailing list you have a captive audience and even if only 3-5% buy from you (very typical) they will do so regularly especially at holiday times such as Christmas. Engage your audience well with regular contact and your figures will be even higher but don't become despondent due to minimal activity at the beginning. It takes a while to grow your mailing list and techniques like this help to grow it much quicker!
If you have found this free advice useful, please return the favour by following me on Instagram or Facebook liking my posts and mentioning me to your friends! Switch on notifications (see Day 40 - How To Get In First) so you don't miss any posts! Thanks.
Have you used publicity material from the winner before? Where and how have you used it?