In Day 50 - Have A Show Prize Draw I talked about holding a prize draw then over a sequence of posts since then I have been talking about how to run this prize draw making each and every step work hard for you. In Day 51 - Record and Respond To Signups I talked about your first communication with the new signups and yesterday in Day 53 - Contact The Winner we contacted the winner so that's it right? WRONG!!! All the other people who entered your draw are a really big opportunity for you. Don't ignore this. These are not cold contacts that are hard to sell to. These people have seen you, perhaps they have spoken to you. They have seen your work and they liked some of it so much that they want to own some of it which is why they entered your draw and were willing enough to give you something as personal as their email address to achieve that. These people are hot leads so do not ignore them.
But you already emailed them a few days earlier? You have made contact. You heard very little back or perhaps nothing. You tried but failed, time to move on? WRONG - that is where so many people fail. They fail to spot this great opportunity staring them in the face. Your first email went automatically by simply entering their email address into Mailchimp or whatever email system you are using. It was designed to remind people of what they have just signed up to, it offered a small 10% discount on their first order perhaps but no sense of urgency. If they saw you at the show this is perhaps the second time you are now in front of them. 
Many marketers will often tell you that people become more confident to buy from you once they have seen or heard from you 3 or more times so now you need to get in front of them for a 3rd time and you have a great reason and opportunity to do that. You have just selected your draw winner and you need to tell the losers who has actually won your prize draw. Because the draw is still fresh in their mind you can create an email that has a subject line such as the one that you sent to the winner e.g. 'Art Exhibition Prize Draw Winner' but using the name of the show or exhibition to make it more personal rather than generic like this so that they will remember the show and ensure the email follows right after the show. The subject is designed so that they might think that they have won and therefore they are highly likely to open your email with open rates in excess of 80% rather than more typical smaller open rates you might experience at other times.
Once the email is opened quickly announce the winner in an upbeat fashion but then quickly empathise with the loser that they must be feeling disappointed that they did not win and tell them that you feel bad that they have to be disappointed and therefore to cushion their disappointment you want to offer them a small token of appreciation for taking part in your prize draw. This is where things get clever - offer these people something that is a little better than what you have offered them on your offer for their first online order but make it time sensitive so that there is a sense of urgency here. You might perhaps offer a 20%-30% discount shop wide, for example, but limit it to 24-72 hours for example (my personal preference is 20% limited to 48 hours but maybe experiment once you start collecting meaningful numbers). Try something like this
Hi Jane
Thanks for visiting my stand at the recent ABC Art Exhibition in XYZ Town or signing up on my website during this draw period. I am pleased to announce that the prize draw winner is
Mr John Smith from KLM Town
Whilst John is looking forward to receiving his ??? print from me in the post soon I appreciate that you will be disappointed that you have not won. To make up for this and to show my sincere appreciation for signing up to my mailing list by entering the draw I have decided to make a special offer to everybody who entered. For 48hrs only I would like to offer you a 20% discount shop wide across all my products. To take this up please visit my shop at www.mywebsite.com/shop. Once you have added products to your basket simply enter the code MYDRAWCODE at the checkout to redeem your discount.
I can only offer this kind of discount for a very short time so please hurry if you want to take advantage of it. Once again I really appreciate you sharing your information with me and I look forward to keeping you up to date with news about me and my work over the coming months.
Kind regards
Your Name
www.yourwebsite.com
@yourinstagramname
etc
Unlike the previous winner email, the loser email should be created in your mailing list system with your branding and perhaps some photos of your stand and products so that people reconnect with you. Be careful who you send it to though DO NOT send it to the winner! To avoid that look at how we created a subset of addresses who were eligible to enter the draw in Day 52 - Pick A Draw Winner. If using Mailchimp, for example, to manage that you can simply amend the segment you previously created to add another condition to exclude the winner details so your segment criteria becomes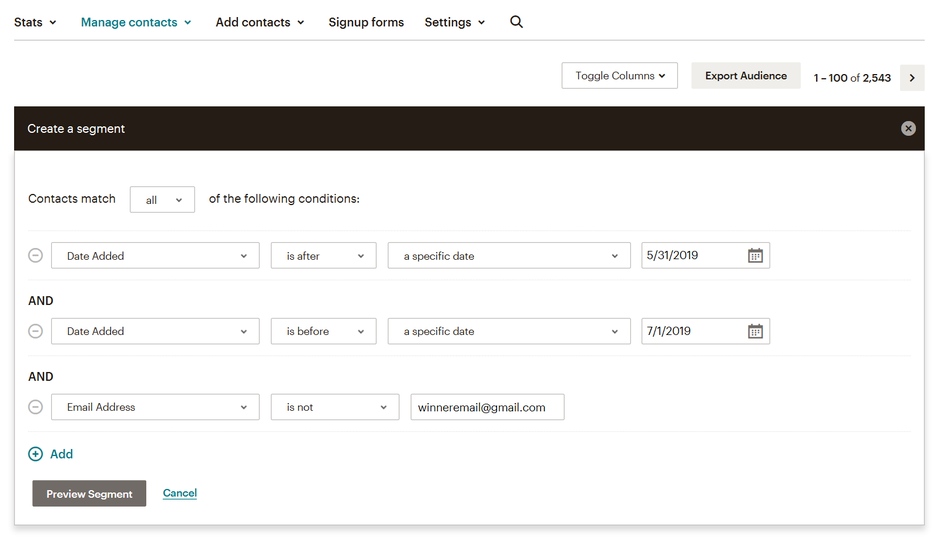 Hopefully if the numbers are big enough you will get some post show sales from this effort. Think 2 to 5 per 100 email addresses perhaps? Don't despair, however, if the numbers are so small that you do not get any orders. It is important that you are starting to build a relationship with each email address on your list. You have taken their email address at a show but you didn't just do a draw, pick a winner and just contact the winner you wrote to each person here, you thanked them for providing their information and welcomed them to your email address, you gave them an incentive to order online from you which they might sit on for weeks or months to come but then when you did the draw you told them all about it and commiserated with them for not winning and gave them an even better offer. This is relationship building and will have created a good starting impression with each person on your list. The key is to keep building on that relationship over the coming months now and you will see great results I promise you!
So is that is that it? Are we done with the prize draw now? Have we got everything we can out of it? NO NO NO! More to show you about the next step tomorrow - stay tuned!
If you have found this free advice useful, please return the favour by following me on Instagram or Facebook liking my posts and mentioning me to your friends! Switch on notifications (see Day 40 - How To Get In First) so you don't miss any posts! Thanks.
Do you write to the draw losers? What do you say? What kind of response do you get?