Imagine if you just leave a clipboard out asking people to join your mailing list (what don't have one yet? Check out Day 15 - Do I Need A Mailing List immediately!). In a 1 day show you might be lucky enough to get 5-10 people to join. If like in my previous post (Day 48 - Ask Every Purchaser To Join Your Email List) you talk to customers and you use every opportunity to encourage them to join by engaging in conversation, especially during a purchase you will likely see these numbers increase perhaps to 20 or more sign ups per day. Perhaps you might be happy with that, especially if its a 3 day show and a handful of these customers will start to buy from you on a regular basis, however, over time people change email addresses, you get lost in spam, people unsubscribe. To make emailing work for you you need to be aiming for much bigger numbers!
One way to achieve much bigger numbers is by giving something away at the show. People love to get something for nothing and if they have a chance of winning something from you they are much more likely to give you their email address. You could potentially increase this to 30-50 emails per day or more. But how do you put a value on an email address I hear you say? Good question. Further down the line I hope to be able to be able to answer that a bit better but for now think 'perceived value' in terms of how much you invest in this. What I mean by that is offer something to your customers and stand visitors that they perceive as being much higher value than what that actually costs you. That way they stand to win something that they think is worthwhile but you don't stand to lose much in order to acquire these email addresses so it is always a win win situation!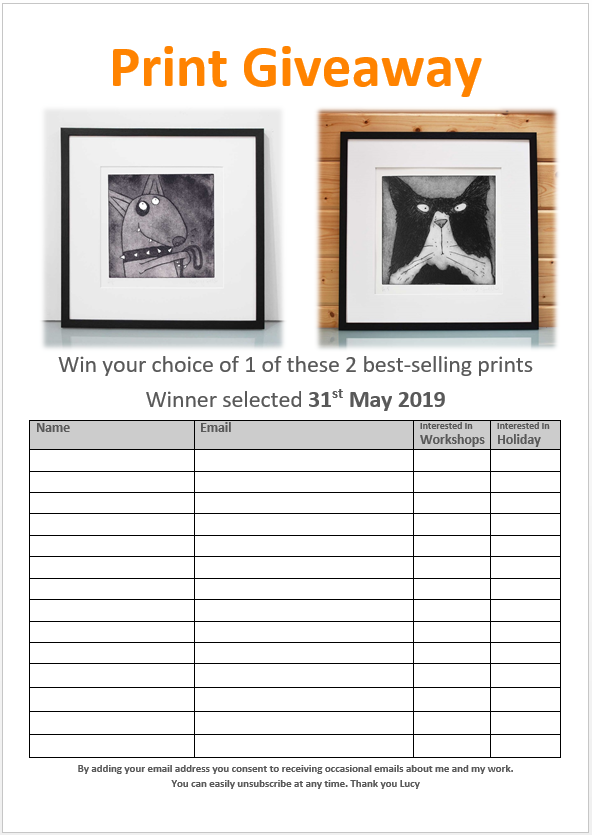 As an example, imagine a printmaker printing a piece that retails for £85 say. As the printmaker prints each print as an original the actual cost in materials might be around £5 with perhaps an additional £5 postage, the rest of the cost is in time to produce the print. Even without knowing the precise value of an individual email address I don't think anyone would argue at 90-150 good quality email addresses over a 3 day show for £10 costs and an hour of two of their time! Whatever your craft you can probably find a product which has a high perceived value but low cost to you so try to find something that the majority of your customers would want from you. If you can display the prize prominently on your stand so people can see it. This can be a real talking point and draws peoples attention to the draw but obviously at the cost of exhibition space.
I have experimented with a number of different types of draws. There have been draws that have only taken place after several shows rather than just one show, there have been draws where the prize is a specific image, there have been draws where the prize has been a choice of 2 images. Each has had different results and there has been some learning and I have since done a lot of research recently so let me help you avoid reinventing the wheel by suggesting a few things
make it clear that the draw is done at the end of the show so people will know quickly
do a separate draw for each show, do not combine shows or combine with separate online draws
try not to tie customers to one product - they may not like that product let them choose one they want
offer a prize which is from a range if you can which gives plenty of choice
if your range has difference price levels set a ceiling value
If you are an artist or photographer, for example, that sells originals and prints in multiple sizes don't use an original, consider using a prize such as 'Any A4 mounted print'. This might retail for £35 but the print might actually cost you £8. If you stock cards your prize might be an 'assortment of greeting cards to the value of £30'. If your product is smaller than A4 say A5 size consider a set of 3 A5 prints total value £45. People won't enter if the perceived value is too small so add multiple products to the prize pot if necessary.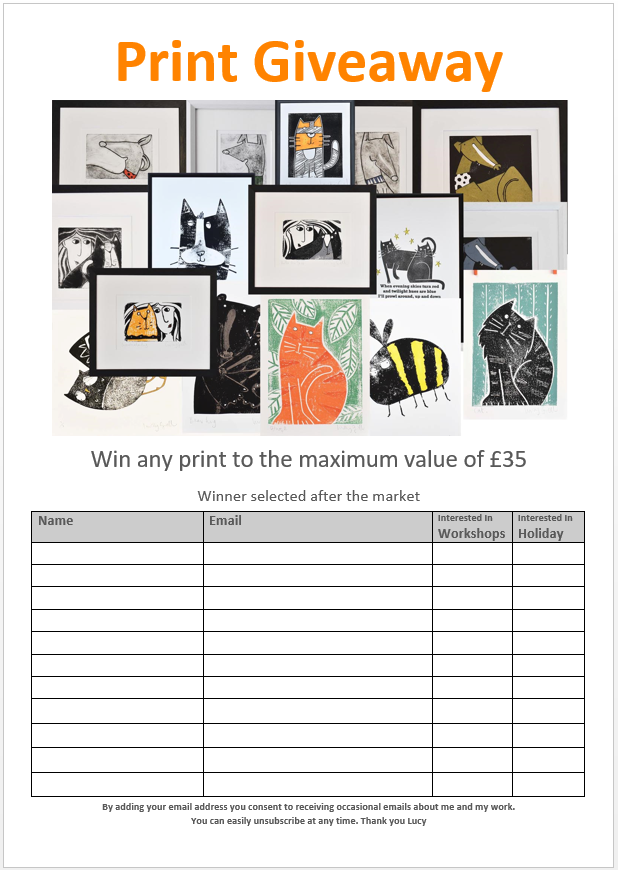 Once you have worked out your prize consider how you will advertise and how you will collect the email addresses. One technique is the 'fish bowl' technique. This has been used successfully for decades. Just get people to drop a business card into a 'fish bowl' or similar container to enter. Really easy for the customer and it still works so if your stand has space consider this. Another technique is the 'clipboard' technique. Again really easy. People can enter their name, email address and even tick special interest areas. This also caters for people who may not have a business card. Put at least 2 clipboards out at eye level (important!) on different parts of your stand so people can always get to one even when the stand is busy. For a real modern approach consider the 'ipad' technique so that people can enter their emails directly (more timely and saves you effort later) or use a selection of approaches so that there is something for everyone.
Ensure that you ask for the person's name in the collection, not just their email address. Whilst email address only might be quicker you want to be able to personalise responses to people in future emails to them so make sure to collect their name too. If people use initials rather than first names change your form to ensure you get a first name. If there are different aspects to your business such as art products and workshops, get people to indicate which emails they are interested in. This helps you target mailings better which will result in fewer unsubscribes.
Here in the UK we are now subject to new GDPR regulations. Under these regulations you need to be able to prove that people gave you permission to add them to your list so make sure you have evidence of when and where they subscribed and evidence of the notice that they will have seen which gave you permission. This should be displayed clearly on signup forms, around the fishbowl etc. Under GDPR you should also really be protecting emails so that others cannot access them. Always remove the emails from your stand when you are not on the stand and position them so that you can always see them. Ideally your form should have a tear off strip that people can write their email addresses on before dropping into a fishbowl rather than leaving them displayed on the stand. I am sure there is stationery out there for that. If you use some let me know where you got it from and I will add details here?
Collecting the email addresses is the very first step of this system. There are several steps that must be followed and done promptly in order to really make this technique work for you. Many people collect them then fail at the next step! Stay tuned over the next few days to discover what you do next. It isn't as simple as you might first think but it is once you know how! 
Remember if only 1 person from a show decides to buy a middle range product from you it pays for itself and works for you. What I see, however, is that several people will usually buy additional pieces immediately after the show and several will go on to buy from you annually (especially around Christmas and other holidays if you email them), a mixture of small pieces as well as large, year after year! Imagine just 4 from every show where you collect 90-150 email addresses and you do 12 shows a year. Potentially by year 5 that could equate to over 200 annual sales from this collection alone even allowing for some loss over that period. That is a conservative estimate - market hard with other techniques I will show you and it can be much bigger but remember - it starts slow, stay with it and it will grow year on year and gain momentum!
If you have found this free advice useful, please return the favour by following me on Instagram or Facebook liking my posts and mentioning me to your friends! Switch on notifications (see Day 40 - How To Get In First) so you don't miss any posts! Thanks.
Do you collect emails on your stand? How do you do it? What techniques work best?