A few years back business cards where expensive and all very similar. They had a name or business name, a logo, a postal address and telephone number. These were all printed on a white background and the reverse side of the card was usually left blank. For the sake of completeness I want to quickly revisit this old style technique just to bring it up to date.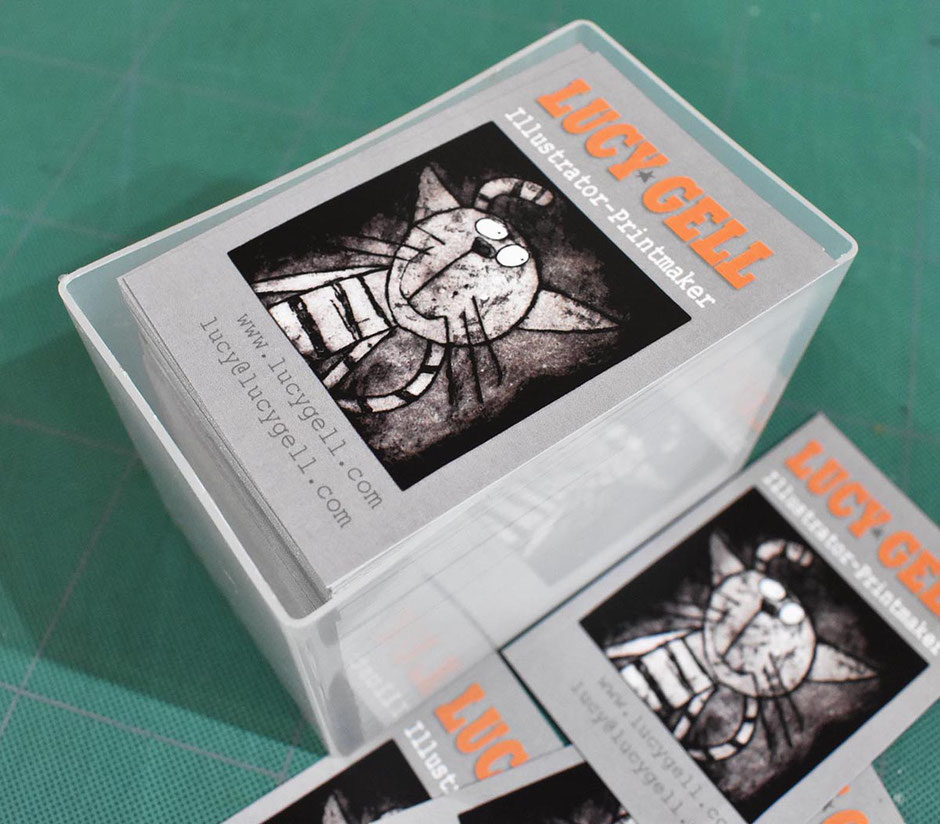 Oh how things have come on. Business cards are now more affordable than ever and there are so many printing options. You can even do your own artwork online and upload it, printing on both sides of the card laying things out exactly as you want to. Use this opportunity to incorporate your branding into your business card, show a good example of your work and as I discussed in Day 46 - Display Your Website Address On Your Stand do the same on your business card and keep it clean and clutter free - use the card to highlight your name, tag line as discussed in Day 2 - Define What You Do, logo as discussed in Day 6 - Create A Logo and web address only. Let people find your postal address, email, telephone, Instagram, Facebook, Twitter, Pinterest and so on all from your website. This not only keeps the card looking good it gives people another reason to visit your website!
Maybe use one side of the card to print one of your most popular images so that people can recognise your work and style and on the other side you need little more than your name, tagline, logo and website address. Buy a couple of small acrylic business card holders and position them on your stand so that people have easy access to them. If people show interest offer them a card and explain that more work is available on your website. Encourage them verbally and with the card to visit it and use the card to help them remember it. 
There are many printers to buy your cards from such as www.beanprint.co.uk who can print 1000 budget cards for £40 here in the UK but also have a number of more luxurious card options. You can also get cards from www.vistaprint.co.uk. These can be a little more expensive but often have offers to make the prices comparable. Vistaprint also have some great preview tools to preview your card in all the different options before placing your order.
If you have found this free advice useful, please return the favour by following me on Instagram or Facebook liking my posts and mentioning me to your friends! Thanks.
Do you still use business cards? Are they still effective? What do you put on yours?