You will hear me talking about marking milestones in your journey further on in the project and how you can use these to thank people for your support as an important part of your social media strategy. Well I hit 100 followers a week or so ago then it dipped below again (to be explained later in the project!) but now I think I am safely on the other side and this does mark an important milestone for me. It proves that people do actually appreciate what I am doing and want to read more so a great big thankyou to everyone that is following me and is continuing to support me by following my posts.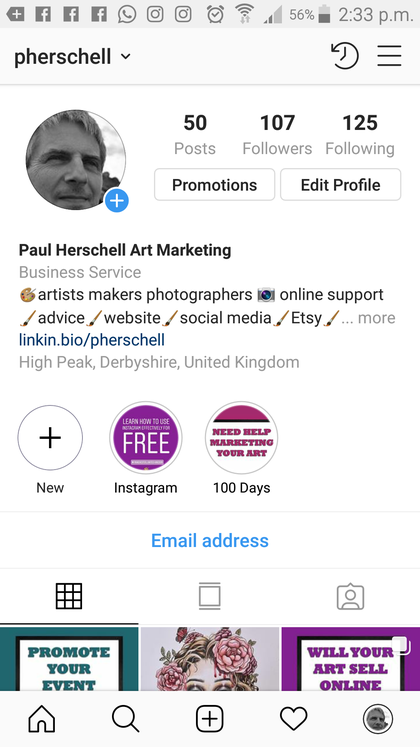 I will continue to write posts like this for the foreseeable future, it is helping me to organise my thoughts for a small number of clients that I am working directly with and I have dozens of exciting topics planned for the future and new ideas are being added almost daily. It is, however, extremely time consuming to create this content and while I am doing it I am not earning a living doing paid work.
There is a long term plan here - I see it as an investment for 2 reasons. The first reason is that if I learn to do this really well it supports my partner @lucygell to promote her printmaking business as well as her daughter @tabathagell to start her own art business. The second reason is that if I create a large following here that are happy to consume my free content, from those people there will be a number of people that want to work with me on a paid basis too at a more detailed level on their websites, social media and general internet marketing strategy and that will help pay my bills so that I can keep doing this!
To make that happen, however, I need much bigger numbers following me so if you know people that might benefit from all this free advice please mention me to them in Instagram, Facebook, Twitter or Pinterest. Tell them what you think of my posts and how you think they might benefit from following them. Not a big ask in exchange for all this free content is it? Help me get the next 100 followers in a fraction of the time and grow beyond 1k followers in the next few months which will really start to secure this. If you want to work more closely with me please get in touch - I would love to hear from you! If you can only afford to use my free content that's fine I get that but please support me by mentioning me, liking posts and commenting - it all really helps me. Thanks again - I really appreciate it!
If you have found this free advice useful, please return the favour by following me on Instagram or Facebook liking my posts and mentioning me to your friends! Turn notifications on on my social media accounts so you don't miss anything. Thanks.
Have you hit any big milestones recently? Did you celebrate them online?