OK following on from @tabathgell running her first successful show recently, for the next few posts I want to talk about these offline activities and how you can make them more successful with online activities around them and ultimately what you can take away from these offline activities to help your online activities (still following I hope?). The point is that I want to show how these two very different activities need to compliment each other to make them both work better for you. Being Tabatha's first show she had very little of it in place but hopefully by her second she will be armed with much more information to do even better as you will if you do not already have all of this in place for each show you do.
So let's start with what you might is a simple thing - telling people about your show. Maybe that sounds obvious to you at this point. Maybe you think you are already doing this well but how well? Are you still missing any opportunities? Some are ongoing. Some are a few weeks before heads up. Some are just before the event and some are throughout the event. Do you leave your luck to the marketing of the organisers? Certainly not no matter how good they are at this - you can always add more! You have a following, a customer base, people who you know like your work. You need to tell them what you are doing in as many ways possible in the hope that you will be in their minds regularly so that they will take time out to visit your show and purchase your work. You also need to be reaching out for new customers on the back of the show organiser's own marketing efforts.
Website
Do you have an events / exhibitions / shows page on your website yet? If not you need to have one and it needs to be prominently placed on your main menu so that it is easily found. You need to list all the events that you are doing this year (not just future ones as come December when you are waiting to get into next years shows you don't look very active at all if you have already removed shows that have taken place and it can look a little embarrassing). Next year you also need to list this year's shows in a show history area - show a good track record for future show applications.
Use a two column table. In the first column name the event and the location and hyperlink the event name to a webpage if customers can find out more details about the event. As soon as you have a good show or exhibition photo from any event get it on that page so people can see how you present yourself and what to expect from you at events. Keep replacing it as you improve and get better photos.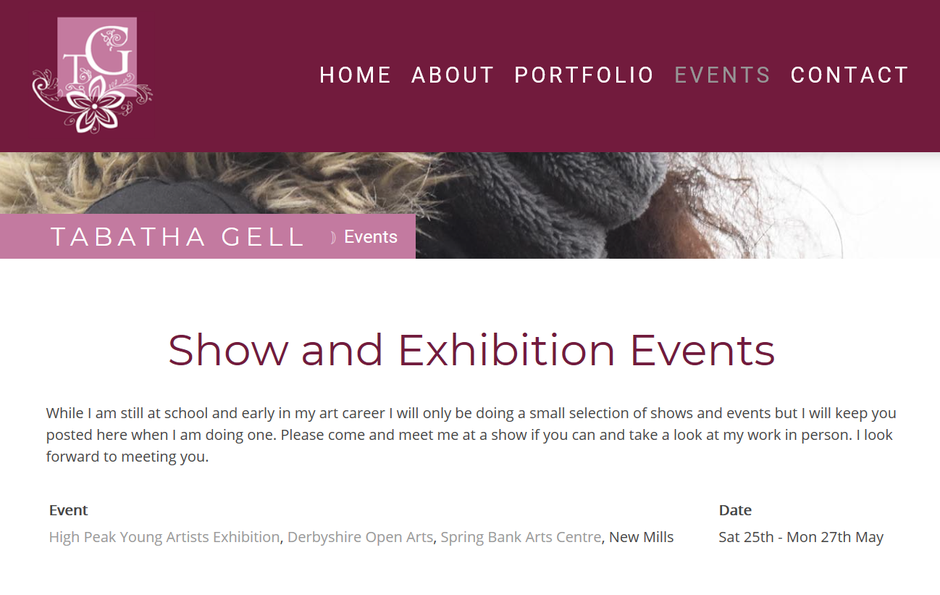 Keep it brief if there is further information to link to. In the right column detail the event date. Keep your listing simple and uncluttered using hyperlinks for extra information such as maps, postcodes etc which are likely on the event organiser's site. List your events on your website well in advance and keen followers will use this to keep their diaries free to attend your event. Link to this page from all your event promotion for people to find more details about the coming event as well as other events you are doing if they cannot get to the one you are promoting.
Newsletter
I will do a special post about newsletters later in the project. Initially I was promoting a newsletter every 3 months. As I have got more involved with these and continued to research my recommendation is a short newsletter but more regularly i.e. every month. I will talk more about that in another post, however, EVERY newsletter you send should have a section for 'Coming Events' where you can plug events that are coming in the near future as well as provide a link to your web page which lists all of your coming events. Make sure you include this in EVERY newsletter, ideally near the end but by all means focus earlier in the newsletter too on any important event news or an event that is coming up very soon.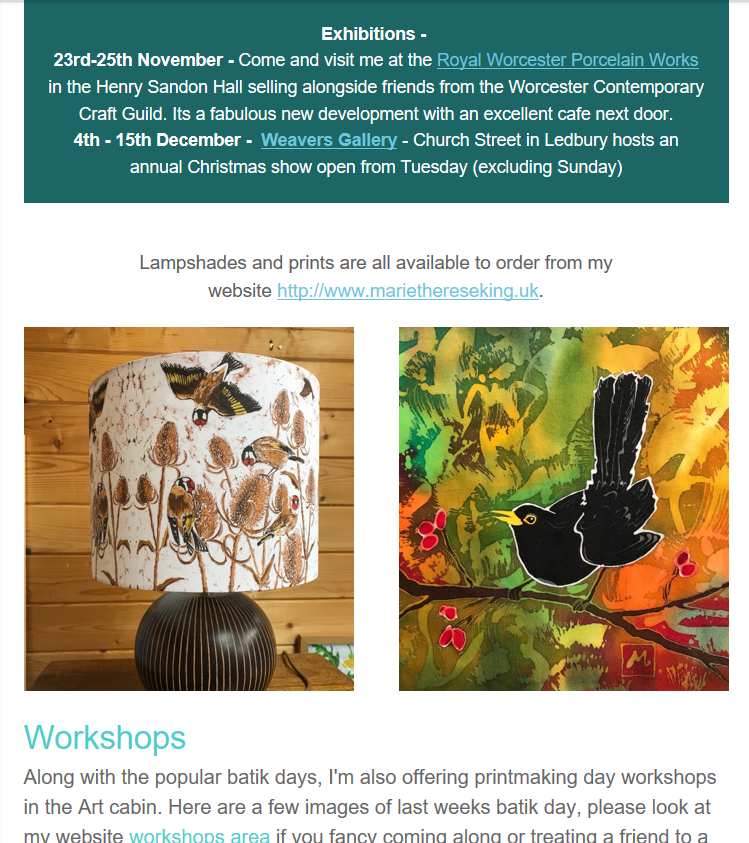 Event Bulletin
Think of an event bulletin as a mini newsletter. Like all correspondence it should be recognised as part of your branding and I will cover this when I get to talking about newsletters. As a bulletin it should go out just before the event (if it is a weekend event then maybe on the Thursday (as Friday emails tend to get the least attention in my opinion as people start winding down for the weekend and it just gives slightly more notice for people to get organised in time). You should be very brief and just focus on that event not clutter it up with other information.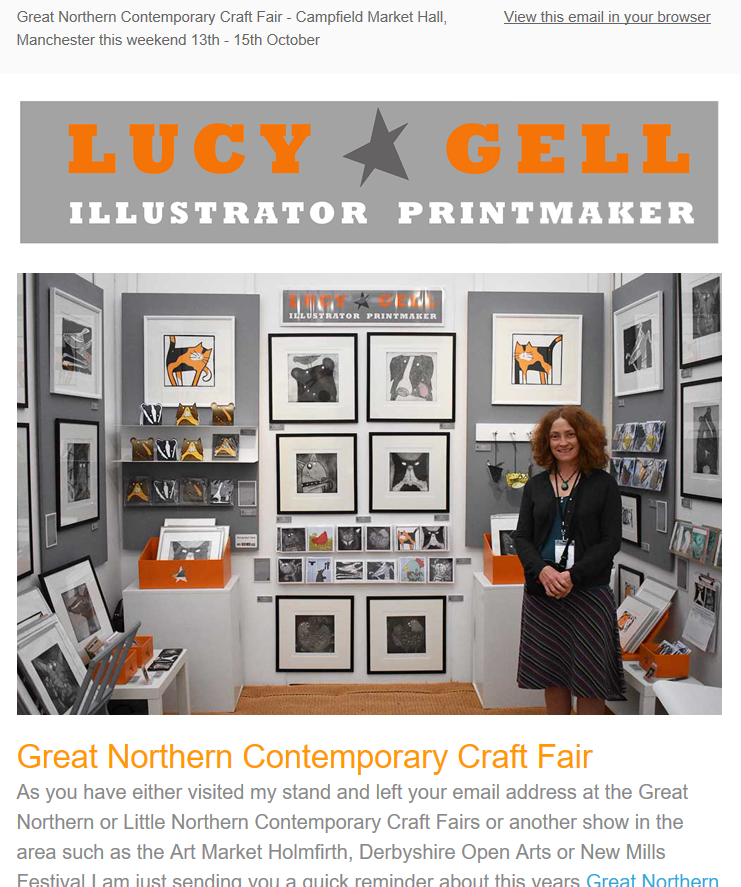 There is also a downside to sending too many newsletters and bulletins to your entire mailing list so I often recommend sending this to people who's emails you got hold of at that event last year or year before or another event within reasonable travelling distance (make sure you ask people where they found out about you when they sign up and include all events in the list they can choose from). That way you know your readers do attend your events and you are not emailing people the other side of the country or overseas even where it is irrelevant. Email 2000 subscribers and you are likely to get up 10-20 unsubscribers every time you send something out. Send this selectively to only 300 people to whom it is relevant and you might see no unsubscribers or 1 or 2 at the most. You will, however, get people on your stand who mention that they came because of your mailing and you will make sales that you would not have done otherwise.
Social Media
A show or exhibition is a great opportunity for news on social media. Not only do you get your message out to people who might come to your show it is another opportunity to showcase your products to people who might want to buy online, stock your work and so on. Remember though that with social media everyone will not see all of your posts so you need to post lots to guarantee that these will be seen. Here are some post 'excuses' you might like to use.
Social Media Advance Teaser
Do you have some products in the pipeline? Why not use your show to launch them. Create some hype in social media that you have something new to show people. Don't let them see the finished product but hint at what it might be. Maybe show some images of work in progress? Mention the work and the show in the same posts so that people link them together and get excited about visiting you at the show to see the new product for the first time. Depending on how creative you want to be there might be mileage for 2 or 3 posts on the back of this. Maybe even have a video of a 'big reveal' at the show?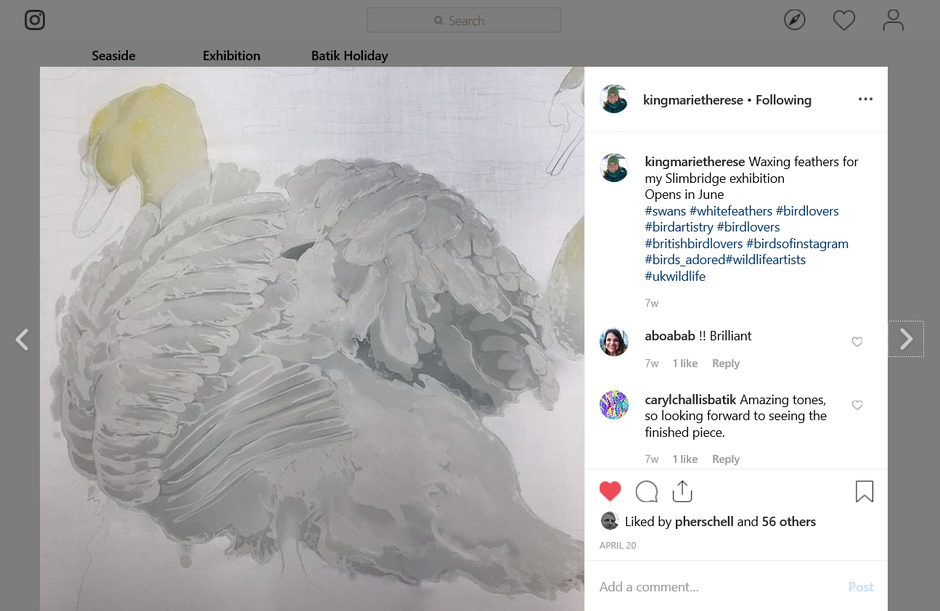 Social Media Couple Of Days Before
Has it been one of those mad show lead ups again? Chasing suppliers for materials, last minute wrapping, trying to turn your car into a tardis to get all that stock in? Take some photo's throughout it all then use these in a social media post a day or two before the show. Let people come behind the scenes. Let them see the work you put in beforehand to look relaxed on your stand with that lovely display! Use humour don't grumble then use the photos and post to plug the event. Link to the events page on your website for more information.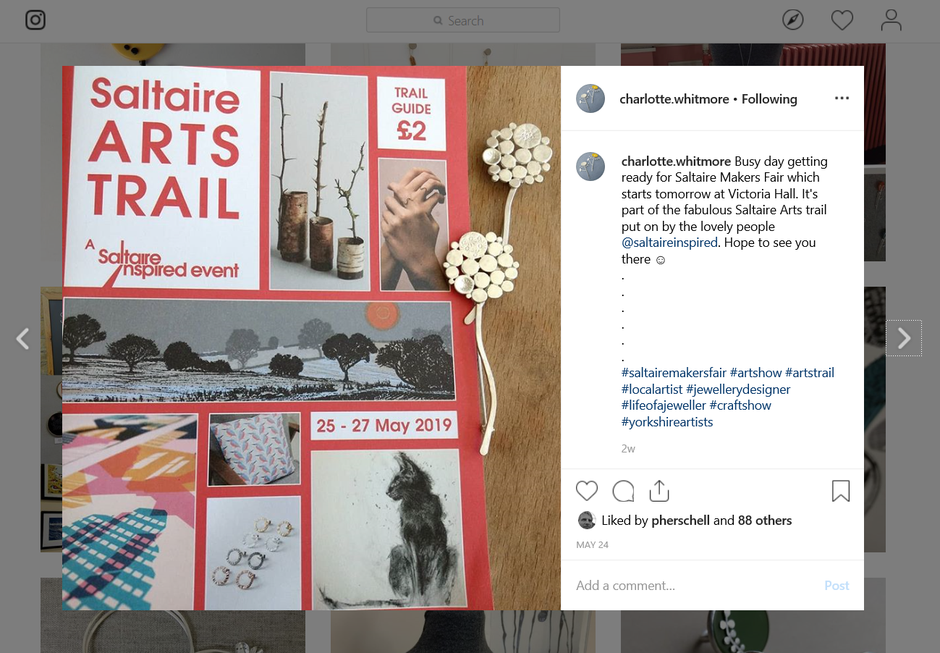 Social Media Each Day Of The Show
Get someone to take a lovely photo of you on your stand at the start of the show while it is still quiet then take a few snaps of other people that you think your customers might be interested in and might come to the show to see. Post this on social media and tag other people at the show and give them a mention in your post.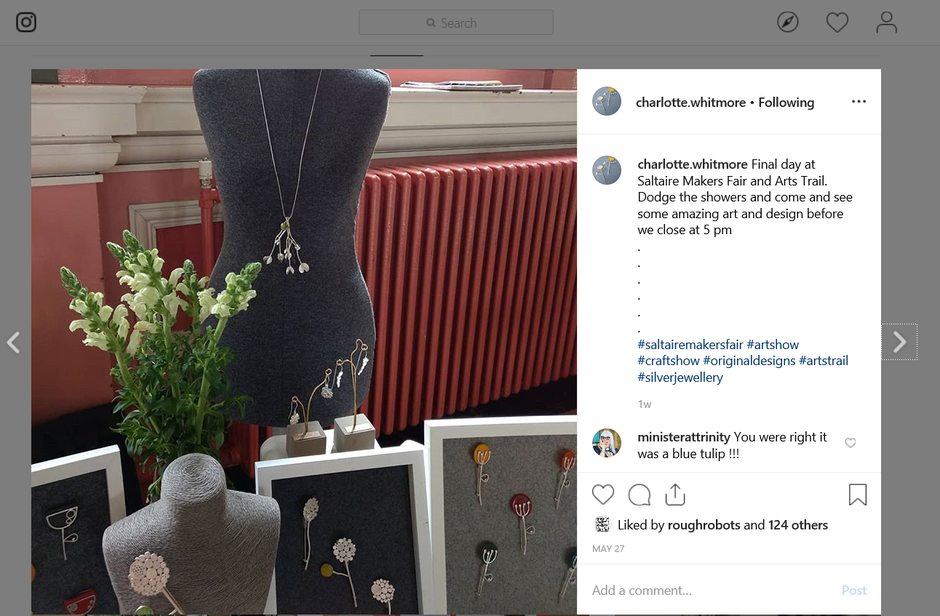 Of course people will come to the show and could spend money on other stands but that is not the point. If you mention other people then it is likely they will mention you too in their own posts which will bring even more people to the show and more people to your stand too so spread the love it will come back to you 10 fold I promise either at the show or in new followers that buy from your further down the line! It could be an early morning post to get people in or an end of day post roundup to get people in tomorrow or both, just post at least once each day. Mix your images up to keep it fresh. Your stand in one, a flyer perhaps in another, a product or 2 in another and so on.
Social Media Show Accounts and Hashtags
Even smaller shows these day will often have a social media account and a hashtag (sometimes more!). As you start to do bigger shows you will find that some clever marketing is going on in these. You have paid your show fee and you have therefore paid for the marketing that is taking place on your behalf in these areas to get more people to the show but don't just leave it to the organisers. Get yourself seen in here.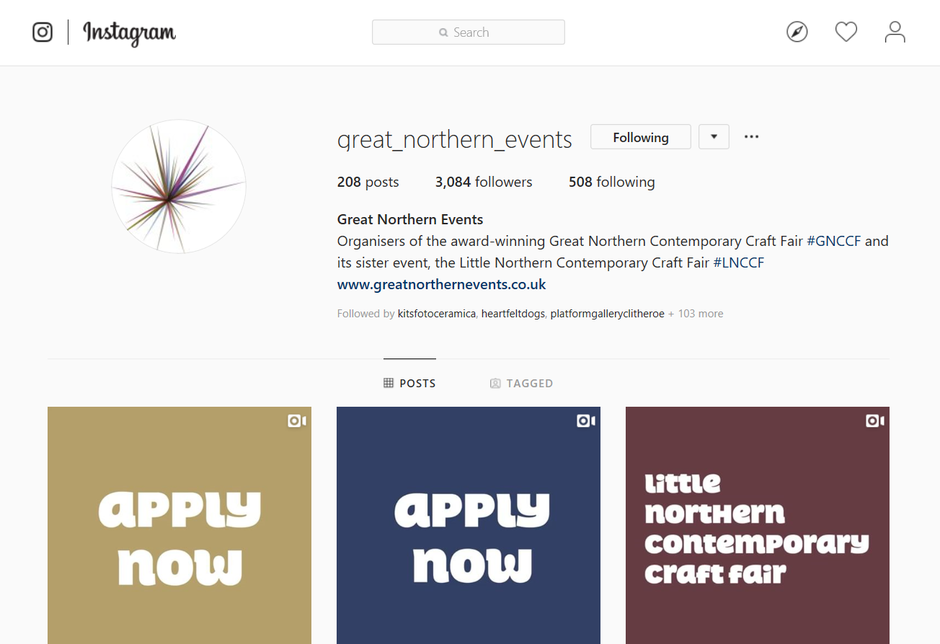 Be seen in the show hashtag(s) but also get seen by the organisers. The organisers are looking for great content to promote the show so what better than some examples of work that will be seen at the show or a good story behind one of the exhibitors. Include the show hashtags in all of your social media posts above for a chance of being picked up by them.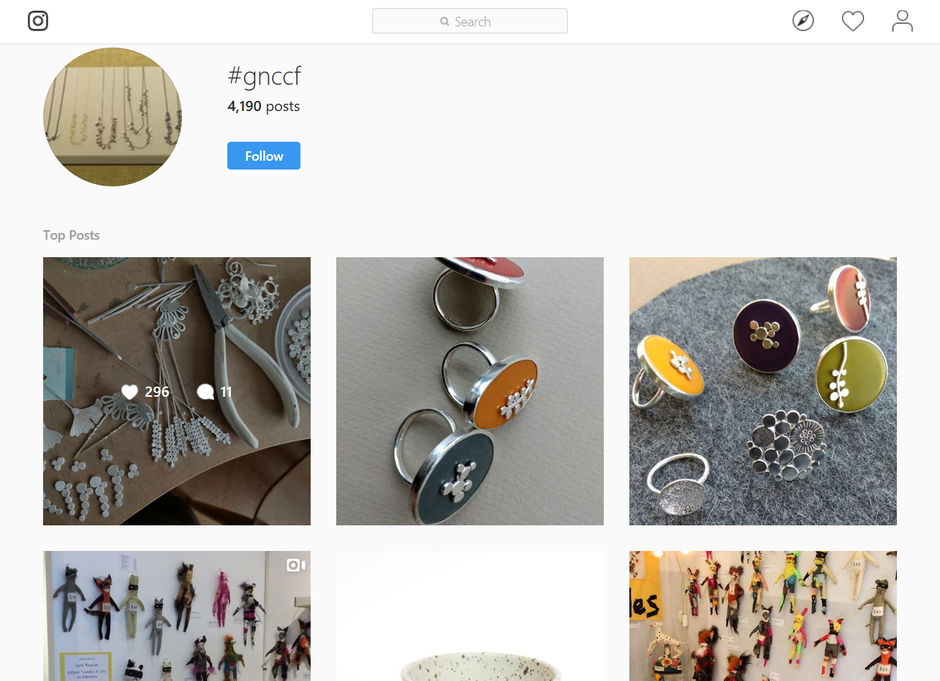 Mention Or Direct Message Show Organisers
If you have something special to say and don't want it to be lost in the hashtag why not direct message the show organisers to draw it to their attention or add a mention '@' to their account on your post. You might have to send dozens of messages that miss the mark sometimes before one hits but when it does a repost in the show organisers feed can often bring many more new followers for you and lots more of attention at the show so it is worth doing.
Social Media Thankyou
At the end of your show don't forget to say thankyou. You have worked hard but a lot of effort has also gone in behind the scenes by the organisers to make the show happen for you and customers have taken time out of their day to come and see you and hopefully purchase some work or start a relationship with you. Be courteous and thank them all. Do this publicly in social media (and maybe in your next newsletter but less urgency to that).
Personal Thankyou To Organisers
Send a personal note to the show organisers. This little token of appreciation will go a long way and will often be remembered when reviewing applications for next year's show and other shows that the organisers might get involved in. It is up to you how you do this. A phone call afterwards is great and creates interactive opportunities, a chance to discuss the show, give feedback and explore new opportunities. Taking time to speak face to face as the show wraps up if the organisers are not too busy can be great too although organisers might still be busy. An email or direct message etc are great too if you are not able to do that just make sure you do it!
Plan All This In Advance
Shows are an incredibly busy time. When you are not franticly serving customers on your stand you are exhausted and just want some downtime. Avoid missing the opportunity by planning ahead. Later in the project I will talk about scheduling software that will help you schedule posts in advance, for example, so that they go out timely without you having to think about it. In the meantime write things down in a plan, have your photos ready, have text and hashtags ready to copy and paste to make things as easy as possible. Also remember that the show organisers will be at their busiest time too. If you want airtime with them, want to collaborate with them, want to be cheeky and ask them for something then do it well in advance when they will have more time to talk to you and think about what you have to say not when they are running around pulling their hair out because they cannot get someone's electricity on or there is a leak in the roof over someone's stand!
If you have found this free advice useful, please return the favour by following me on Instagram or Facebook liking my posts and mentioning me to your friends! Turn notifications on on my social media accounts so you don't miss anything. Thanks.
Have I missed anything? How do you prepare online or a show?