Time to break away from Instagram briefly now you have some initial building blocks in place to start growing your audience and concentrate on something really important that you need to get in place as soon as possible so that it can start accumulating data for you now that you can put to good use a few weeks and months further down the line in this project when I give Facebook some serious attention.
Some of you might already be sold on paid advertising in social media but many creatives either haven't risked leaping into the unknown with it or have tried putting money into it, haven't got the results they had hoped for and backed off convinced that it either doesn't work or is too big a gamble for them. The truth is paid advertising in social media DOES WORK and works very well. It can represent the cheapest form of purchasing leads compared to more traditional methods but this only happens through very careful targeted marketing. Pay to advertise to every man and his dog and you will be throwing your money away. Advertise one of your dog prints to someone that you know has already visited your website and has already viewed the dog prints or photographs on the animal section of your website (what you can do that? yes you can with this!!!) and you have a much higher chance of making a sale per lead because you know this person already has an interest in your work, what's more you can track and measure the results so that you can justify further spending!
This and much more can be done later in this project and I will show you how to make paid advertising work so much harder for you. That is something for later though. In the meantime you need to put something in place that will monitor activity on your website and build up a history over the next few weeks and months so that when we are ready you will have all that accumulated data ready to use. To do this you need to install Facebook Pixel on your website. This is a PRIORITY for you TODAY. DO THIS NOW - it takes minutes, you won't regret doing this early I promise you!
It is not essential to have a Facebook business page to run ads in Facebook but you will need one for later elements in this project so if you do not have one already it is worth setting one up. It can coexist alongside your personal page and you can have multiple pages for different things you manage. Don't worry too much at this stage about getting all the necessary things set up in there or posting, just get a basic page created and we will come back to it later. To start setting up your Facebook Pixel click the top right menu triangle then select 'Manage Ads'.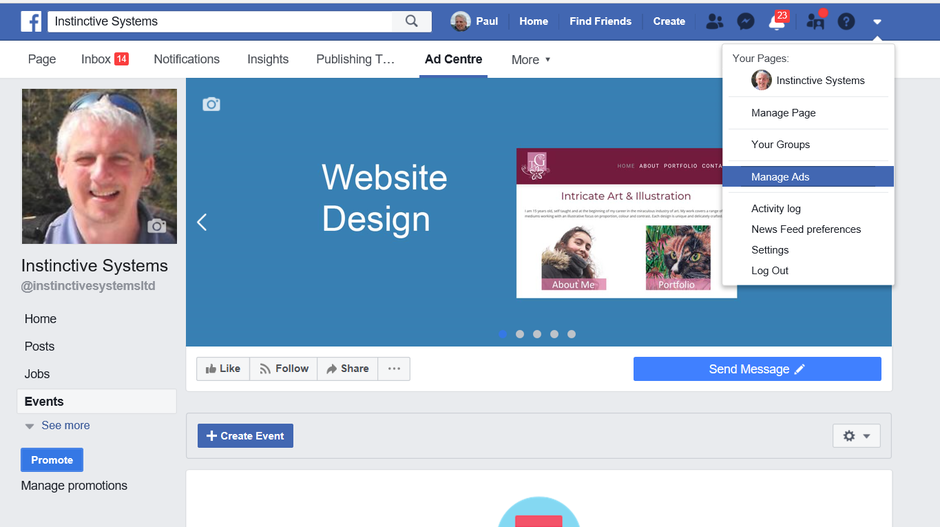 Then from the Facebook Ads menu option at the top left of the screen select the 'Events Manager' option.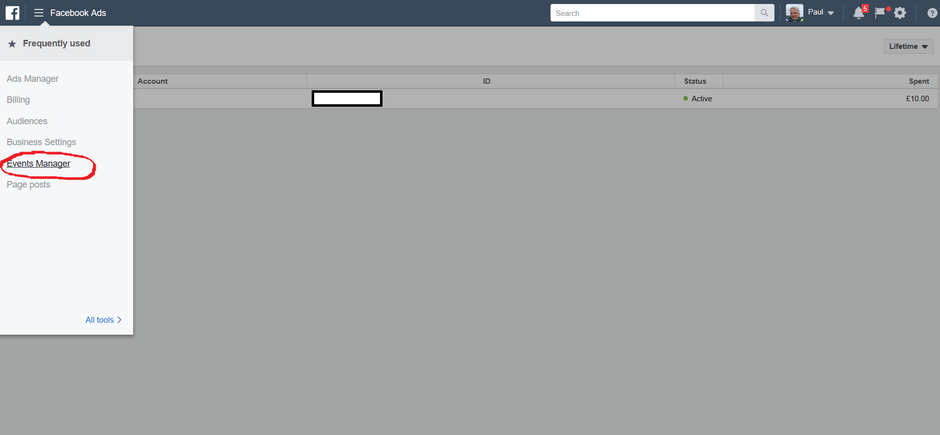 In the screen that then appears you will see a list of 'data sources' including 'Facebook Pixel'. Click the 'get started' button beside the 'Facebook pixel option'.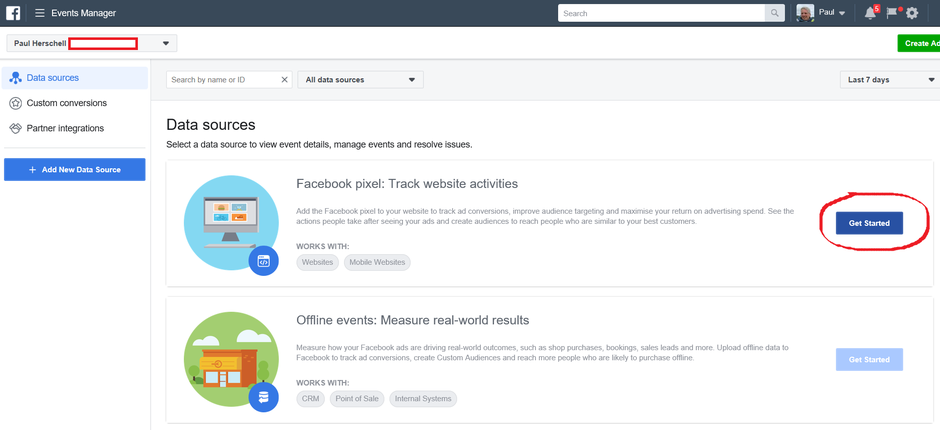 A popup screen will appear that gives you a little more information. Enter your website URL in the 'website URL' field then press the 'Create' button.
If you have been following this project from the beginning you will have read Day 9 - Create Your First Website and know that I have created my own website and a number of websites that I have created for my customers using Jimdo (if you are looking at creating a new website or redeveloping it I strongly urge you to visit this blog page to find out more). Facebook appears to have recognised that my website has been created by Jimdo and therefore has given me the easy setup instructions below so if like me you have a Jimdo website click the 'setup using Jimdo' option otherwise select the 'setup manually' option or another option if Facebook recognises your website.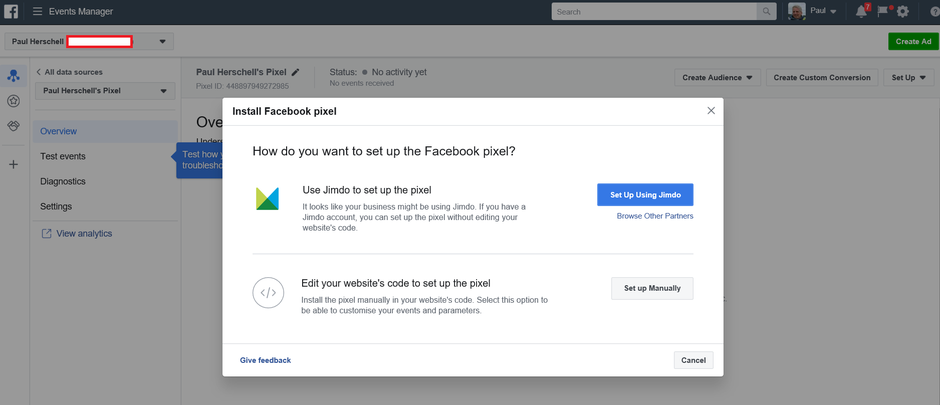 The first step in the setup is switching on advanced matching. You want Facebook to match as many people visiting your website and sharing their information as it possibly can so that you have a bigger audience to target later so it makes perfect sense to switch this option on. 

The next step will tell you how to switch the Facebook Pixel on in your website. This bit will vary depending on who hosts your website. As mine and those of many of my customers are hosted by Jimdo, and Facebook recognised that, the instructions below are for Jimdo installation. Your own instructions may vary. For Jimdo you can see that the process is extremely straightforward - simply select the Jimdo menu, choose 'SEO', select 'Facebook Analytics', paste in the pixel ID (15-16 digit number shown circled in red in item '2' in the image below) then 'activate' and press 'save'. 'Simples' in the words of that well known meerkat! Other installations may be similar to Jimdo copying and pasting the pixel ID to a setup area or they may include copying a snippet of code to a website header area used by your web pages.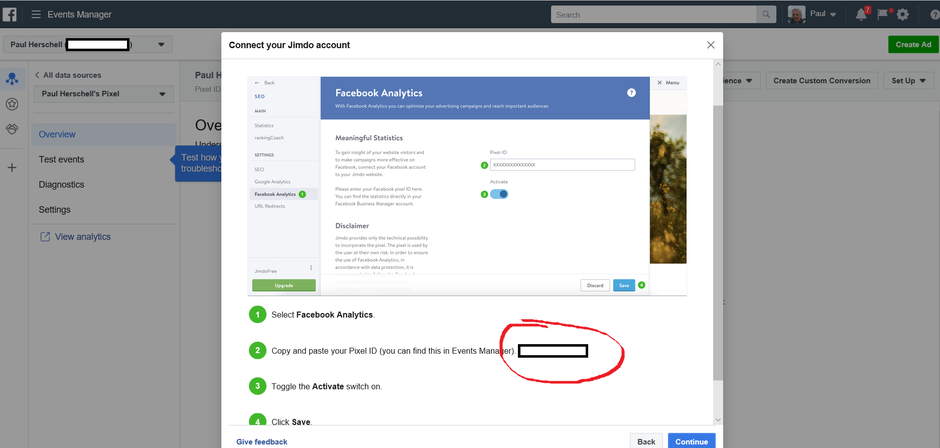 Like all things IT, though, don't just assume it works and walk away - TEST IT! The next screen does just that. Pop your website address in the website URL field then press the 'send test traffic' button. If your browser is blocking popup pages you may need to click 'Allow' or something similar before your website pops up in another browser tab.

All being well the 'no activity' notice should change to 'active' in the Facebook Events Manager tab as below.

Facebook pixel is now installed and working correctly. That's all there is to it for now. I will be revisiting it further in subsequent posts but get this bit installed now so that when we look at getting ready for the 4th quarter this year you will be in a very strong position to advertise effectively and make the most of the holiday season.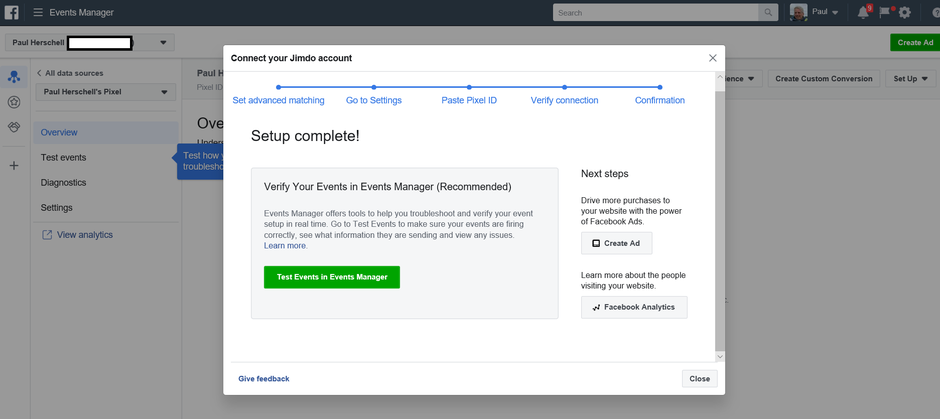 It's 5 minutes work to install. What is there to lose? But just imagine being able to send Facebook ads directly to people you know have already visited your website and been interested in specific pages, imagine being able to work out exactly how much revenue came directly from paid advertising so you can upscale with certainty rather than uncertainty. Imagine being able to send a Facebook add to the same people you send your Christmas newsletter to at the same time so that one makes them read the other rather than bypass it at such a busy time. This is barely scraping the surface of what is to come if you do this now!
If you have found this free advice useful, please return the favour by following me on Instagram or Facebook liking my posts and mentioning me to your friends! Thanks.
Have you done any paid Facebook advertising? What were the results? Did you use Facebook Pixel to help with it?