As discussed in Day 38 Talk To Likes And Follows it can be very difficult to gain momentum with your new Instagram account or any social media for that matter. In that post I discussed how sending direct messages to people that like your posts or follow you can help establish and build on relationships with a new audience. Following on from that I now want to talk about how liking other people's posts and commenting on them can also stimulate this process, increase growth and help to build new relationships.
Depending on where you are with your account you may or may not be paying too much attention to who likes or follows you. If your account is new then you probably check out everyone but then as it grows you probably pay less attention unless perhaps it is a gallery or a well known figure in your industry for example. Well first of all I would say check out everyone for as long as you can, even if it is just a minute browsing their profile. Send them a welcome as detailed yesterday. Every once in a while though someone will jump out at you and you will want to send a special message if there is a chance of getting your work into a gallery or forming some kind of collaboration with them.
But when things get busy and your account really grows, what is it that grabs your attention? Its probably not the people that like you just the once, it will be the people who start to regularly like your posts and you start to recognise them, it is the people who like a sequence of posts in one go and / or start commenting on your posts. These people are keen to interact with you. So what do you do? Well you should be replying to every comment even if it is just liking the comment but more often than not you will also look up that person's profile because you are curious to find out more about them and if you find something interesting you like some of their posts and possibly start following them.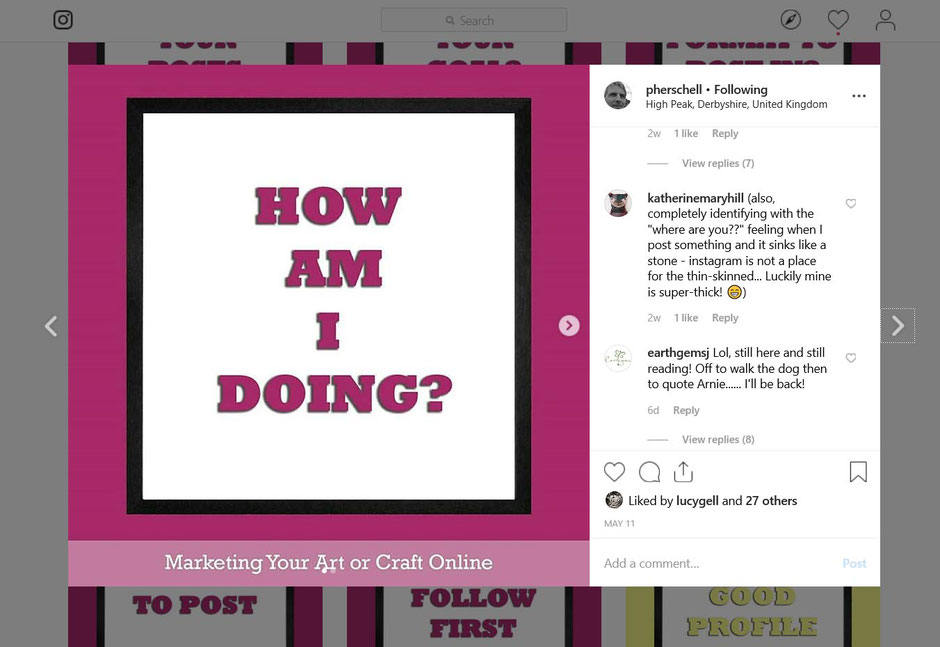 So this is why you should be finding people in your niche so that they take the same interest in you. Like their posts either regularly or in a sequence of 2 or 3 perhaps at one time and leave some comments. This will hopefully will get their attention and they will check out your profile (see Day 25 Create A Good Profile) and make sure you have a strong profile for them to find! Some people might not acknowledge, some might just 'like' your comment and that is it but a proportion of people will be drawn to find out more about you and will often start to follow you. As you get better at this consider including a question in your comment in order to stimulate a conversation so that as the conversation moves back and to several times the chances of establishing a relationship between you increases as does the chance of the other person starting to follow you.
Find a selection of busy hashtags in your niche and regularly visit these hashtags checking out the most popular 9 posts as well as a selection of recent ones on that feed and like and comment on them. Don't just say 'great post' or 'nice image' etc, that will just look spammy. Think of something interesting such as 'I love the way you have captured the shadows in this image, can I ask what materials you used to achieve this level of detail?'. Compliment then question - a great formula for engagement! Don't be as blatant as 'Check out my profile' as that too is spammy and will rarely work, instead consider something more subtle such as 'I have been striving to achieve this technique in my own work but I am not really sure where I am going wrong and would welcome any advice you might have to offer?'. This might be enough to get them to look at your profile and feed!
Using this technique for just 30 minutes a day will bring you a stream of new followers that you will not get through posting alone. You not only have the chance of being picked up on the radar of the person who posted the comment you are liking and commenting on but also other individuals that read that post and go on to read the comments so the more interesting your comment the more people may look you up and potentially start to follow you.
If you have found this free advice useful, please return the favour by following me on Instagram or Facebook liking my posts and mentioning me to your friends! Thanks.
Which hashtags do you use on a regular basis to like posts and comment and why?