Today is another tip about quickly growing that new Instagram account and accelerating growth on an established Instagram account. In Day 38 Talk To New Likes And Follows I talked about direct messaging people who have recently expressed an interest in you and your work, yesterday in Day 39 Like Other Peoples Posts And CommentI talked about establishing further connections beyond your own posts in hashtags in your niche. Today I want to talk about targeting influential accounts post's so that you can 'get there first' when they post something new in front of many more eyes than might be seeing your own posts at this time so that you can add a comment that these people might also read and become interested in you.
By now you are hopefully following a few influential accounts. These are people in your niche that have a large following. Initially you started to follow them in the hope that you can learn from them by watching how they do things and trying to emulate what they do with your own products and story. Well that isn't the only thing that these accounts can help you with. If they have a large following (perhaps 20-50k+) then there are also lots of other eyes on each post that they make from this account. Each post might get 500 - 1k+ likes and dozens if not hundreds of comments. When people read a post they often also read the first few comments. Few people will read hundreds of them but if you can get in early and can be in the first 2 or 3 comments on a post the chances are that many people reading the post might also read your comment and if your comment is engaging enough then they might visit your profile and ultimately like some of your posts and follow you.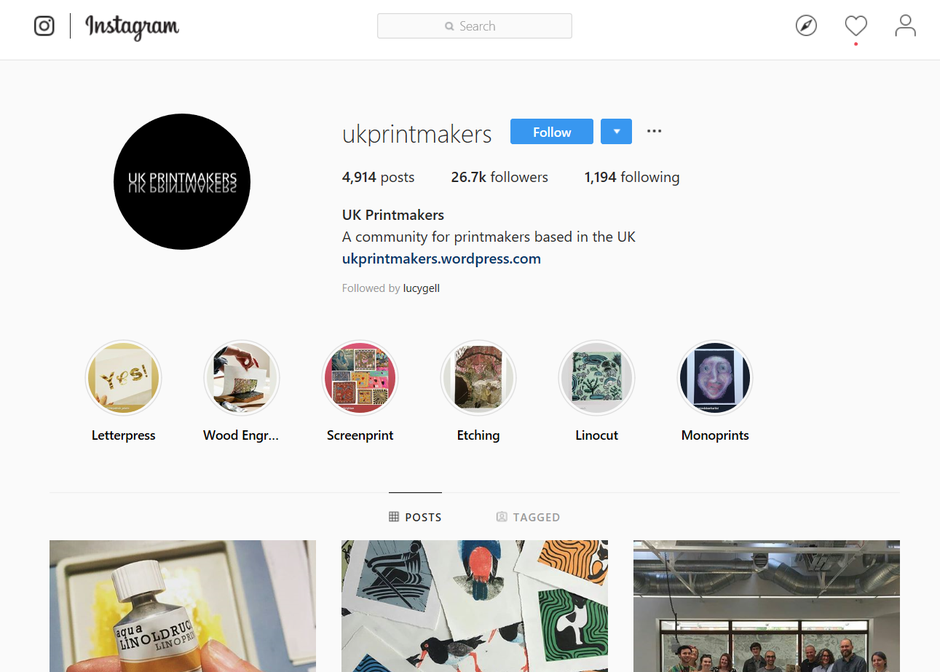 So how do you 'get in there first' you ask? Well the first thing to do is to identify a few accounts that you think that you might be able to do this on. Have a look through some of the accounts you are following, check for a suitable number of followers for those accounts, look for some new accounts. Maybe find a 'community' account or two (more about those later in the project) that champion people in your niche. My partner @lucygell is a printmaker and often posts alongside other printmakers here in the UK in #ukprintmakers. There is an account @ukprintmakers which is a community account for printmakers in the UK and champions printmaking here in the UK. At time of writing they have 26k followers. Several of Lucy's posts have already been picked up by @ukprintmakers and reposted in their feed which has led to a stream of new followers for Lucy each time. At time of writing Lucy also occupies positions 1 and 2 of the most popular posts grid in #ukprintmakers hashtag (there are other posts in there with more likes and more comments but it is the ratio of engagement on these posts that has helped Lucy here which will be discussed later in the project). So all in all @ukprintmakers is clearly a good account for Lucy to follow and engage with it's posts on a regular basis.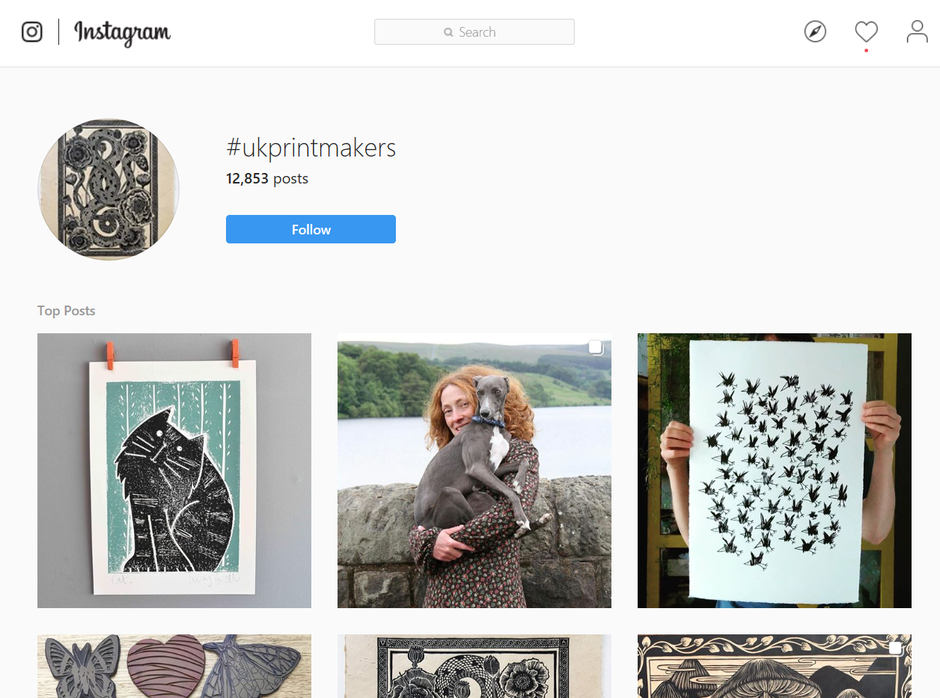 If Lucy simply follows @ukprintmakers she will see posts from them but they will simply slot into her usual feed which means it could be hours before she comes across the posts if at all depending on how many other posts there are from people she is following that day. Therefore in order to find out the instant that there is a post from @ukprintmakers Lucy can turn on notifications on that account in Instagram. In order to do this Lucy must visit the account @ukprintmakers. She should then press the 3 dots at the top right of the screen. She may then see one of two screens shown below. The first simply allows her to turn post and or story notifications on or off. Alternatively she may see a screen with a 'manage notifications' option which she can select to visit a further screen that she can use to turn post and story notifications on or off.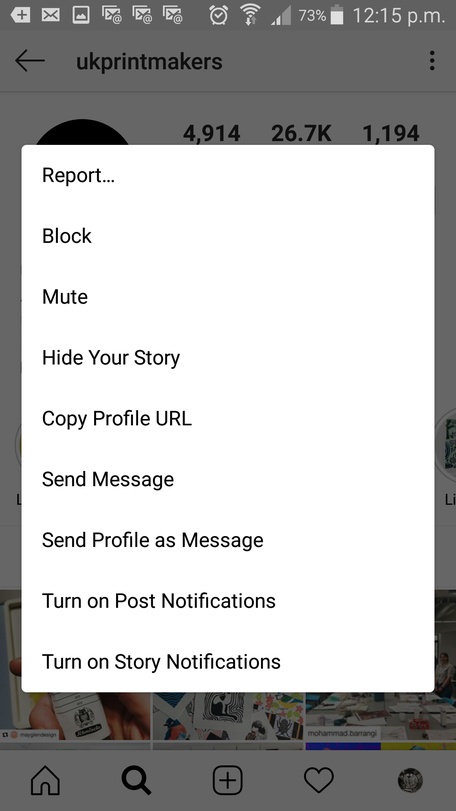 Obviously you get lots of notifications on your phone already every time someone likes or follows your Instagram account along with Twitter, Facebook, Pinterest, email, text messages and more. It can become overwhelming so you might want to consider managing some of your other notifications. Are there any that are not essential and can be turned off so that they don't hide important ones? Think about the number of accounts you want to do this with. Relying on one is not sufficient as they might only post once per day and you might not always feel you have a good comment for that post, they might also post at inconvenient times of the day for you to respond quickly. Choose a few accounts to receive notifications on and monitor your results to ensure they are effective or change them.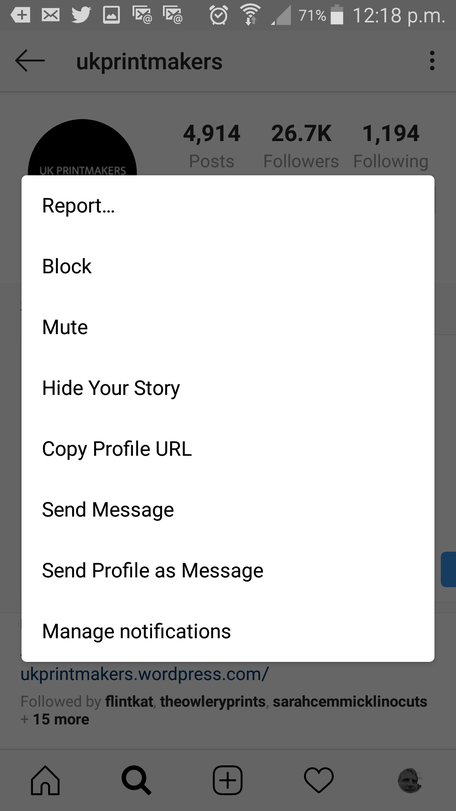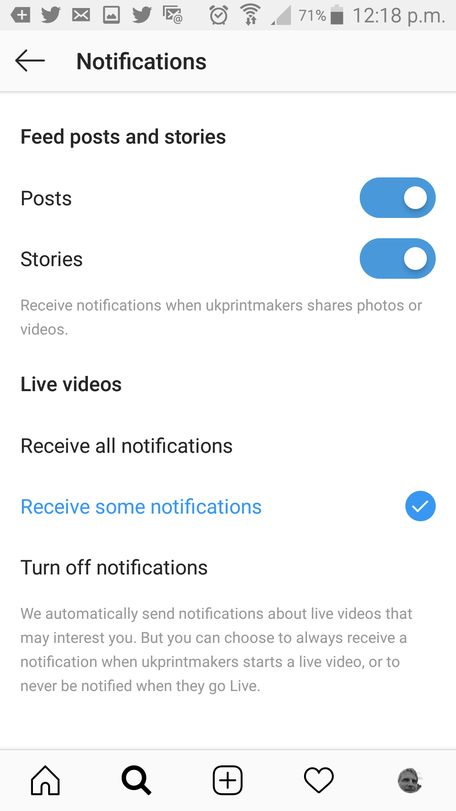 So what do you comment? Ah now that's where the craft is. Remember that formula - compliment then question? Say something nice about the post. Not just 'nice pic' or similar but something complimentary and engaging like 'I love the way you have managed to achieve ...' then finish your comment off with a question to start a conversation. You are targeting a large account here so the chances are they know what they are doing on Instagram and know that engagement is key to growing their Instagram account so it is likely they will jump at the chance of a short conversation with you as that will boost their post so that more people see it. At the same time, however, it is boosting your own chances of being seen. This account might already be following you but if not they might start following you if the conversation goes well but what is important here is those 26k sets of eyes that might be watching this post. You want them to see you so by getting in quick at the top you have a good chance. Create an engaging conversation that people are interested in following and contributing to you boost your chances even more.
Using this technique for just 30 minutes a day will bring you a stream of new followers in addition to those from posting alone. Done well it has the chance of bringing in far more new followers for new accounts than your posts on their own will as you will get in front of for more people for lot longer by piggy backing on much larger accounts.
If you have found this free advice useful, please return the favour by following me on Instagram or Facebook liking my posts and mentioning me to your friends! Thanks.
Come on its time to share the love now. I have told you a key account for Lucy, let's share information here about accounts you follow like this? Let's hear about printmakers, fine artists, photographers, jewellers, potters and more influential accounts you comment in? Please comment here and share with us?