In Day 32 - What Is Your Goal? I talked about creating a goal for each of your Instagram posts. Hopefully you came up with your own list of goals, maybe like me you were able to break them down into sub goals. Once you have a goal the post becomes much easier to write and the ideas start to flow. If you are keeping a good bank of photos along the way you should be able to quickly find a suitable image for your goal, or even create one especially. 
Before you write your first post, however, plan a sequence of posts in outline first. I know - you are a creative, planning doesn't come easy does it, but marketing your art or craft is no easy task and it doesn't get any easier unless you start planning a few things! Maybe you have a wall planner you can use or a large diary planner? You could sketch a few key events out on a year planner. Think about special holidays - Christmas, Easter, Mothers Day, Fathers Day, Black Friday etc. Think about commemorating special national and international days - national cat day, international dog day etc if your art subject is animals for example, look for national days that are represented in the subject of your work (there are lots of websites out there listing them, its the same days every year). Write a list and put them on your planner, its a simple excuse to post on that day, be ready for it!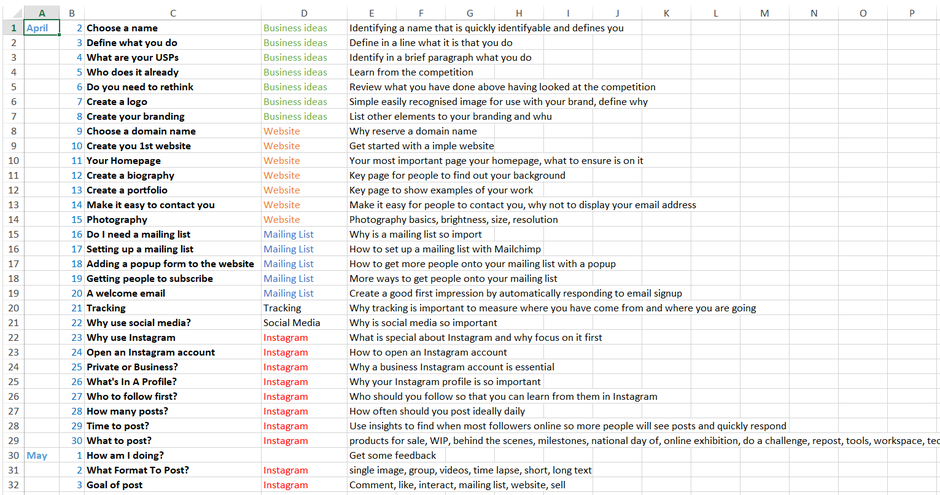 I am using a spreadsheet for this project. If I didn't there would be so much crossing out! A spreadsheet helps me to plan a few major topics to talk about but then as I work new ideas pop up and I want to insert them before other topics so that there is some kind of logical progression. Its easy to add a row to a spreadsheet to do that, everything just shifts down and its easy to move things from one place to another without making a real mess. I list the month and day and because I started this for #the100dayproject the row number is the day number! I created a column for the subject and one for the topic type so I could strike some kind of balance (for you think finished product, work in progress, workshop plug, behind the scenes, about you, research, mention other artists and makers, events etc as discussed in Day 32 - What Is Your Goal?). Finally add a column just for rough notes of things you might include in the post. Add to that as things come into your head! If that all looks too logical and organised for you to keep up with, don't panic, if I show you the next 32 days it might put your mind more at rest!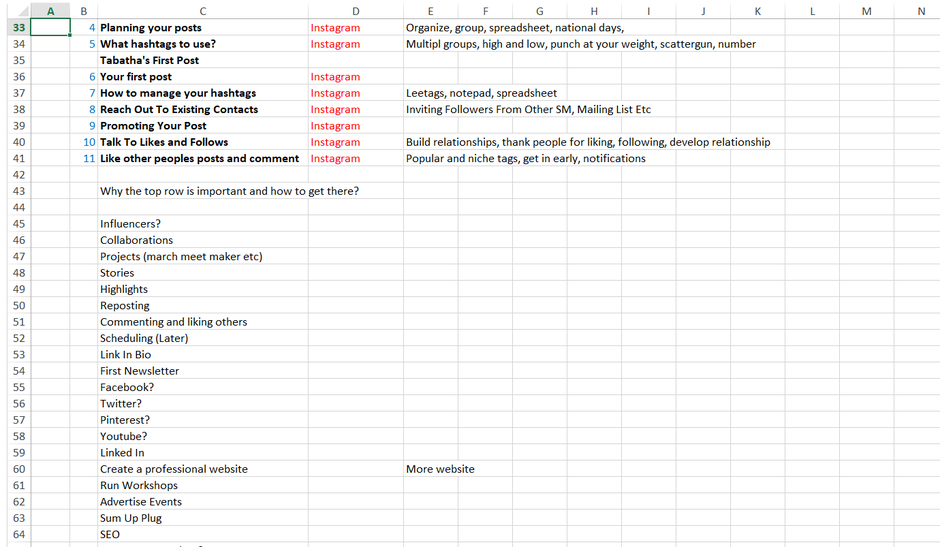 As you can see this is very different. This time I have started doing more detailed notes for the next 5-7 days or so and these are the only ones in a fixed order (I am also planning these visually with images in mind, colours etc to bring consistency to my feed). The rest below are very much in the embryo state. I have not really grouped them well, fixed their order or shown where they will actually go out. Some are more important than others and will be brought forward, others will get pushed back and I think of new things every day that are getting added to the bottom of the list. The 100 day project started with 70 ideas which I spent a couple of days organising. I now have about 110 ideas on my list and I think by the end of the project I might have nearer 200 giving me lots more ideas for the future. The process means that there is always something to post about, always something fresh and it continues to bring new ideas, I often also start with a single idea but write so much I then split it and send it out over 2 or 3 posts getting much more mileage from it. I can miss a day (or several) then try to catch up or I can just go at my own pace. The important thing is all the material I wanted to cover gets covered at some point, nothing gets missed and if I have an idea I write it down but then might not write a detailed post on it for several more days or even weeks, I don't just forget about it though because I am simply too busy!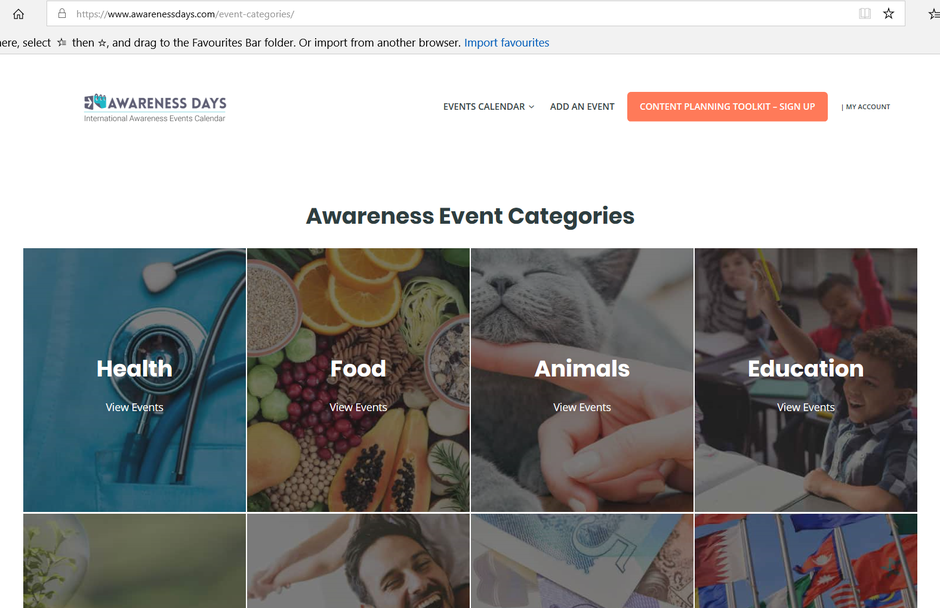 Plan some special posts around key events and dates. We all know a huge proportion of your sales will come around the Christmas period. Be ready for it. Plan a sequence of posts coming up to that event. If you supply galleries and stockist remember 'Christmas starts in August' for them. Start targeting them in the summer holidays in social media and with emails, phone calls etc. Are you going to run any sales? When? Block dates off in the calendar for that period even if you don't know what you are going to say just yet, it will help you start thinking about it. Did you know today is 'Chicken Dance Day' - wouldn't a post about that create some engagement, especially if you are an artist with some chicken work! www.daysoftheyear.com not only give you a list of fun days like this they help you print off weekly, monthly and yearly planners to help you plan.
So as you can see, you can plan a number of things for the year quite quickly just based on dates and key events. Put these in first because you want to reserve that space for those things. Then start filling in the gaps. I discussed how often you should post in Day 27 - How Often To Post? Think how often you can post, is it daily, every couple of days? Now go through your list of goals and write in the planner one of those goals for each instance you can post. Spread them around to achieve a balance. Obviously you might repeat some goals more often than others, for example, if you have 80 products and 30 goals you don't just place a product once every month. You place a product every few days otherwise its a few years before you get all your products out there! You don't ask people to join your mailing list every few days, that would get very boring, but once a month might be acceptable and so on. Similarly lean on people to recommend you to friends and so on but gently most of the time but in your face items such as giveaways should be a little less frequent.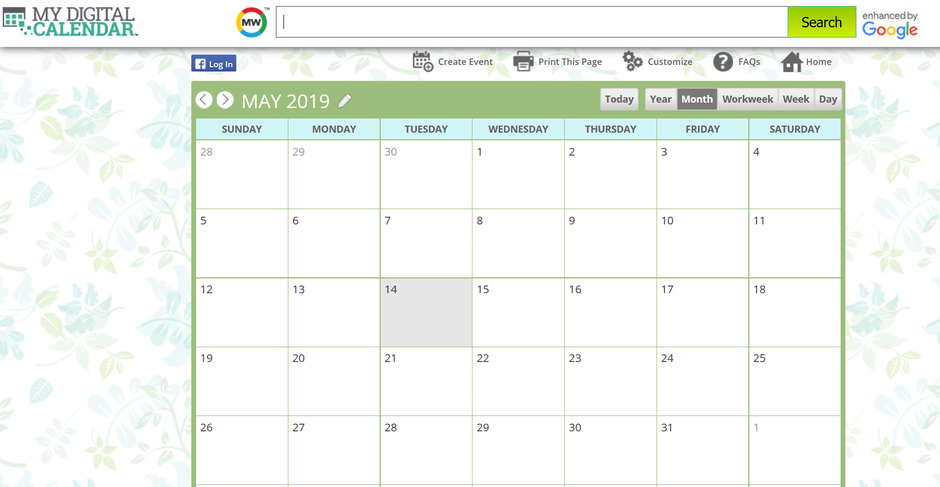 The key is keeping it fresh, keeping it balanced. Add another level of detail to the goal for the next few weeks or so now, maybe a one line description such as my note above about what you want the post to be about and which image(s) you might use. That gives you time for further ideas to flow then start to build your detailed copy for the next 7 days worth of posts if you can. Don't write them daily. Maybe use a Monday morning once a week to write them all. You could write your copy in Microsoft Word on your computer or even the memo editor on your phone or similar for now, save images on your phone or computer as you plan things. If it is all planned in advance the actual posting will take minutes each day as you copy and paste things, will be less invasive into your day and you will be far less likely to fall behind. Try this now and later in the project I will help you move your planning up a gear so it becomes much easier and quicker to plan and schedule so that you set your posts up and they go out automatically at your selected time! 
If you have found this free advice useful, please return the favour by following me on Instagram or Facebook liking my posts and mentioning me to your friends! Thanks.
How far ahead do you plan your posts? How do you do that?