At this point you probably want to get straight into posting on Instagram on your new account but don't! Rather than going out, making mistakes (by that I mean lots and lots of posting without attracting followers and learning the hard way) this is where you should be taking note of who has gone out before you, who has already learnt the hard way then got it right and invented that wheel on your behalf! Take time to research what other people are doing. Follow them and then check out their posts as they post each day and get a feel for what people are doing. You know from your own craft it takes time to do something well but you get there much quicker with help and a lot of study and research then its just practice and lots more practice. It won't happen over night but by watching others it will happen much quicker than it would otherwise.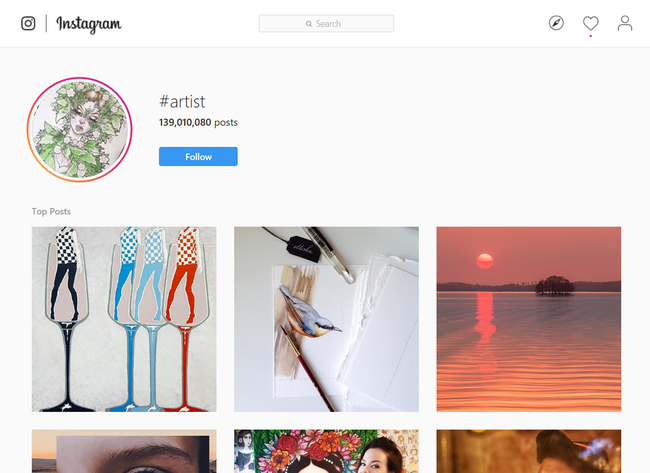 So who do you follow? Well that is down to your own particularly niche but I can give you some good guidelines of characteristics that you might want to look for. First of all look for some hashtags in Instagram. Find some that are popular ideally with more than 100k posts in them (avoid the 1m and more hashtags for now, that comes later once you have grown your following!). Tabatha might look at #artist initially but as it has 138m posts she might discard it. She could narrow it down as she is from the UK to #artistuk but that only has 5k so might be on the small side to locate successful artists, but #ukartist has 242k posts so that might be worth browsing.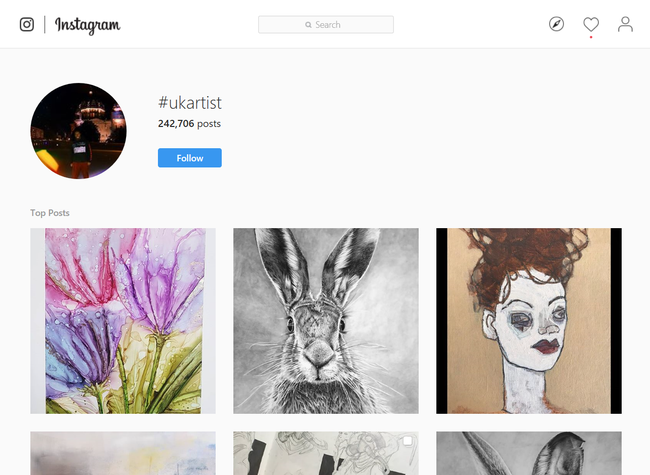 Next Tabatha should browse through recent posts in the hashtag and see if they are good quality. Would her own work sit well in there? Looking at posts in there, are posts just getting 10-100 likes or are some getting 1k or more likes? Once Tabatha identifies posts that are getting 1k - 10k or more likes she should click on the username to look at the artists profile and make a decision whether that is an artist that is doing well and that she can learn a thing or two from. She might start in the #ukartist hashtag but posts there might lead to other hashtags so don't worry too much if that happens as long as they are not too big!
In Day 25 - Create A Good Profil we learnt about creating a good profile impression. Has this artist done exactly that or do they appear to be simply 'muddling through' or have 'just got lucky'? Do they have a quality product and a good Instagram profile? Look at their profile statistics where you will learn a lot about them very quickly. How many people are following them (focus your efforts on people with a 50k or more following initially if you can)? How have they achieved that? Have they posted thousands of times over a long period in which case they might not be the best to follow as they should have a following of 500k or more by now. Have they done it in less than 1k posts over a short period of time in which case they might know what they are doing. How many people do they follow? If its 500 or less then they are likely very focused themselves and learning from others. If they are following several thousand then they have probably built up a following by following others in the hope they get followed back so you should ignore them.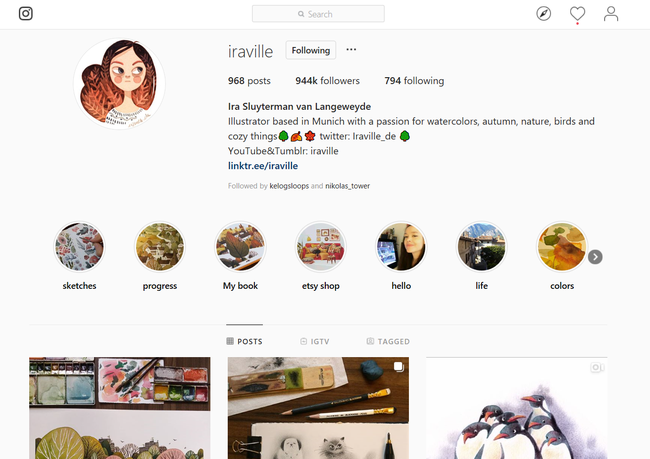 As you find each person to follow then follow them in your account so that you start seeing new posts and click on some of the hashtags that they are using in order to find a few more people to follow. Start by finding 5 or so initially and perhaps find a hashtag to follow too that really fits your niche and has a high quality feed. Don't get tempted to follow your friends, family, colleagues and so on. Keep a separate account for that and stick to business for this one if you want to be influenced by people that are doing really well and to emulate them! Keep the details of these people you want to initially focus on in a project folder as we will analyse them in more detail throughout this project. Write down what appeals to you about them.
Tabatha went through this exercise and came up with this initial shortlist of people she wants to follow to try to work out what the secret of their success is and made the following notes about each one to remind her what struck her about them.
Tabatha's Thoughts - I like the layout of her bio with a short paragraph that sums up her motivation. I also like the simplicity of her insta logo and how much it stands out. The way she plays with perspective in her work and her colour palette which is mainly earthy greens and reds. She has also created an art book of her work over the years
My thoughts - 1000 followers for every post, reasonably selective about who she follows although could reduce more perhaps, clean simple logo, clear simple bio summing up her style, posting since 2013 so this has taken almost 6 years, nicely curated feed, highlights could be more polished. Definitely worth studying this example further.
Tabatha's Thoughts - I like the vibrant use of colour and variety in the choice of portraiture that she sells. She also sells prints with a holo finish. She brings humour to her story with her cat and 2 dogs which encourages people to check out her account. She has begun to sell stickers of her cat. She lists information in her bio rather than in a paragraph
My thoughts - 1260 followers for every post. Very focused on who she is following. Posting since December 2016 so 3.5 years, very fast growth. Humour clear in the use of her name making people inquisitive. Reasonably curated feed. Young audience appeal similar to Tabatha. Definitely worth further analysis.
Tabatha's thoughts - Also lists information in his bio and uses emojis which will appear to the young generation. I like his almost royal colour palette of deep blues, red, white and gold which is consistent throughout his work. I like his incorporation of figure drawing and nature references in one. He hosts quite a few giveaways.
My thoughts - posting since Feb 2014 just over 5 years. 2150 followers for every post. More professional bio and highlights and links. Better feed showing lots of work in progress as well as finished products. Well worth further analysis.
Tabatha's thoughts - turns some of the key information in his bio into hashtags. This artist also hosts regular giveaways which will attract many people. He has a relatively similar style to @kelogsloops and I really like the creativity of his work. He uses other mediums such as gold leaf in some of his pieces.
My thoughts - 355 followers per post, initially seems much lower than other accounts above, however, only posting since October 2017 so just over 2.5 years, this account is newer and quickly growing so could reach or overtake some of the other accounts given the same amount of time. Nicely curated feed. Good mixture of  finished products, work in progress, videos, props, multishot and single shot posts. Well worth further analysis.
Tabatha's thoughts - posts many work in progresses of her drawings on her story to keep her followers updated on what is going on. The choice of what she draws varies but she mainly draws famous celebrities which many people like. She is part of an art community where she shares completed work of other artists and compliments it. She owns various other accounts in Instagram
My thoughts - 221 followers per post. Posting since December 2017 ie 18 months. Fast initial growth. Young talented artist like Tabatha. Account lacks some professional polishing but well worth further analysis.
Tabatha's thoughts - her feed is very colourful and imaginative and detailed. She is also part of the art community where they regularly share each others work to encourage followers to look at other accounts. She also uses a variety of emojis in her bio which is in list format.
My thoughts - 213 followers per post. Posting since December 2015 ie 3.5 years. 18 years old so slightly older than Tabatha. Very focused on who she is following. Nicely curated feed although highlights could be more polished. Lots of colour in branding and feed. Worth further analysis.
So this is perhaps a more involved day in the project and will take some time to do thoroughly but before you set off on your Instagram posting campaign it is well worth doing. You will learn so much from identifying accounts like this in your niche that will really help you get further with your Instagram posting. We will do more involved analysis later but just following accounts like this for now means you will be exposed daily to posts and accounts that are doing well and that will influence your own posting ideas considerably.
If you have found this free advice useful, please return the favour by following me on Instagram and Facebook liking my posts and mentioning me to your friends! Thanks.
Who do you follow in your research and why?