In any business it is very easy to focus on a small part of what you are doing and to take your eye off the bigger picture and this is especially true in the creative industry. Have you ever been too busy preparing for a show to work on your social media? Has that Etsy sale been postponed month after month because you 'haven't had a minute'? Do you look at others and think 'why are they doing so much better than me' but don't know why? Are you struggling to justify that day tidying up your website because you have so many more things to do that 'seem' more important? Do you have specific goals that you are working towards? What plans have you put in place to achieve those goals? Are those plans working or do you need to refocus your efforts?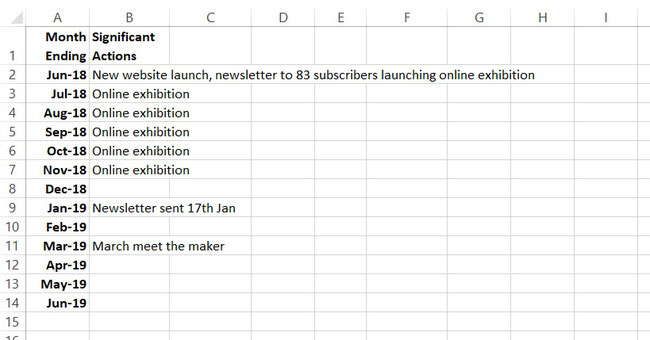 Ideally you should have a business plan setting out what you want to achieve and when and have a means of measuring that and regularly reviewing and refining it. That business plan is beyond the scope of this project at this time. I simply want to concentrate on a part of that plan which you might define as 'marketing your art or craft business effectively online'. During this project I will concentrate on elements that you need to do to achieve that such as developing your website, developing your social media, SEO, mailing lists, newsletters and more. 
As we start to develop areas in this project it is essential that we 'track progress' in each of them. If we do that it will help with a number of things - it will help to justify time spent on areas where we can see improvement as a result of our efforts, it will help to identify areas where we need to do more because we are not seeing the improvements we would like, it will help us to rethink ideas that might not be working so that we can try another tack, it will keep us focused and on track.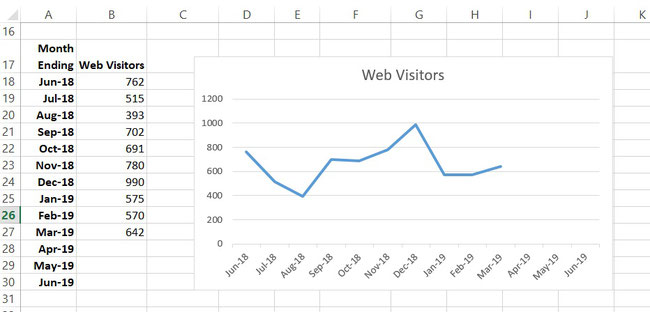 To get started first decide how you want to track things. I support a number of customers so I track things monthly due to the administration involved in recording everything but if you are only recording you own details you might choose weekly at first then move to monthly further down the line. Next keep a log of key events and when they took place like the example at the top of this post. This helps when you are trying to interpret your figures. Key events might be when you did a new website launch, product launch, mailing to your mailing list, sale, paid promotion, a social media challenge (all explained later in the project) etc.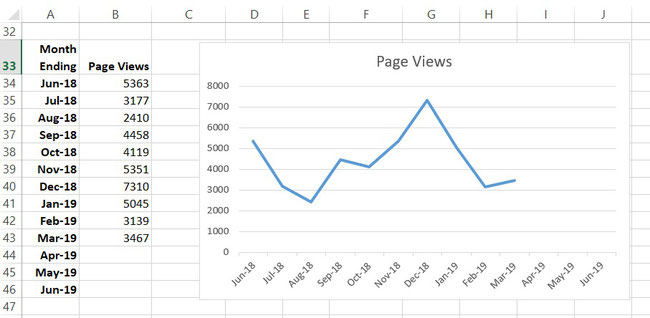 At this point in the project we have just created our first website. We are not selling anything on it at this point. We have created a mailing list. Ignoring sales for now (I will come back to them later in the project) what are our goals and how do we track their progress? I use an Excel spreadsheet. This helps me to record things on a regular basis and also lets me produce graphs so that I can easily determine which way things are moving. To graph your data for easier interpretation just select the two columns of data then select the 'insert' menu then choose 'recommended charts'. Its that simple!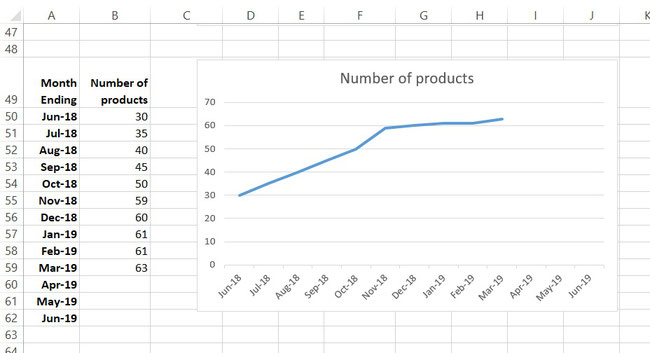 You will often hear people talking about Google Analytics and everything that that can reveal to you. Well that is true, Google Analytics can collect an enormous amount of data for you and if you are a developer or consultant specialising in that area it will really help but if you are doing things yourself on a budget it can be very complex indeed, especially starting out. It is difficult to know what to track and I often see people glazing over at the shear amount of information. So let's keep things simple. Start by tracking what we have done so far and then track more information as we get further into the project. Your website software should enable you to easily obtain figures for number of web visitors and number of page views for a period. Start by recording these to analyse how many people you are bringing to your website which you clearly want to grow over time. If you are using Jimdo as detailed in Day 9 - Create Your First Website then you can access these through menu, SEO, statistics.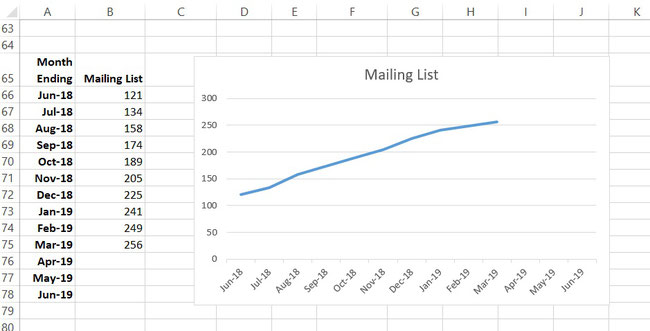 Track your number of products. This is key to understanding some of the other figures. If you only have 1 or 2 products then unless they are outstanding products you are unlikely to make a living from them. You need lots of products and I will explain more about this later in the project but for now just keep a log of how many different products you have for sale at any point in time and hopefully you will start to see links between it, web site visits and sales as you go forward. Keep tabs on how many people are on your mailing list. As you get further into the project keep an eye on how effective mailings are and how they link to increased website visitors and ultimately sales. 
All the figures above are real figures for a customer I have been working with. Interpreting the figures I can see that they had a lot of visitors to their website to look at their new website which was launched in June 18 highly publicised in social media. After initial curiosity, however, numbers of visitors dropped off. In order to gain further interest we ran an online exhibition showcasing a product every couple of days for several months on social media, adding a number of new products to the website that were not there for the initial launch. This began to build up a momentum as we moved through August, September, October and November and of course there was the usual sales rush towards Christmas. Christmas was so busy that the customer didn't really get the usual pre Christmas newsletters out. After Christmas, however, visits and sales started to drop off during the typically quiet periods of January and February so a newsletter was sent out mid January to stimulate things again which it did and the customer ran the March Meet The Maker challenge on Instagram which also created an upturn in visitors in the typically quiet period. 
Mailing list figures have been growing steadily over the period as have social media followers, however, now that the website is fully up and running attention needs to be directed towards faster growth in these areas. Over the coming weeks we will be digging into more statistics to analyse other areas that warrant further attention. Track your own data to start to understand your own business and start to make intelligent decisions and refocus efforts accordingly.
If you have found this free advice useful, please return the favour by following me on Instagram or Facebook liking my posts and mentioning me to your friends! Thanks.
Are you tracking figures and if so what?