Your Instagram profile page is essential to create a good first impression. If somebody likes your post the next thing they are most likely to do is visit your profile page. If what they find there is attractive and interesting then that is likely the point where they will decide to look at more of your posts, follow you, visit your website for more information and ultimately buy from your art or craft business. You need several things in your profile to create that good impression, you need a profile image (see Day 23 - Create An Instagram Account), a name, you need a good bio, website link, you need some highlights that can be used to quickly show what you are all about and you need an attractive feed. I will talk about highlights and your feed later in the project. For today I will concentrate on your basic profile information.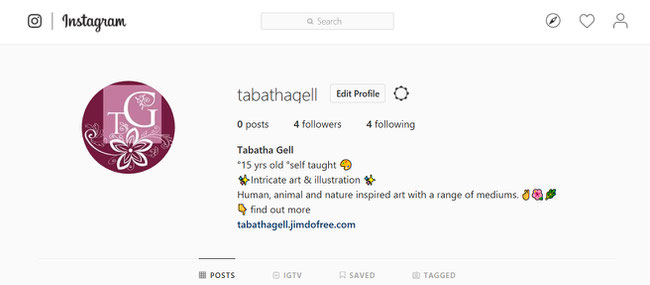 You can change your profile information on a computer or on your mobile phone. If you want to use emojis as Tabatha does you might prefer to edit on your mobile? To change it select 'edit profile'. Your name probably has your name in at this point but you have up to 30 characters here. This area is highly searchable in Instagram so add some keywords about your niche in here to gain more exposure. Tabatha has added 'Art' and 'Illustration' as these are her key areas. 
Your username should already be correct at this point but see Day 23 - Create An Instagram Account for more information. If you have a website at this point enter the details in the website field. If you don't have a website but do have an Etsy shop or other website area where you might want to direct people include that. You can frequently change the website address depending on your recent posts to bring people to specific pages of your website depending on the goals of your posts and what you want people to do at the time. More about that later. Further into the project we will also be looking at further improvements to the website field to make posts clickable but just use your website homepage for now.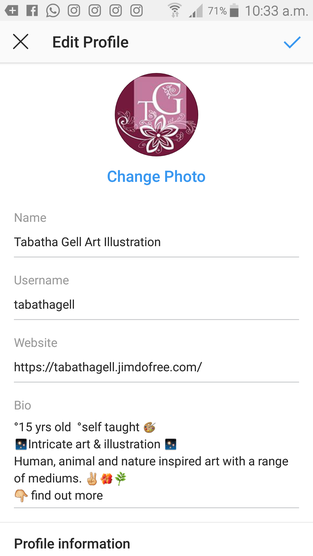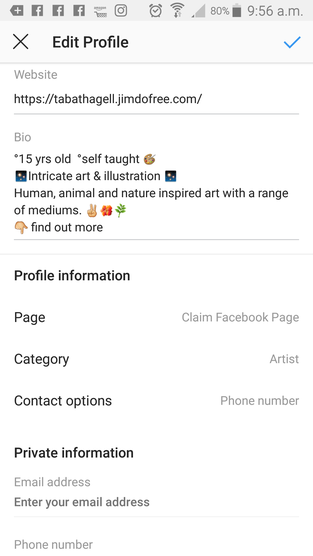 Next you have 150 characters available in your bio. This isn't many so you really need to make them count. A starting point might be the text that you created in Day 2 - Define What You Do and Day 3 - What Are Your Unique Selling Points? where you described what you do and what stands out about you or makes you unique. The trick now is to condense this into 150 characters. Start with the most important first as people might only see the first 80 characters until they click 'more'. Use bullet points and carriage returns to separate things if you wish. This breaks them up and makes them quicker to scan but don't use carriage returns too early so people have to click 'more' before they see most of your bio.
Tabatha started off with "Intricate Art & Illustration. I am 15 years old, self taught and at the beginning of my career in the miraculous industry of art. My work covers a range of mediums working with an illustrative focus on proportion, colour and contrast. Each design is unique and delicately crafted.". Obviously that is way over 150 characters so she condensed it with bullet points and emojis to make it feel young and fresh too. People also use emojis in searches so use relevant ones to boost your exposure in searches.
°15 yrs old  °self taught 🎨
✨Intricate art & illustration ✨
Human, animal and nature inspired art with a range of mediums. ✌️🌺🌿
👇 find out more
Profiles should also contain a 'call to action'. This is something you want people to do when they visit it. Tabatha's is 'find out more' with a pointing finger to her website address as she wants people to visit her website to find out more about her. During your campaigns you might change your call to action regularly between things like 'find our more about me', 'book a workshop', 'join my mailing list', 'visit my Etsy sale' and so on.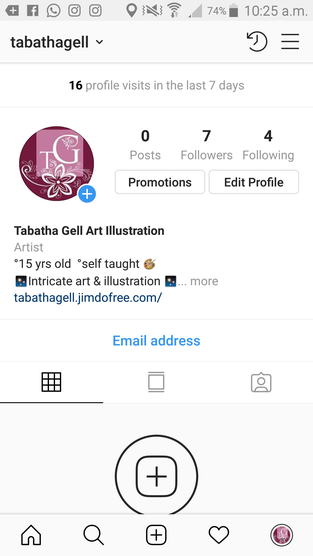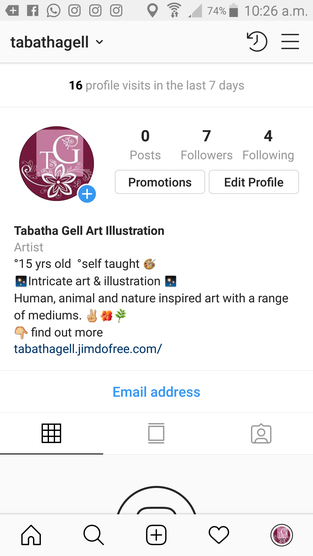 Note the use of carriage returns to help break things up and make more readable. Her key selling points come first and then notice how she has added extra emphasis to get people to click on her website link to find out more.
Look at other people's profiles as you use Instagram. How do other people do it? What works? What doesn't work? Don't be afraid to change and experiment. Is geography important to your customers - mention where you are if you are targeting locally. Consider mentioning keywords about your niche area so that visitors will realise that they are in the right place 'eg art, illustration, animals etc' above. Show your personality. Remember to plug sales and other special events by updating your bio occasionally.
If you have found this free advice useful, please return the favour by following me on Instagram and Facebook liking my posts and mentioning me to your friends! Thanks.
What do you use in your profile?