When you create an Instagram account it defaults to a private account. Private accounts are usually used for individuals. By default people are unable to see your feed unless they are following you which can mean people may not be able to see your content. Private accounts also lack many of the features available in a business account.
If you have not already switched your account to a business account or you are setting up a new Instagram account then you are strongly advised to switch to a business account. There is no cost involved in switching to a business account and you can always switch it back to a private account again later if you need to. Once you switch to a business account anybody looking at your account will always be able to see all of your posts whether they are already following you or not.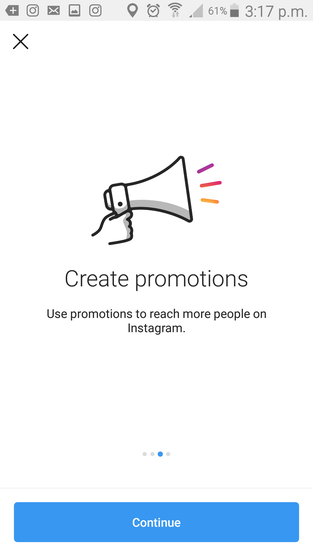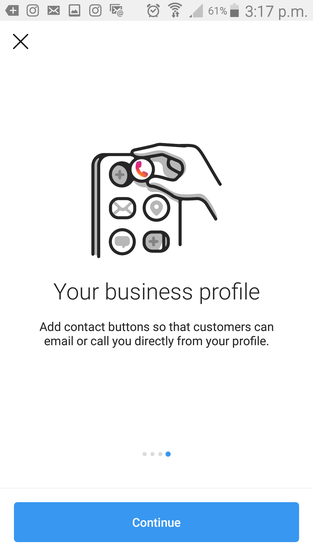 A business account will also provide you with lots of additional features that will help you to analyse your account and posts better such as 'insights' which help you to identify things such as how your posts have been performing, how many people have been visiting your profile or website as a result of posts, how many people you have reached with your posts, where your followers are based, what age they are, what gender, when most of them are online etc. Having access to these insights puts you in a much stronger position when deciding what, where and when to post so that you can get the maximum engagement with your posts which will help your account growth. Having a business Instagram account also means that you can pay to promote your posts. We will do a lot more with insights and paid promotions further on in the project. A business account also means that you can add business features such as contact buttons so that customers can email or call you directly from your profile.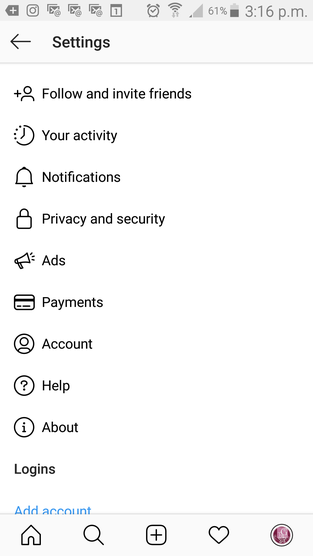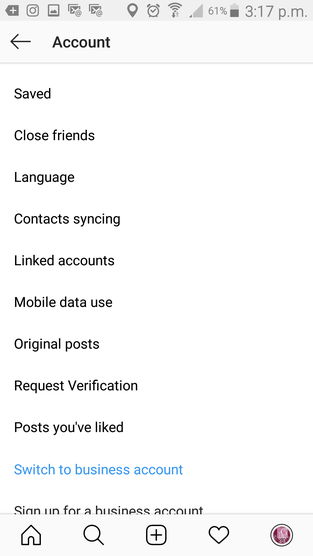 So how do you switch your new or existing Instagram account to a business account? Well this bit unfortunately cannot be done on your PC, you can only do this on the Instagram mobile app. To do this go to the 'settings' area and then the 'account' option. From the 'account' menu choose 'switch to business account'. You will need to swipe through a few information pages then will be asked to choose a 'category'. Tabatha has chosen the category 'people' and subcategory 'artist' but have a look through all the category and subcategory options before choosing the most suitable for you. You can always change it later but being accurate will improve your chances of being found by people searching for people like you.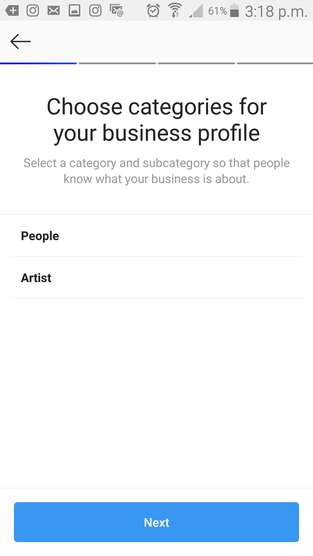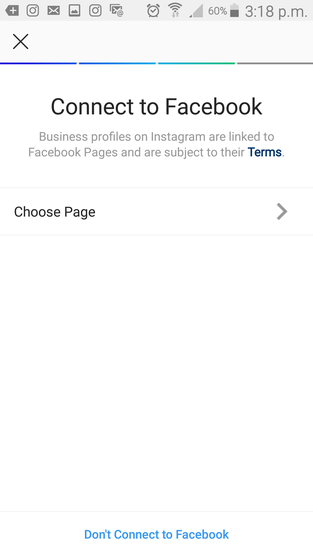 At the final screen you will be asked to connect your business account to a Facebook business page. If you already have one of these then you should log into Facebook on your phone then select the 'choose page' option to choose which page you wish to connect your Instagram business account to. This means that your Instagram visitors enquiring about your business will be directed to business details stored on your Facebook page and promotions can be charged to your Facebook account details. If like Tabatha, however, you have not set up a Facebook business page yet then do not worry, we will set one up later in the project so just select the option 'don't connect to Facebook' for now to still gain access to most of the business account features. Tomorrow we will look at creating a good Instagram bio in your profile page.
If you have found this free advice useful, please return the favour by following me on Instagram or Facebook liking my posts and mentioning me to your friends! Thanks.
Have you switched to a business account yet?