Hopefully I have convinced you of the need for a mailing list despite your prolific use of social media in Day 15 - Why Do I Need A Mailing List? - if not please have a read before continuing. So next you need to choose what software to use for your mailing list. My own background was in developing database software and I laboriously wrote software programs to link databases to Microsoft Word to mail merge. The good news is today all that hard work is unnecessary. There are brilliant tools around to help you that will both integrate smoothly with your website and branding and produce truly professional looking emails quickly for you.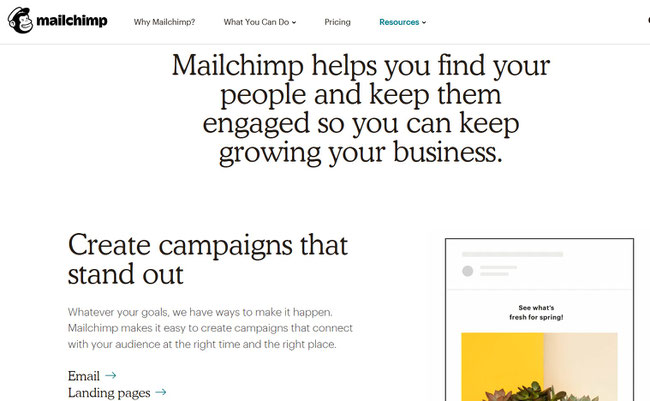 You won't have to look far through your email inbox before you find an email that has been produced by 'Mailchimp'. I know its a name that is hard to take seriously but I think that is exactly the point, the guys behind Mailchimp are really serious about marketing and they knew that by creating such a ridiculous name they would draw attention to themselves and that is exactly what happened. In my opinion Mailchimp is the tool that you should be using although other tools are available as they say! Mailchimp is also FREE in the first instance until you have 2000 people on your mailing list in fact and by that time you should be in a position to pay a small monthly amount for the sales that Mailchimp brings you.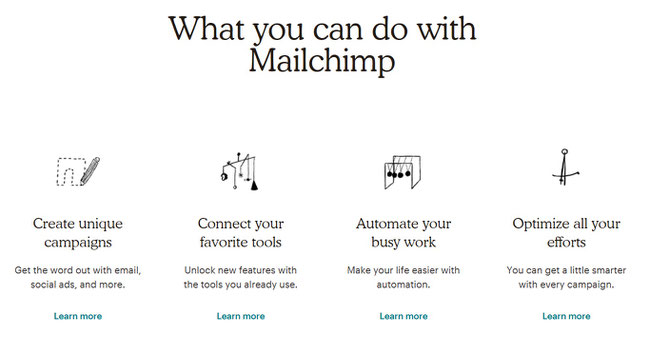 So how do you go about it? The first thing you need to do is to sign up at https://mailchimp.com/. Fairly straight forward stuff really, just use an email address for your email address and user name fields and create a password that you write down or can remember. Mailchimp will then send you an email to confirm that it is really you (to deter spammers from using the system). Check your email and click the link in the email to activate your new account. Next you will be asked to log into Mailchimp using the details you previously registered. Do this ticking the box to remember your details if you want your computer to remember these next time you want to log in.
Next you will be asked a few simple questions such as your name, website address, postal address and so on. Don't worry you can amend all of these later if necessary. You will then be asked if you already have an existing mailing list and given the opportunity to import it. You can say no at this stage and import it later if you prefer but it is important that you have people's permission to add them to your mailing list. Here in the European Union it is important that you comply with GDPR which Mailchimp really helps with!
If you have a Facebook and Twitter account at this stage you can connect it to send links to your emails in those social platforms later but don't worry too much about that now if not. Finally answer a few questions about what you are going to be doing online so that Mailchimp can get a feel for your business. Mailchimp will then try to get you straight onto a paid bundle but for now you can just choose the 'Not right now' option at the bottom of the screen to use the system for free while you find your feet.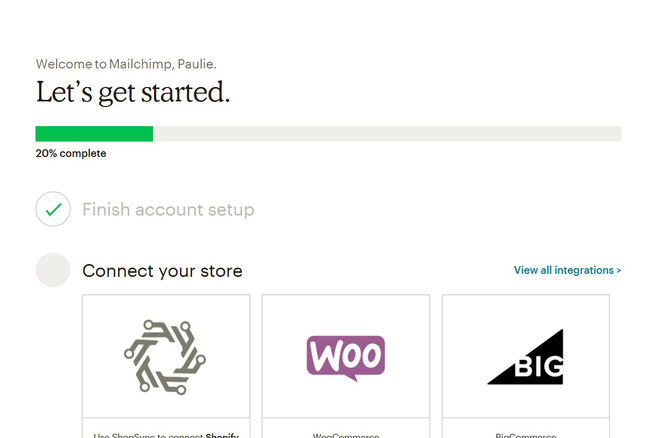 Next you will be asked to connect Mailchimp to your store if you have one. At this point in the project we do not have one but if you have one of the listed stores do select it as it will help Mailchimp link sales to your mailing campaigns. At this stage I am just going to skip the store connection for now by selecting 'skip this step'.
Next I am asked to start designing my first email and I will choose 'I will do this later' as I do to adding my contacts and sending my first email then I press 'Go to dashboard' to complete the setup wizard and get started. Now you need to select 'Audience' in the menu at the top of the screen. This is where your contact lists are managed. With your new account you will have 1 contact list in your audience with the business name you set up and it will have 1 contact in it - you! Click 'View' to see this contact list.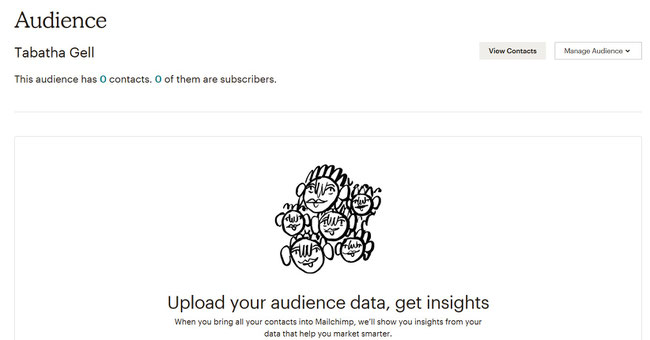 Next we need to create a form to collect details from customers for our mailing list. Click the 'signup forms' option and then choose 'form builder'.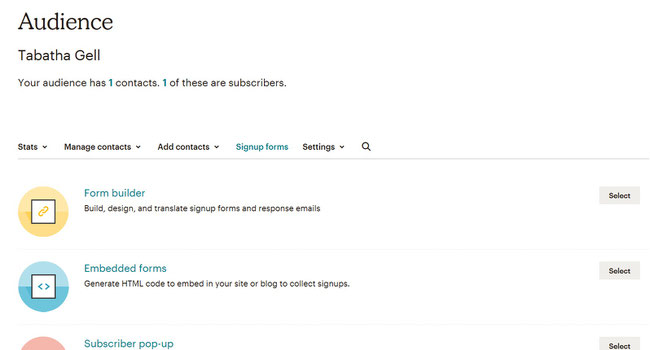 Here you can list the fields that you want to use in your form. Explaining this form in detail is beyond the scope of this blog post, however, there is plenty of help available in Mailchimp and most of the defaults you need are there such as email address, first name, last name etc. You might want to remove some fields you don't want such as 'birth date' and might want to make some fields compulsory to ensure that your visitors always complete them. I also used the 'settings' menu to switch on GDPR fields to meet data protection regulations here.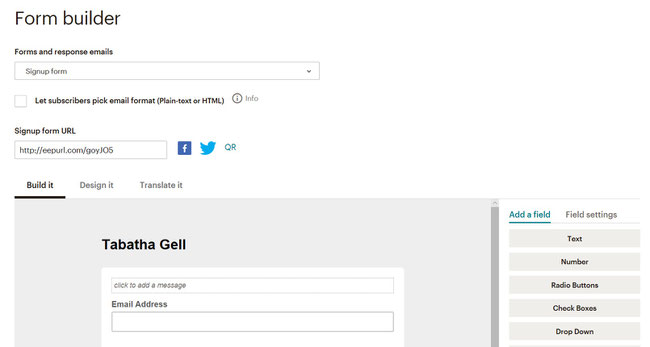 Once you have completed the form you can create a button on your website to the location specified in the 'signup form URL' field above. You might need to use the 'design it' tab, first, however, to colour your form so that it has your branding and maybe add your logo in the header etc. If your website software allows it, however, as it does with the Jimdo websites that I create you can save this form then go to the 'embedded form' above and then copy and paste the code provided there into your website page (in Jimdo just add the newsletter object to one of your pages then paste the code into that object). Doing things this way your form will become part of your website rather than be an external form and therefore you will not need to worry about adding branding as it will be wrapped around it anyway.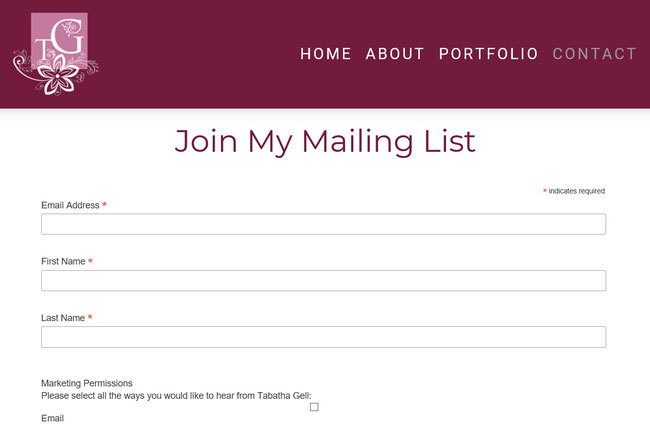 … and there we have it, Tabatha's new mailing list form integrated into her new website. At the moment it can be found under the 'contact' menu 'mailing list'. Over the next few days I will say a little more about mailing lists to show you how you can make them more prominent and drive more people to them. Stay tuned!
If you have found this free advice useful, please return the favour by following me on Instagram or Facebook liking my posts and mentioning me to your friends! Thanks.
What do you use for your mailing list?