On Day 10 - 1st Homepage Essentials I looked at created your 1st homepage, the most important page on your website. On Day 11 - Your 1st About Page I looked at your about page, another essential page on your website. Today I want to talk about your 'Portfolio' page. In my view this is another essential page on your website but one that is so often overlooked. Many people jump straight in with a shop page to sell their products. People can come to your website for many reasons, not just to buy product. They might be press, an exhibition curator, a collaborator (more about those later in the project!). They might be a gallery or trade buyer looking for a quick overview of your work rather than specific product details or they might be someone looking to hire your freelance services once they have examined the quality of your work.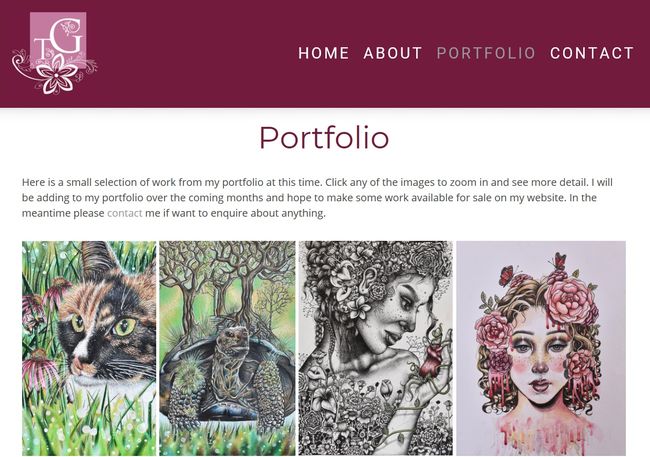 All of these visitors and more want a simple, easy to browse, image heavy page where they can quickly look at the quality of your work and make quick decisions. They don't want to be browsing through a complicated shop page full of information not relevant to them and having to click in and out of categories, expand and collapse thumbnails and so on. That all has a purpose, is time consuming to set up and will all come later but today is again about creating another good 1st impression by quickly demonstrating in a single page the variety and quality of your work.
Tabatha, as you know if you have been following the whole project, is just starting off in her career so she has a very limited portfolio at this stage. In this instance she might start off with a very simple slideshow of her work or perhaps a simple thumbnail gallery of clickable images that can easily be expanded as above. As it progresses, however, it might expand to something like Clare Allan's portfolio page below where Clare displays thumbnails of all the work that she sells on a single page but categorises it so that work is easy to find. The page is very visual and every image is linked to a full page about that specific piece of work in her shop area.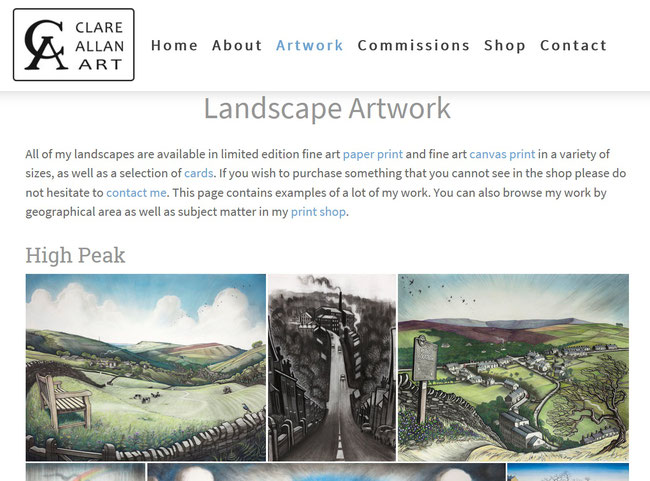 Don't feel restricted to call your page 'Portfolio', you could call it 'Gallery', 'Artwork', 'Craftwork' or something similar. You might want to make it prominent like Tabatha by putting it in the top menu row, however, as your website becomes more complicated over time you might want to move it underneath your 'About' menu and call it 'Gallery of Work' for example. No hard rules on this one in terms of naming and position just try to make sure you have one and it is easy to find and if just starting off with a new website make sure it is one of the first pages you create so that people can start looking seeing your work and making decisions to follow you, join your mailing list and so on as early on as possible.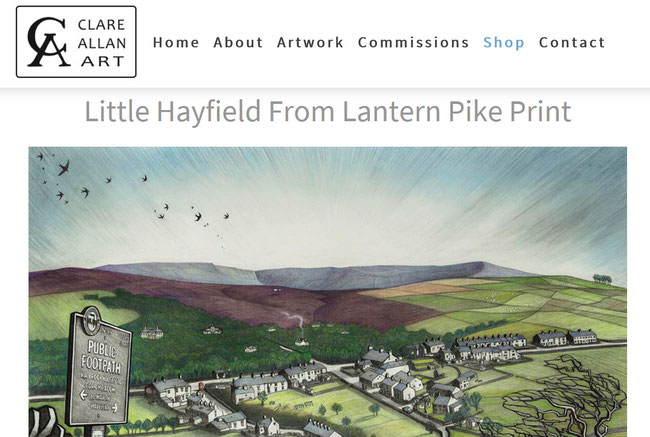 I spent Monday on an experience day at a Bird Of Prey centre. It was interesting to listen to Ben talk about his 'portfolio' of birds as we flew each in turn but it brought home to me how key a portfolio is to many types of businesses not just those associated with art and craft! Create your single portfolio page quickly at the start of your website project then as time goes on your can link each of the items in your portfolio to another page perhaps in your online shop or behind some of your about pages where visitors can find out much more detail about that portfolio item if they want to. During that time you will begin to accumulate customers for the future.
If you have found this free advice useful, please return the favour by following me on Instagram or Facebook liking my posts and mentioning me to your friends! Thanks.