On your homepage you started by concisely (hopefully!) saying who you are and what you do. All websites should have an about page where artists and creatives explain in much more detail about who they are and what they do. This level of detail will not be required by all of your website visitors which is why it must be off on it's own page, however, as you sell your art and craft either in person or online you will come to realise that your customers also want to buy some of you with your product. They want to know more about you and more about the process that is used to create your product. This not only adds that personal touch but it adds value to what you are selling.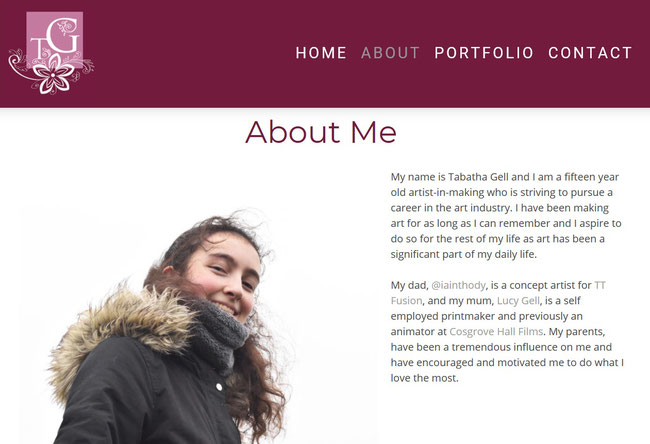 Most people expect information about you to be under an 'About' menu option. With Tabatha's website at the moment there is just a single 'about' page which is about her but further in the project we will hang several more pages off this menu to tell customers about the process, about sizes, delivery, framing, a press area and much more.
So what do you include in your 'About Me' page? Well that is very much down to personal preference. If you already do art or craft shows you are probably already used to writing a biography for show applications. Why not use one of these as a starting point? Your about page is not as formal as a CV or some show applications so keep it informal. Keep it around a page in length and use 2 or 3 good photos of you to break up the text. Keep the text interesting and relevant. Perhaps start with where you grew up and studied. Did you get any relevant qualifications? Did you have another career before you started what you do now? How did you move between the two? What got you interested in what you are doing now? When did you start (tip don't state this in number of years but say a year instead so that your website does not become out of date next year!)? Also save your text as a Word document too. There will be many times you have to submit a 'bio' throughout your career but you will often be limited to a specific number of words. Create a full unlimited bio then edit several versions of this so you have a 100 word version, a 250 word version etc as required then update these from time to time in line with changes you make to your website version!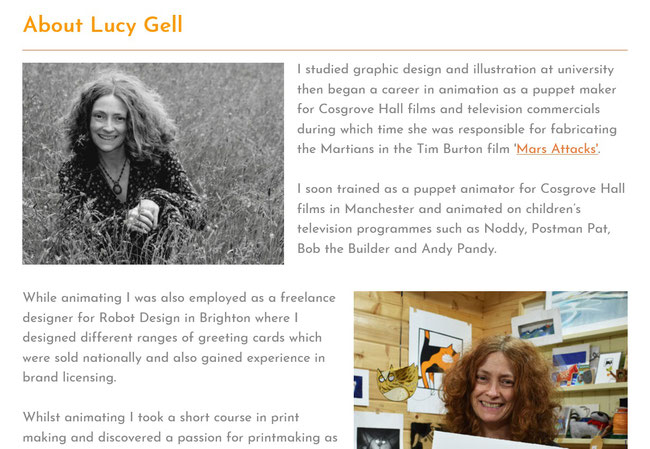 Tabatha's mum, Lucy Gell, was an animator working in Children's TV before she became a printmaker. She worked on well known shows here in the UK such as Noddy, Postman Pat, Andy Pandy, programs many customers will remember from their childhoods. She also worked behind the scenes creating the latex Martian heads in the classic Tim Burton film Mars Attacks. Although no direct connection to her work these days it is clear to see how that other career influenced what she does now and it is all creates great interest when she talks with customers and is also good to attract press interest when she is competing for exposure with other creatives. Mentioning the film or using an image of one of the heads Lucy created on Mars Attacks is always sure to create lots of interest!
Do you belong to any professional associations? Have you done any notable exhibitions? Is there anything newsworthy in your past? Anything that will spark conversation when people meet you? What are your ambitions for the future? Would you like to do bigger exhibitions, attract more galleries, sell your work further afield, produce a book, do more freelance work and so on? Put your ideas out there on your 'about' page - you never know who it might attract and the engagement it will create!
If you have found this free advice useful, please return the favour by following me on Instagram or Facebook liking my posts and mentioning me to your friends! Thanks.
Any interesting facts on your About page?