Day 114 - Covid 19 Newsletter - why send one and what it should contain?
In 113 - Covid 19 Website Notice I wrote about the importance of putting a notice on your website regarding the Covid 19 situation and how you are dealing with it - whether you are still open for business, what if any products are affected by supply problems, how it affects collection and delivery, what safe handling practices you are using and so on.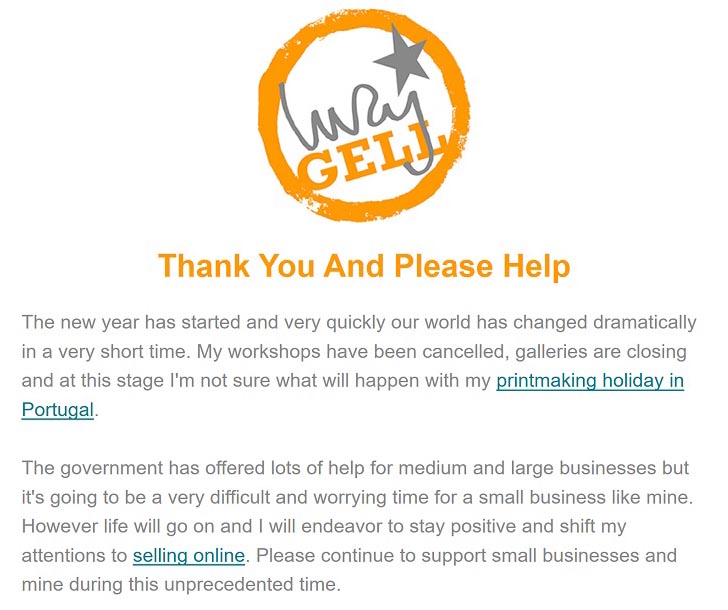 It is important to get this information across to your customers because it 
reminds them that you are there
assures them that you are still open
assures them that you are handling things safely
informs them about any changes they will see
informs them about any delays that they may experience
Not all your customers, however, will stumble across your website therefore it is important that you reach out to them too. You can use similar copy to the copy you put on your website notice to make things easy for you in your first newsletter if you have not already sent one since lockdown then get into a habit of writing to people a little more frequently now as you increase your online efforts in the absence of shows, workshops and exhibitions. You might also take the angle as Lucy Gell has here of appealing for support at a difficult time for you, then provide more reassurances once people come to your website.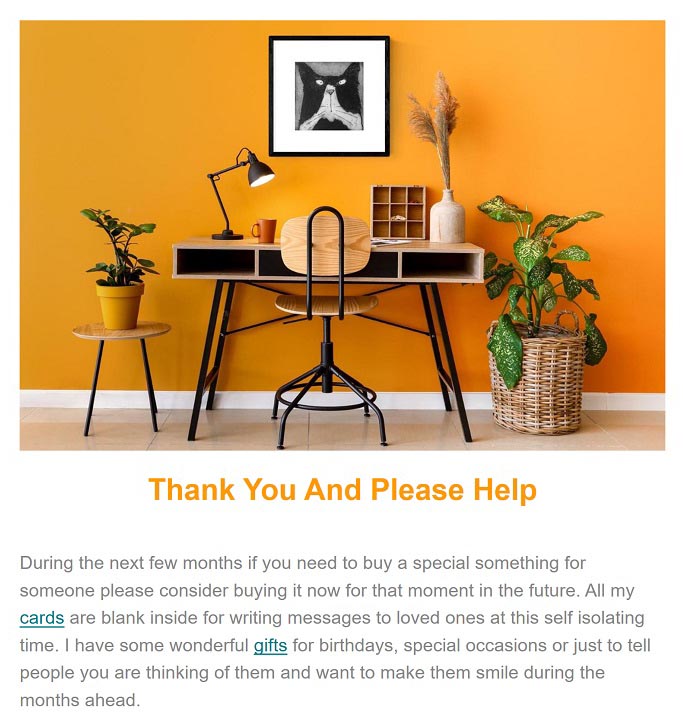 A number of my customers have sent these out now and the response has been brilliant. The general public are spending a lot of time online now purchasing things whilst the majority of the high street is closed and they are really sympathetic to the independant business during these difficult times and really want to support them so that they will still be here at the end of all this. I have seen people buying workshop vouchers for when this is all over, much larger volumes of cards while card shops are shut, stocking up for special occasions or just keeping in touch with loved ones they cannot visit right now along with many of the high end purchases too. I even saw a 2021 calendar in Instagram last week and lots of people showing interest in purchasing one (its still April now)!!!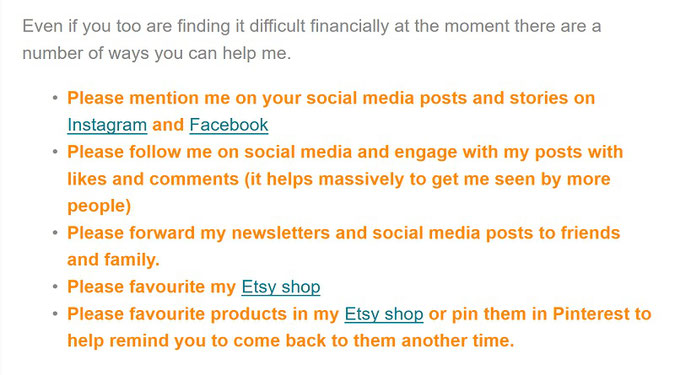 Don't miss out, get this first newsletter out now if you haven't already, keep in touch monthly now if you are not already and keep your news short, fresh and interesting so that you stay in peoples minds especially now and keep growing that mailing list by bringing people across from your social media. Don't give up on newsletters while your mailing list is small, they are so effective you just need to keep building your number of subscribers which takes time.
If you have found this free advice useful, please return the favour by following me on Instagram or Facebook liking my posts and mentioning me to your friends! Switch on notifications (see Day 40 - How To Get In First) and join my mailing list so you don't miss any posts! Thanks.